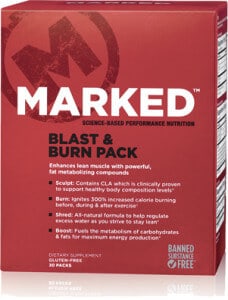 There's been plenty of talk about Marked Blast and Burn supplements, so we did one of our in-depth reviews, scrutinizing the ingredients, side effects, customer service and clinical studies. Furthermore, we took the time to read hundreds of customer reviews and dieter responses found on the internet. At last, we summed up all the feedback and facts we discovered to give you the crucial info you need.
EDITOR'S TIP:
Combine Marked Blast And Burn with a proven testosterone booster such as
Pronabolin
for better results.
What You Need To Know
Marked Blast and Burn includes four different supplements that can be taken daily (one or two packets) to help with enhancing lean muscle mass, boosting energy levels, metabolizing fats and getting rid of excess water weight. These supplements are called Fatty Acid Metabolizing CLA, Water Balance Electrolyte Blend, Glucose Stabilizer and Energy & Calorie Burning Matrix. The ingredients found in these supplements include; CLA (form Safflower Oil), Vitamin B-6, Magnesium, Potassium, Black Pepper Extract, Garlic Clove Powder, Parsley Herb Powder, Uva Ursi Extract, Elderberry Fruit Powder, Niacin, Caffeine Anhydrous, Capsimax Capsicum Fruit, Horsetail Rush Stems Powder, Fennel Seed Powder, Dicalcium Phosphate, Cinnamon Bark, Chromium, Corn Silk Powder, Juniper Berry Extract and Hydrangea Root Powder. Marked Blast and Burn is endorsed by Mark Walberg and is available in GNC stores.
These supplements were released in 2013 and regular exercise is encouraged. The primary focus of Marked Blast and Burn is building muscle mass. Also, these products contain some vitamins and minerals and are free of gluten, but read on…
High Price – Ouch
"From what we can tell, Marked Blast and Burn supplements have been discontinued, which makes them very hard to come by. We were able to find this product on Amazon for $84.24, which is 30 servings. This will likely last for about 15 days, which is quite pricey," says our Research Editor.
One customer stated, "There are more affordable muscle building supplements out there."
Another user said, "I'll go with something a little cheaper."
Scroll below for one of the best products we've seen in 2015.
Lack of Availability
Since Marked Blast and Burn products are no longer found on the GNC website, they are rather difficult to find on distributor sites as well. One customer commented, "Is this stuff still available? Where do you buy it?"
"Looks like Marked Blast and Burn has been discontinued," said another individual.
Our research has shown if there is a certain part of a workout program or diet product that is seriously annoying or burdensome (a painful/difficult exercise routine, lack of availability, steep price tag) the likelihood of prolonged success is really slim. So, if Marked Blast and Burn supplements are difficult to find and are very expensive, this could be problematic.
The Science
Sadly we could not pinpoint any clinical research or science presented on Marked Blast and Burn supplements. In fact, these products are no longer found on the official GNC website. While these supplements do contain some promising ingredients, we at DietSpotlight prefer to see actual documentation of clinical results before we recommend a product.
The Bottom Line
Many people are drawn to supplements that are endorsed by celebrities, so it's not surprising if people want to try Marked Blast and Burn products. Unfortunately it looks like this small line of supplements has been discontinued. Judging from the steep price posted on Amazon, this site is one of the last dealers that still carry Marked Blast and Burn packets. Fortunately there are alternative products available to select from.
Those who really want to improve lean muscle mass and enhance overall vitality, we advise you to choose a supplement packing clinically proven ingredients with excellent customer service at a reasonable price.
One of the most impressive products we've encountered in 2015 is Pronabolin. This supplement uses a proprietary blend of nine ingredients, which have been proven in clinical studies to help you reclaim energy, enhance muscle tone and naturally boost testosterone levels. Moreover, there are no complaints of side effects and user reviews posted online show people are seeing significant results.
The makers of Pronabolin are so confident in their product they're offering every customer a 120-day money-back guarantee and multiple-bottle discounts.