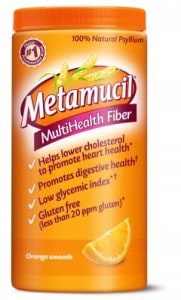 You may be surprised by what I say in this Metamucil review. We at DietSpotlight took an in-depth look at this product, examining the ingredients, side effects, customer service and clinical research. We additionally focused on all sorts of user comments we found all over the web. Lastly, we summed up all of the facts and feedback we discovered to give you the info you need.
What is Metamucil?
To start with, Metamucil is a line of fiber supplements made by Proctor & Gamble. These products are available in common grocery stores and supercenters. While the powders are probably the most popular, there are also capsules, bars, wafers and probiotics. The purpose is to help you maintain digestive health, encourage regularity and promote a healthy immune system. They may also help you feel less hungry between meals, lower cholesterol levels and regulate healthy blood sugar levels. It can be used up to three times daily, along with meals or in between meals. The primary ingredient is Psyllium Husk (a type of natural fiber).
Metamucil has been available since 1934. These products are easy to come by in local stores and there is plenty of customer feedback posted online. Also, there are sugar-free options available, but read on…
Bad Taste – "Something to Consider?"
First off, we looked at Metamucil ingredients and the flavor. "We sorted through a lot of customer reviews and noticed that there are numerous complaints regarding the actual taste. Naturally this is concerning because people are less likely to stick with it if that's the case," says our Research Editor.
According to one customer, "I don't know how people drink this stuff on a daily basis. The texture is awful, it feels slimy, and the aftertaste makes me ill. Better off just getting your fiber the old fashioned way through fruits and veggies, or take the pill form instead. What a waste of my money."
"Tastes absolutely terrible. Has a very odd aftertaste that actually made me gag," said another user.
For some, the taste was near that of fruit juice.
"Taste good. Taste like orange juice," said one person.
Another shared, "It works for it's intended purpose and tastes good."
Scroll below for one of the best products we've seen over the last year.
Adverse Effects – "Another Concern"
Quite a few customers have complained about side effects from Metamucil. In fact, one user commented, "OMG this stuff is aggressive! I have had the worst side effects from this, severe stomach pain, bloating, gas pains, nausea while using this product."
Another customer mentioned, "Metamucil gave me a lot of cramping. The day after I would take it, I would go and it would be painful, irritating and cramps would last for about 20 minutes."
Not surprisingly, there are people who saw this as being gentle, not harsh.
"Gentle, and is effective, for me, if taken first thing the a.m. with 8 oz. of water," was one comment.
Others saw changes for the better, " It gives me enough fiber that my intestinal episodes have been minimized."
According to our extensive research, if there is some particular part of a diet supplement that is quite bothersome (bad taste, serious adverse effects, no real science) the odds of lasting weight-loss are not good. This means if Metamucil does cause serious adverse effects in numerous people, this could be problematic.
The Science – "Legit?"
From what we could gather, there are some clinical studies that support Metamucil as a supplement for lowering cholesterol levels and promoting regularity. On the other hand, there is no solid link between it and long-term weight-loss or fat reduction. At DietSpotlight, we prefer to see published science that supports the product and we didn't this time.
The Bottom Line – Does Metamucil Work?
Well now, are we raving over this fiber supplement? Well, we like Metamucil's longevity as a product and some positive comments we saw about it online. However, we have some reservations about it because it's not backed by science as a fat-loss product. Also, we're concerned about the adverse effects and less-than-savory taste.
If you'd like to shed more pounds of fat, we suggest you go with a supplement that contains clinically tested ingredients and offers plenty of bang for your buck.
Among the best products we've seen in 2016 is one called Leptigen. This supplement contains a blend of four ingredients, which have been shown via clinical testing to possibly help improve fat loss and ignite metabolism. Furthermore, user comments found on the internet show people are seeing solid results.
Also, the makers of Leptigen are so confident in their product they're offering a Special Trial Offer, which is a good sign.