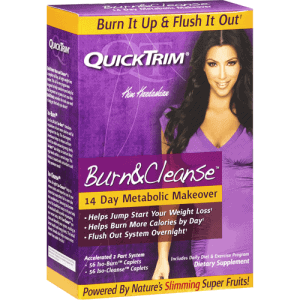 In the diet industry, don't mistake marketing for effectiveness. Because of the interest that Quick Trim has generated as a supplement and internal cleanse product and the celebrity endorsement of Kim Kardashian, we did an in-depth review to see if this was a good weight-loss solution for our readers. We looked at the ingredients, side effects, customer service and research. We read through hundreds of pieces of feedback. Then, we refined and condensed to give you the bottom line.
What You Need to Know
To begin with, the Quick Trim ingredients will vary based on the supplement or combination that you choose. The products offer varying formulas, some of which have been well-researched, while others have minimal information supporting their effectiveness. These capsules are easy to digest and can be taken anywhere.
Quick Trim was introduced in 1992 by VitaQuest and has stuck around for the past 23 years as a weight-loss solution. This product took off in 2010 after Kim Kardashian endorsed it, but it has since faded into obscurity. We like that the pills are easy to take, that some users have seen moderate success and that the company has been around for over 20 years, but read on…
Price – "Yee-Ouch?"
The first thing we saw was the price for Quick Trim. We were shocked at how affordable it was, but then we realized that they recommend you purchase four separate items that complement each other. Without taking all, results are minimal, so the cost quickly adds up. "If you buy all four of the recommended supplements, you may see some weight-loss," said our Research Editor. "But the cost can quickly surpass $100 per month for all 4 products."
"I bought one Quick Trim product, only to realize I needed 3 more for the recommended supplement stack, and I couldn't afford them all," said one user.
"I saw moderate weight loss, but couldn't afford to stay on Quick Trim products after 2 weeks," said another.
Scroll below for one of the best products we've seen over the last year.
Side Effects – "Common Problem"
Another concern that we had with Quick Trim was the negative side effects that many users saw when taking this product. Because of the high caffeine dosage, some contain as much as 4 cups of coffee per serving, many users experienced jitters. Other adverse reactions included diarrhea, dehydration, constipation and gastrointestinal distress. "I lost 5 pounds taking Quick Trim, but now I'm dehydrated due to the diarrhea and overactive bladder," said one customer.
"You're guaranteed to lose weight with this product, but it'll all be water weight that will reappear as soon as you stop using it," said another.
"The side effects of Quick Trim are unbearable," said a third customer. "I can't make it out of the bathroom to do anything, and I'm dehydrated, but I can't keep fluids in."
Throughout our research of diet supplements and other weight-loss products, we've learned that whenever there is a particular aspect that is more difficult than usual (cost, taste, side effects, painful workout, etc.) the chances that you'll lose more and keep it off are slim. If Quick Trim really does have these adverse reactions for many people, it could be difficult to use long term.
The Science – "Backing?"
The lack of science behind Quick Trim's claims is a glaring omission. Their statements aren't backed up by scientific data of any kind and there's no information proving that Quick Trim works any better than diet and exercise alone or more affordable alternatives that are readily available. At DietSpotlight, we value companies with products that are backed up by unbiased studies, not ones that have a flashy spokesperson or expensive marketing campaign. This is a big red flag that popped up when researching Quick Trim.
The Bottom Line – Does Quick Trim Work?
So, this was an interesting one ladies and gentlemen. We were initially intrigued with Quick Trim because of their well-known celebrity endorser, their professional looking website and their longevity in the weight-loss industry, but the lack of science behind their claims is the primary reason that we have reservations about recommending this as an effective diet supplement to our readers. We also have major concerns with the claims it's ineffective, the side effects that some customers have seen and the high cost of taking the recommended stack of products.
If you'd like to drop more weight, we suggest a supplement that offers proven weight-loss at an affordable price point. Try to find a product with unbiased research backing its claims and no side effects..
Among the best products we've seen in 2016 is one called Leptigen. It contains a 4-ingredient blend that is proprietary. The formula has been featured in third party studies and proven to help accelerate weight-loss by burning fat and boosting metabolism. In the online reviews we read as part of our review process, we didn't see any negative side effects caused and most users seemed satisfied with the results they achieved
A Special Trial Offer is currently being offered by the makers of Leptigen, which is an indicator that they stand behind their product and are sure you'll see weight-loss results.