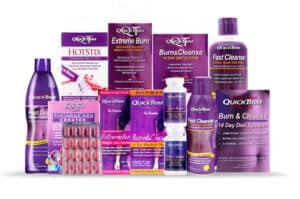 In the diet industry, don't mistake marketing for effectiveness. We decided to focus on the ingredients, side effects, clinical research and customer service quality. Additionally, we analyzed hundreds of user comments and testimonials. Then, we summarized and condensed to give you the info you need.
What is Quick Trim?
First off, Quick Trim ingredients are caffeine 200mg, chromium 200mcg, green tea, oat fiber, senna leaf extract, aloe concentrate and rhubarb extract, among others. You'll take two capsules, twice per day. The company recommends taking the supplement with food.
Quick Trim was introduced in 1992 by VitaQuest. While there's information available online, it appears as if the supplement is no longer for sale. We like that we found some positive customer comments and the longevity of the company, but read on…
Price – "Too Much?"
The first concern was the high cost of QuickTrim pills. "One bottle is relatively inexpensive," said our Research Editor. "But the cost can quickly surpass $100 per month, considering the company recommends you purchase more to improve weight-loss."
"I bought one Quick Trim product, only to realize I needed 3 more for the recommended supplement stack, and I couldn't afford them all," said one user.
"I saw moderate weight loss, but couldn't afford to stay on Quick Trim products after 2 weeks," said another.
On the other hand, we found others that didn't notice the cost. "Cost less than a meal at a fancy restaurant," said a customer.
Scroll below for one of the best products we've seen over the last year.
Side Effects – "Commonplace?"
Another concern after searching QuickTrim side effects were the reactions reported by customers. "I lost 5 pounds taking QuickTrim, but now I'm dehydrated due to the diarrhea and overactive bladder," said a customer.
"You're guaranteed to lose weight with this product, but it'll all be water weight that will reappear as soon as you stop using it," said another.
Side effects are rare, so we looked for users that didn't mention adverse reactions. "The side effects of Quick Trim weren't too bad. Felt shaky because I drank coffee," stated a dieter.
"Today is day one of the 14 day system. Took pills as directed, no side effects that others listed so far," reported a consumer.
Throughout our research of diet supplements, we've learned that whenever there's a particular aspect that's more difficult than usual, such as being the cause of adverse reactions, the chances of long-term success are slim. So, if you take QuickTrim and notice negative side effects, is it worth the trouble?
The Science – "Any Research?"
The lack of science connecting Quick Trim ingredients and weight-loss is concerning. There are studies showing the effectiveness of caffeine and green tea. But, the evidence showing you'll lose weight doesn't relate to this particular supplement. Also, the product is linked to harmful side effects. At DietSpotlight, scientific research is an important part of the review process. When studies aren't available, we become skeptical about it.
The Bottom Line – Does Quick Trim Work?
So, is Quick Trim on your "must-have" list of weight-loss supplements? Well, we liked that it contains a few natural ingredients and that we found some positive customer comments, but the lack of research connecting this supplement to you losing weight leaves us skeptical. We're also concerned about customer comments relating to negative side effects and the high price.
You want to lose weight. We hear you, so we suggest going with a supplement that offers proven weight-loss at an affordable price; without any talk of harmful side effects.
Among the best products we've seen in 2016 is one called Leptigen. The supplement consists  of four clinically-tested ingredients that promote weight-loss and have been shown to help ignite fat loss and accelerate metabolism. There's no one talking about harmful side effects and the chatter online is about users seeing great results.
Also, the makers of Leptigen are offering customers a Special Trial Offer, which shows an immense amount of confidence in their supplement.