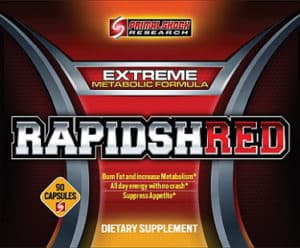 We're hearing a lot of buzz about Rapidshred, so we did one of our in-depth reviews, scrutinizing the ingredients, side effects, customer-service quality and scientific research. Furthermore, we focused on dozens of dieter comments and user reviews from all over the web. At this point we summed up all the data we collected to give you the facts you need.
EDITOR'S TIP:
Combine Rapidshred with a proven fat burner such as
Leptigen
for better results.
What You Need To Know
Rapidshred is an "extreme metabolic formula" that's made by Primal Shock Research. One capsule of this supplement is a serving, and it's fine for women and men alike. This product is claimed to suppress appetite, burn of fat, boost metabolism and supply all-day energy. As for the ingredients in Rapidshred capsules, they include the following; 1,3-Dimethylamylamine, Caffeine, Cassia Nomane, Green Tea, Ginseng, L-Tyrosine, Phyllanthus Embemca, Dandelion, 5HTP, Geranium Oil, Uva Ursi and Thaimine.
It's unclear when Rapidshred was first released. This supplement does not require any prescription and it may help elevate energy levels. Also, Rapidshred contains some natural ingredients, but read on…
Dangerous Ingredients – Is it Safe?
According to our Research Editor, "Rapidshred contains Synephrine, which comes from Bitter Orange or Citrus Aurantium. Synephrine mimics the effects of Ephedra (a banned substance) and may lead to heart palpitations, heart attack and stroke."
One user commented, "Used one tablet today before meal and I've not been myself ever since. Feeling dizzy, frequent toilet visits and throwing up."
"Makes me very anxious and jittery," said another customer.
Scroll below for one of the best products we've seen over the last year.
Lack of Availability!
From what we gathered, there are no online stores that actually sell Rapidshred. Therefore this product is not easy to come by. According to one person, "I found the website, but it just has a store locator for Tennessee and Texas. How do you buy this stuff?"
Another dieter said, "Where do you buy Rapidshred? It's not for sale anywhere."
Our research has proven that if there is one particular part of a weight loss pill or diet program that is especially troublesome (dangerous ingredients, high price, lack of availability) the odds of long-term success are not very good. In other words, if Rapidshred is difficult for a lot of people to find, this could be a serious issue.
Any Actual Science?
Here at DietSpotlight, we prefer to see some real science that supports the diet product and its weight loss claims. Unfortunately, we could not pinpoint any clinical research pertaining to Rapidshred. There is actually not much information presented on this supplement at all.
The Bottom Line: Does Rapidshred Work?
So, should you buy Rapidshred? Well, we like that Rapidshred contains some natural ingredients and we did see a few positive comments about it online. But we have some issues with this supplement because it's not backed by any clinical research. Also, we're concerned about the dangerous ingredients it contains and the lack of product availability online and in stores.
If you'd like to shed more pounds, we recommend you try a diet product that is backed by solid science, is easy to purchase online and does not contain any dangerous ingredients.
Among the best products we've seen in 2016 is one called Leptigen. Its formula is a proprietary blend of four powerful ingredients, which have been proven in published scientific studies to help accelerate fat loss and increase metabolism. We haven't found any complaints of harmful side effects and customer comments around the web express people are seeing excellent results.
The makers of Leptigen are so confident in their product they're offering a special trial offer, which is very encouraging.