Updated: 09/29/2015 - Sponsored by Leptigen
Relacore Extra Review - Does This Belly Fat Pill Work?
Are ingredients and side effects deal breakers?
PUBLISHED: 09/11/2015 | BY: SUMMER BANKS, SENIOR REVIEWER
Editor
's Review:
2.6
/ 5.0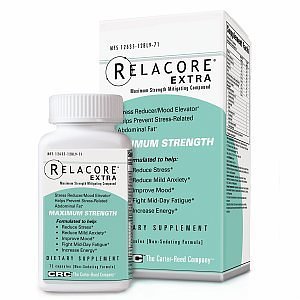 We've heard people talk about Relacore Extra. This "belly fat pill" is supposed to shrink your belly and your stress level at the same time. We wanted to "dive deep" into this supplement, so we examined ingredients, side effects, clinical research and customer-service quality. Plus we read hundreds of user comments and reviews from around the web. We then summarized and condensed to give you the info you need.
EDITOR'S TIP:
Substitute Relacore Extra with a proven fat burner such as
Leptigen
for better results.
What You Need to Know
Relacore Extra is a diet pill containing magnolia bark, B vitamins, passionflower, jujube, perilla and panax ginseng. You take Relacore Extra once a day. The bottle contains 72 capsules. At three capsules at a time, you only get 24 servings per bottle.
We could not find any information on The Carter-Reed Company – in regards to when the company was established or when Relacore Extra was introduced. The company does use natural ingredients, always a good choice. You can purchase Relacore Extra is stores and the official website also offers the product. The Carter-Reed Company has a good BBB rating and some customers seem to like the results.
No Weight Loss Ingredients – Red Flag
Relacore Extra does not contain any ingredients that support weight loss. "If you take Relacore Extra to fight stress, you may like the results. If you want to lose belly fat – that's another store," according to our Research Editor. "Relacore Extra doesn't contain any weight loss ingredients. The 'belly fat pill' doesn't look like it will help the dieter lose any belly fat."
"Took for 2 months with NO affect. Asked my doctor to look at the ingredients and told me that Relacore has NO value for losing weight or belly fat. Waste of money," says a customer who'd tried Relacore Extra.
"I have taken 72 pills 3 times a day til, [they're] all gone. I did not [lose] 1 pound…I'm very dissatisfied," says another dieter.
Scroll below for one of the best products we've seen in 2015.
Side Effects – A Serious Consideration
Some dieters seem unhappy with the side effects they experienced while taking Relacore Extra. In fact, we caught wind of some pretty concerning side effects. "Relacore worked great for insomnia and stress. However, I noticed that my tummy was getting fat. I was always bloated. At times, I was nauseous and dizzy," claims a dieter who tried Relacore Extra for weight loss.
"I bought this product with the intention of weight loss and instead I have gained weight 3.5 lbs in a week, contracted moderate acne, and noticed a substantial amount of hair loss," claims another dieter. "First day I felt great so relaxed. High if ya will. Second so nauseating and so bloated like [I] was going to pop," a customer reports.
Of course, these side effects might be rare. But, in our research, we found if there's evidence of troublesome side effects, your chances of taking the supplement for the long term are low. If Relacore Extra does cause in fact cause bloating and nausea, we are concerned for dieters.
According to Dr. Pamela Peek, Body for Life for Women author, "Even if you usually eat well and exercise, chronic high stress can prevent you from losing weight – or even add pounds." If you must try Relacore Extra, this is important to know.
The Science
The Relacore Extra website calls the supplement a "feel good pill" that reduces "belly fat". No scientific proof is offered to support these claims and we were unable to find a single research study that associates the ingredients in Relacore Extra with weight loss. At DietSpotlight, research and clinical support are important for all weight-loss supplements. If you cannot find this critical information, we throw up the red flag.
The Bottom Line
Initially, we were interested in Relacore Extra if only for the amazing product claims. We liked the positive comments from some consumers and the price is within reason, but there are no clinical studies to back up the weight-loss claims. Reports of negative side effects like bloating and nausea are a concern and we've no idea how long the company has been in business.
If you want to shed those extra pounds, we believe you should try a supplement that helps support weight loss with clinically tested ingredients.
Among the best products we've seen in 2015 is one called Leptigen. Its formula is a proprietary blend of four ingredients, which have been shown in published clinical research to help accelerate fat loss and boost metabolism. We can't find any talk of harmful side effects and comments around the web indicate people are seeing great results.
Also, the makers of Leptigen are so confident in their product they're offering a Special Trial Offer, which is a good sign.