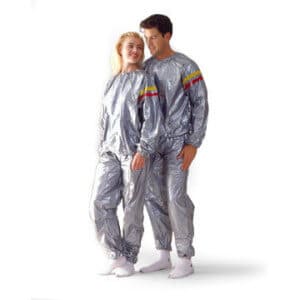 If you want the bottom line on Sauna Suits, give me just two minutes of your time. We put the spotlight on the side effects, ingredients, clinical studies and customer-service quality. Furthermore, we scrutinized hundreds of user comments and customer reviews. Then, we condensed and summarized to give you the info you need.
What are Sauna Suits?
First off, Sauna Suits are rubber or neoprene shirts, jackets and pants that are worn to increase perspiration. Furthermore, they are claimed to flush toxins from the body, help you burn off more calories and increase the body's temperature to take your workout to the next level. Sauna Suits are available online from various brands, and they often sell for $10 to $90.
We are not sure how long Sauna Suits have been available, but you have many to select from at this point. These suits come in all sizes and there are some positive comments posted on the web, but read on…
Sauna Suits Side Effects – "Concerning?"
The first concern in Sauna Suits reviews related to side effects. "We were able to find all sorts of customer comments about this one," said our Research Editor. "Unfortunately a number of people complained of adverse reactions after the first use."
One user stated, "What you're going to accomplish with this "sweat" shirt is severe dehydration. If you get your body dehydrated enough, that's not good."
"No, you do not burn more calories, you just sweat a little more and risk dehydration. These things are dangerous," said another.
Sauna Suits side effects weren't always a concern from every customers.
"To stop the feeling of dehydration, I just started to drink more water throughout the day," commented a customer.
Scroll below for one of the best products we've seen over the last year.
!User Complaints – "Customers Know Best?"
There are plenty of negative customer reviews posted online regarding Sauna Suits. One user commented, "These suits smell awful. I just can't get past the horrible smell!"
Another customer said, "Too much sweating just causes me to get dehydrated and faint."
On the other hand, we read Sauna Suits reviews where customers shared positive experiences.
"The suit fit right and didn't interrupt my workout," stated a customer.
"This was a needed addition to my healthy eating plan and fitness routine," reported another.
The research we've done has shown if there's a particular aspect of a fitness product that's troublesome, like being connected to negative user comments, the chances of long-term results are slim. So, if Sauna Suits do lead to a lot of customer complaints, this could be a serious problem.
The Science – "Any Research?"
We did not find any specific science for Sauna Suits. However, it's clear that this fitness apparel can help you sweat more profusely. Naturally this can make your exercise session more intense. Then again, we at DietSpotlight prefer to see some documented clinical research that supports the fitness product we're reviewing.
The Bottom Line – Do Sauna Suits Work?
So, should you buy a Sauna Suit? Well, we like that these suits are easy to come by and there are some positive comments posted online. Then again, we have some reservations about Sauna Suits because they are not backed by solid science. Furthermore, we're concerned about the dangerous adverse effects and numerous customer complaints.
If you really want to improve your workouts, we suggest a product that is backed by real science, does not cause dangerous adverse effects and is supported by plenty of positive user reviews.
Among the best products we've found in 2016 is one called Leptigen. The supplement contains some clinically-tested ingredients and has been shown to help accelerate metabolism and ignite fat loss. There's no talk of adverse side effects and comments all around the internet show people are seeing excellent results.
Also, the makers of Leptigen are so confident in their supplement, they're offering customers a Special Trial Offer, an excellent decision.