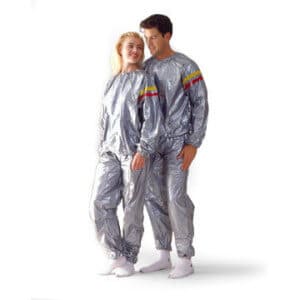 If you want the bottom line on Sauna Suits, give me just two minutes of your time. We created an in-depth review, examining the side effects, ingredients, clinical studies and customer-service quality. Furthermore, we scrutinized plenty of user comments and customer reviews posted all over the web. We then compressed all of the information we found to give you the important facts.
What You Need To Know
Sauna Suits are basically rubber or Neoprene shirts, jackets and pants that are worn during workouts in order to increase perspiration. Sometimes these suits look like a jogging outfit, but there are also a variety of tops, body shapers, tank tops and slimming belts available today. Both women and men use Sauna Suits to increase the intensity of workouts. These suits are often used by professional athletes. Furthermore, they are claimed to flush toxins from the body, help you burn off more calories and increase the body's temperature to take your workout to the next level. Sauna Suits are available online from various brands, and they often sell for $10 to $90.
We are not sure how long Sauna Suits have been available, but you have many to select from at this point. These suits come in all sizes and there are some positive comments posted on the web, but read on…
Side Effects – "Concerning?"
"We were able to find all sorts of customer reviews posted on the web for Sauna Suits. Unfortunately a number of people complained of adverse effects such as faintness, nausea and dehydration," says our Research Editor.
One user stated, "The worst thing you can ever do to your body during a workout is to lose more water than necessary. So what you're going to accomplish with this "sweat" shirt is severe dehydration. If you get your body dehydrated enough – you're gonna end up in an emergency room."
"These are bad, bad, bad…bad!!! No, you do not burn more calories, you just sweat a little more and risk dehydration. These things are dangerous," said anther person.
Scroll below for one of the best products we've seen over the last year.
User Complaints – "Truth Coming Out?"
There are plenty of negative customer reviews posted online regarding Sauna Suits. One user commented, "These suits smell awful. I just can't get past the horrible smell!"
Another customer said, "Not healthy! Too much sweating just causes me to get dehydrated and faint."
The intensive research we've done has shown if there is a particular aspect of a fitness product or supplement that is especially troublesome (a painful/difficult exercise routine, adverse effects, too many user complaints) the chances of long-term results are slim. So, if Sauna Suits do lead to a lot of customer complaints, this could be a serious problem.
The Science – "Any Research?"
We did not find any specific science for Sauna Suits. However, it's clear that this fitness apparel can help you sweat more profusely. Naturally this can make your exercise session more intense. Then again, we at DietSpotlight prefer to see some documented clinical research that supports the fitness product we're reviewing.
The Bottom Line – Do Sauna Suits Work?
So, should you buy a Sauna Suit? Well, we like that these suits are easy to come by and there are some positive comments posted online. Then again, we have some reservations about Sauna Suits because they are not backed by solid science. Furthermore, we're concerned about the dangerous adverse effects and numerous customer complaints.
If you really want to improve your workouts, we suggest a product that is backed by real science, does not cause dangerous adverse effects and is supported by plenty of positive user reviews.
Among the best products we've found in 2016 is one called Leptigen. The supplement contains some clinically-tested ingredients and has been shown to help accelerate metabolism and ignite fat loss. There's no talk of adverse side effects and comments all around the internet show people are seeing excellent results.
Also, the makers of Leptigen are so confident in their supplement, they're offering customers a Special Trial Offer, an excellent decision.