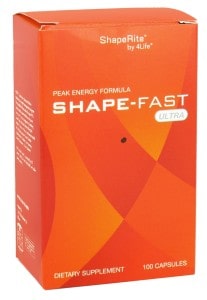 I find almost every weight loss supplement to be interesting; of course, you already know that. This time, Shape Fast Ultra caught my attention because it uses some ingredients you don't see every day. I decided to do a careful review of the supplement and examined its ingredients, read up on potential side effects, and tried to find some clinical research. After that, I looked into the business practices of the company behind Shape Fast and searched for clinical reviews. Here's the sum of my research!
What You Need to Know
Shape Fast Ultra belongs to the thermogenic family of weight loss supplements, meaning it claims to burn fat by raising your body's core temperature and metabolism. Here's our breakdown of the ingredients:
Niacin 10 mg 50%,Vitamin B 61 mg 50% (as pyridoxine hydrochloride), Vitamin B12 (as cyanocobalamin) 20 mcg 300%, Selenium (selenomethionine) 18 mcg 25%, Chromium (glycinate-nicotinate) 25 mcg 21%,Guarana (40% caffeine) 170 mg, ForsLean Coleus 40 mg, forskohlii Extract (20% Forskolin), Acetyl-L-Carnitine 100 mg, and Alpha Lipoic Acid 25 mg.
Proprietary Blend 247 mg: Transfer Factor E-XFTM-A patented concentrate of transfer factors and other natural components from cow colostrum and egg sources, Cocoa-Almond Extract, White Willow (bark), Green Tea Extract (90% epicatechin), Potassium,Cayenne, Panax Ginseng (24% ginsenosides), and Ginkgo biloba (24% / 6%, glycosides / terpenes).
When taken as directed (one capsule per day), Shape Fast supposedly helps your body burn fat on its own and suppresses your appetite. One plus is that it's easy to use!
Shape Fast comes from a company called 4Life Research USA, which started in 1998. The business is based in Utah. You can find more information about 4Life on 4life.com, and you can purchase Shape Fast Ultra there as well–it costs $40.00 for a month's supply. We like the company's good Better Business Bureau rating, and the ease of use is certainly attractive, but read on . . .
"Questionable Results?"–Our First Concern
It doesn't matter how much a product costs; if you buy it, you want results. "There weren't very many customer reviews available online, but from what we did find, customers shouldn't expect any kind of magic from Shape Fast Ultra," our research editor said.
"These made me hyper for a week or so, then I got used to them" one customer said. "However, I never saw a difference in my metabolism or weight. I took them for a month and saw no changes."
Another had similar results. "I personally have not had any side effects at all to indicate they're doing anything for or against me. No jitters, no energy, and no appetite control." "I am very disappointed with this product. Wish I had good things to say," said a third reviewer.
Scroll below for one of the best products we've seen over the last year.
Difficulty with MLM Representatives–Another Concern
We dug a little deeper into what people were saying about 4Life and the way they do business, and we found multiple cases where customers had difficulty working with representatives in 4Life's multi level marketing scheme.
"It looked good, but as time went on I noticed that they didn't talk about the product. They were only interested in showing you how to sign up people," said one reviewer online. "That's when I got smart. I realized it's a pyramid."
"I was unhappy with the product and contacted [the seller] for a refund on the 30th day (they have a 30-day refund policy). She's been unwilling to provide a refund (very hard to reach, like she's hiding)," said another customer about his buying experience.
We've realized over the years that you have to have complete confidence in both the product and the company to find long-term success with a weight loss supplement. Without real results, people won't stick with Shape Fast Ultra, and if the company really is difficult to do business with, we recommend you spend your money elsewhere.
Is There any Science Behind Shape Fast Ultra?
We looked into the research behind the ingredients, and here's what we found according to research on the National Institutes of Health website:
"Results suggest that [Coleus forskohlii] does not appear to promote weight loss but may help mitigate weight gain in overweight females with apparently no clinically significant side effects."
Chromium, caffeine, and green tea extract have been shown to have a positive impact on weight loss, but since some ingredients are in a proprietary blend, it's hard to know if the quantities are sufficient to work.
Bottom Line–"Should I Give Shape Fast Ultra a Try?"
We were intrigued by the supplement's claims, and we appreciated their use of coleus forskohlii (it isn't as mainstream as other ingredients). Ultimately, however, we were underwhelmed by the clinical research and the lackluster reviews of customers.
If you need a dynamic weight loss product, choose something from a reputable brand that gives real results and gets lots of positive feedback from customers.
One of our favorites this year is something called Leptigen. It uses a proprietary blend of four ingredients, and each has been clinically shown to burn fat and boost metabolism. The internet likes Leptigen too; customer reviews look great, and we can't find talk of side effects.
Check it out–there's a special trial offer for a limited time.