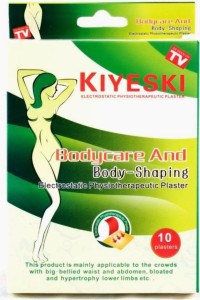 Why are people talking about the Slimming Belly Patch? We're always on the lookout for unique products, so when we saw a patch that claimed it could help you lose 30 pounds in 30 days without changing your lifestyle, we were intrigued. We did an in-depth review to look at the ingredients, side effects, clinical research, and quality of the company's customer-service. We also looked at hundreds of comments online to give you the information you need.
EDITOR'S TIP:
Combine Slimming Belly Patch with a proven fat burner such as
Leptigen
for better results.
What You Need to Know
To start, the Slimming Belly Patch is a weight-loss product that you apply near your belly button. You leave it on 12-24 hours per day and watch the weight fly off, or so they would have you think. The Slimming Belly Patch contains maythorn, bitter orange, plant extracts and more. These patches are easy to apply and can be taken anywhere. They're designed to be worn for 2-3 months for optimal results.
The Slimming Belly Patch has only been around for a few years and we couldn't find a lot of information about where it comes from, which is discouraging. We did like that they were readily available online from third party retailers and that some people had good things to say about the product, but read on…
Lack of Results – "Doesn't Help?"
The first thing we were concerned about with the Slimming Belly Patch ingredients was that they were ineffective. "The fact that this product claims to help you lose weight without exercise should be a red flag," said our Research Editor. "Unfortunately many people didn't realize this and were disappointed when they didn't lose the promised 30 pounds."
"This doesn't help at all," said one user.
"I tried this for the recommended 2 months, and didn't lose any weight," reports another.
There is some mention of a little weight-loss with regular use, but nothing substantial.
Scroll below for one of the best products we've seen over the last year.
Negative Side Effects – "Concerning"
Another issue that we had with the Slimming Belly Patch was the high frequency of negative side effects. "Today is my first day using the Slimming Belly Patch, and I'm already seeing irritable skin," said one customer.
"Not only did I gain weight, but now I have a rash all over my stomach," said another.
"I wore each patch for 24 hours, and had redness around the spot I applied it," said one 3-star review.
Irritation was not a problem for every customer.
"They have really been working no rashes itching or burning," was one experience.
Our research shows that if there is a specific part of a weight-loss program that is particularly difficult (painful workout, negative side effects, cost, etc.) the likelihood of maintaining long-term results is thin. If the Slimming Belly Patch really does cause these adverse reactions, it could make the dieter skeptical.
The Science – "Proven Effective?"
The lack of science behind the Slimming Belly Patch's claims is glaringly obvious.  First, they say that you'll lose 30 pounds in 30 days, which is too rapid and most doctors will agree that it is unhealthy to lose weight that fast. The missing scientific research for this product is a major red flag for us. Here at DietSpotlight, we stress the importance of unbiased studies to back up any claims, so when that's missing it's an immediate warning that the supplement may not follow through on its promises.
The Bottom Line – Does the Slimming Belly Patch Work?
So, we're at the end of this one and we've come to a solid conclusion. We were excited to write a review on the Slimming Belly Patch, but we were disappointed in the final results. The easy to use product is readily available online and it does have some good ingredients, but without the science to back up their unrealistic claims you can't expect much. We also were concerned about the missing instructions online and the adverse side effects that many users saw.
If you'd like to slim down with a product that offers proven results, we suggest you go with a diet supplement that has scientific studies backing up its weight-loss claims and doesn't have the negative side effects.
Among the best products we've seen in 2016 is one called Leptigen. It offers a formula of four ingredients in a proprietary blend backed by proven results. The supplement has been the focus of published studies and has been compared to a placebo in double-blind clinical trials. We've read the reviews online and customers agree it offers healthy weight-loss results without harmful side effects.
Right now, the makers of Leptigen are offering a Special Trial Offer showing confidence that the products will help dieters achieve weight-loss results.