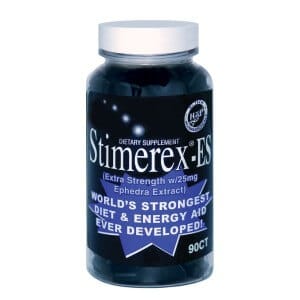 The results of our research into Stimerex ES were somewhat surprising. We did one of our in-depth reviews, scrutinizing the ingredients, side effects, level of customer service and scientific studies. We also read through countless user comments and reviews from all over the internet. At this point we summarized the facts and feedback we discovered to give you the important information you need.
What You Need To Know
First off, Stimerex ES is advertised as the "world's strongest diet and energy aid." According to the official website, this supplement helps with rapid fat loss, extreme energy and serious weight reduction. The key ingredients in this supplement are ephedra extract, caffeine, acacia rigidula extract, theobroma cocoa extract, phenylethylamine hcl, citrus aurantium extract, green tea extract, yohimbe extract, 6,7 dihydroxybergamottin, naringen and 1,3-dimethylamine hcl. In order to use this one, you need to take 1-3 tablets per day.
Stimerex ES has been available since 2011 and it can be acquired through the official website. Free shipping is available and there is a 60-day return policy, but read on…
Ingredients – "Are They Safe?"
Our first concern relates to Stimirex ES ingredients. According to our Research Editor, "The formula contains ephedra as the key ingredient, which is a banned substance in the United States, in terms of use in diet supplements. It has been linked to serious side effects such as heart palpitations, increased blood pressure and vomiting."
According to drugs.com, "Ephedra should not be used with other stimulant products (eg, caffeine), other cough and cold products, or as a dietary supplement for the purpose of weight-loss or bodybuilding. Doing so may increase your risk of…side effects."
One customer stated, "Makes my heart pound like crazy and my head hurt."
Scroll below for one of the best products we've seen over the last year.
Side Effects – "A Reality"
Some customers have complained about adverse effects. In fact, one person mentioned, "Do not buy this. My husband has been on it for just 2 weeks and he is acting angry."
"Expect nausea, increased perspiration and frequent visits to the toilet," said another user.
The research we've done has shown if there is some particular aspect of a diet pill or weight-loss program that is especially concerning, the likelihood of real success for the long-term is slim. This means if Stimerex ES does in fact cause issues in a lot of people, this could be a major problem.
The Science – "Is There Any?"
From what we could gather, there is no clinical research presented on the company website to support the weight-loss claims regarding Stimerex ES. While this product does contain some serious stimulants to potentially boost thermogenesis, it may cause some adverse effects as well. At DietSpotlight, we prefer to see some solid evidence for support.
The Bottom Line – Does Stimerex ES Work?
So, should you buy Stimerex ES? Well, first of all, we appreciate that this supplement contains some beneficial ingredients such as green tea and there is a 60-day return policy posted on the website. On the other hand, we have some doubts about it because it's not backed by actual clinical studies. Also, we noticed that the return policy does not work if you opened the bottle. Not to mention, it clearly contains some potentially dangerous ingredients, which can lead to serious side effects.
If you'd like to drop more weight, then we suggest you choose a product that contains safe ingredients, is backed by solid science and does not lead to harsh adverse effects.
Among the best products we've seen in 2016 is one called Leptigen. Its formula is a potent blend of four ingredients, which have been proven in documented clinical research to help boost metabolism and increase fat loss. You should also be aware that we can't find any complaints of harsh side effects and the user comments online reveal people are seeing great results.
The makers of Leptigen are so excited about their product they're offering a Special Trial Offer, which is very reassuring.