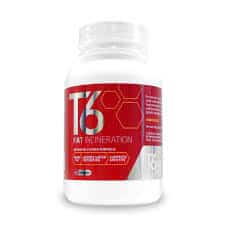 T6 Fat Burner company employees, have you ever taken your own product? We decided to put a laser focus on the ingredients, side effects, clinical research, and customer service. Additionally, we examined hundreds of user comments and reviews. Then, we summarized and refined to give you the info you need.
What is T6 Fat Burner?
Firstly, T6 Fat Burner is an over-the-counter dietary supplement. The ingredients are caffeine, capsicum extract, n-methyltyramine, cranesbill extract, acai extract, bitter orange peel, caffeine, cocoa, green tea, niacin and l-carnitine. You'll take two capsules per day and supposedly it'll help boost metabolism, ignite fat loss and help with water retention.
T6 Fat Burner is made by Weight Management Systems, a UK-based supplement company. While there's no official website, the supplement is sold through trusted online retailers. We like that we found some positive customer comments and that it contains a few natural ingredients, but read on…
T6 Fat Burner Side Effects – "Not Good!"
The first issue relates to T6 Fat Burner side effects. "One ingredient, cranesbill extract or geranium, is a potent stimulant," said our Research Editor. "When combined with the likes of bitter orange peel and caffeine, some users may experience adverse reactions."
"I couldn't believe how racy my heart got while I used this," claimed a user.
"It did nothing but make me a nervous wreck," said another.
Fortunately, we found some reviews where not everyone experienced side effects from T6 Fat Burner ingredients.
"I took a chance on this stuff and was pleasantly surprised that not only did I not feel side effects, but I actually lost weight," commented a customer.
"No side effects and steady weight-loss," stated a dieter.
Scroll below for one of the best products we've seen over the last year.
Lack of Information – "What's Missing?"
According to customer reviews of T6 Fat Burner, the company doesn't provide a lot of details about the supplement. "I wanted to do some research into this one and can't find any information," commented a user.
"I never was able to find a full ingredient list anywhere online," commented another.
We found some T6 Fat Burner reviews where customers did locate the information they needed.
"I always order mine from a trusted retailer," said a reviewer.
"It works well, and my retailer is reputable," said a dieter.
Our years of experience at DietSpotlight have taught us that it only takes a small thing, like missing supplement information, to stop customers from getting long-term success. If dieters can't locate any details relating to T6 Fat Burner, there's a problem.
The Science – "Researched?"
When we looked at the profile for T6 Fat Burner, we noticed some solid ingredients. For example, caffeine and green tea are backed by science and have been shown to boost metabolism. Unfortunately, any science supporting these components isn't connected to this particular formula. At DietSpotlight, science-based facts are critical to the review process. When anything is missing, we become concerned.
The Bottom Line – Does T6 Fat Burner Work?
What are our thoughts on T6 Fat Burner? Well, we like that it contains a few natural ingredients and that we found some positive customer comments, but the lack of research connecting this one to weight-loss is concerning. Also, we're a bit concerned about customer comments relating to limited product information and negative side effects.
If the time has come to jump-start your weight-loss, we suggest going with a supplement with a wealth of details about the clinically-tested ingredients and no mentions of harmful side effects.
Among the best products we've seen in 2016 is one called Leptigen. The supplement contains four clinically-tested ingredients, which have been shown to help accelerate metabolism and ignite fat loss. There's no chatter about harmful side effects and dieters are excited about seeing great results.
Also, the makers of Leptigen are so confident in their supplement, that they're offering customers a Special Trial Offer.