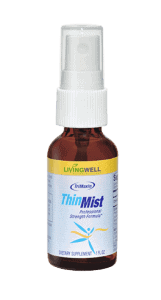 The results of my research into Thin Mist were somewhat surprising. We at DietSpotlight wrote a detailed review, closely examining the ingredients, side effects, clinical studies and overall customer service. We additionally looked at hundreds of dieter comments that are posted online. Lastly, we compacted all of this information to give you the bottom line.
EDITOR'S TIP:
Combine Thin Mist with a proven fat burner such as
Leptigen
for better results.
What You Need To Know
To begin, Thin Mist is marketed as a weight-loss spray for both women and men. It is intended to boost metabolism and encourage healthy weight reduction. You just spray this product into your mouth prior to each meal. There is no special diet plan or exercise regimen needed. Steven Hefferon and Jesse Cannone created this product. It contains L-Glycine, Chromium, L-Tyrosine, L-Isoleucine, L-Valine, Phosphatidyl Choline, L-Arginine, L-Glutamine, DHEA, L-Dopa, Ornithine Alpha Ketoglutartrate, Colostrum, Tribulus Extract, GABA, Mucuna Pruriens, Elk Antler Velvet and Eurycoma Longfolia.
We're uncertain when Thin Mist was initially released. This product is available via the official website. Furthermore, there are some success stories posted on the website and a 90-day satisfaction guarantee is provided, but read on…
Insufficient Evidence – "Something to Consider?"
Our first issue is with Thin Mist ingredients. According to our Research Editor, "There is simply not enough research or evidence to support the weight-loss claims. The actual amount of each ingredient used in this product is not even disclosed. Therefore it's difficult to determine how potent it actually is."
One user said, "This does not help you lose weight. I'm sorry, but it doesn't."
"Not sure what this spray does, but I haven't lost a pound so far."
Scroll below for one of the best products we've seen over the last year.
Another Concern – "Negative User Feedback"
We did discover quite a few discouraging customer reviews posted on the web for Thin Mist. One user stated, "Don't like the whole spray idea. Kind of gross. Just give me a pill."
Another person commented, "Not sure this mist actually does anything. I sure can't tell a difference. Won't buy again."
According to our extensive research, if there is one facet of a diet product that is especially problematic (insufficient evidence, negative user feedback, unpleasant taste) the chances of prolonged weight-loss success are minimal. This means if Thin Mist does result in a lot of unhappy dieters, this could be a big problem.
Any Real Science?
The official website does not provide any solid science to support Thin Mist. For us at DietSpotlight, we like to see documented research that backs up the weight-loss product and its ingredients or else we simply see a big red flag.
The Bottom Line – Does Thin Mist Work?
So, should you buy Thin Mist? Well, we appreciate that it is backed by a 90-day satisfaction guarantee and there are some success stories posted on the official website. Then again, we have some doubts about this weight-loss spray because it's not supported by actual science. Also, we're concerned about the negative user reviews we found online and this product's the lack of results, according to some reviews.
If you'd like to get rid of more pounds of fat, we suggest you select a product that is supported by plenty of positive user reviews, contains clinically tested ingredients and comes with excellent customer service.
Among the best products we've seen in 2016 is one called Leptigen. This supplement uses a proprietary blend of four key ingredients, which have been shown to potentially help speed up fat loss and ignite metabolism. Also, customer comments posted on the web indicate people are seeing significant results.
The makers of Leptigen are so confident in their product they're offering a Special Trial Offer, which is very encouraging.