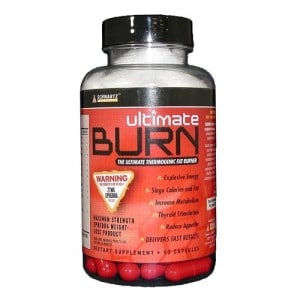 In the diet industry, don't mistake marketing for effectiveness. In our review of Ultimate Burn, we'll pay a bit more attention to ingredients, side effects, clinical research and quality of customer support. Additionally, we'll analyze hundreds of comments. Then, we'll summarize and refine to give you the info you need.
EDITOR'S TIP:
Combine Ultimate Burn with a proven fat burner such as
Leptigen
for better results.
What is Ultimate Burn?
First off, Ultimate Burn is a fat burner containing ephedra, acacia rigidula, caffeine, citrus aurantium, methylsynephrine hcl, methylphenylethylamine tartrate, green tea, hydroxycitric acid, cinnamon, guggulsterones, coleus forskohlii, raspberry ketones, ginger root, quebracho blanco, capsicum Chinese extract, cayenne pepper, hordenine hcl, n-methyl-tyramine hcl, tyramine hcl, octopamine hcl. The recommended serving is six capsules per day, which supposedly supports weight-loss. One of the benefits is the customer can take the pills on the go.
The supplement, introduced around 1993 by Schwartz Laboratories, does contain some natural ingredients – a good start. You have the opportunity to purchase the product on the official website and in retail stores. We like the time the company has been in business and that we located some favorable customer comments, but read on…
Ineffective – "No Reported Weight-Loss?"
The first negative about Ultimate Burn ingredients was ineffectiveness. "The name of this supplement tells the dieter they will have no trouble fighting those extra pounds," said our Research Editor. "Unfortunately, if the dieter does not see any changes, that's where the trouble begins."
"I used these for a month. Didn't suppress my appetite," commented a customer.
"Didn't really feel anything. No energy or appetite suppressant," said a user.
Scroll below for one of the best products we've seen over the last year.
FDA Warnings – "Keeping Companies Honest"
In February of 2004, the Food and Drug Administration issued a warning relating to selling products containing ephedra. The FDA reported," dietary supplements containing ephedrine alkaloids (ephedra)…present an unreasonable risk of illness or injury." Diet products with this ingredient are no longer legal in the United States.
Side Effects – "Causing Stomach Issues"
Based on dieter reviews on the web, Ultimate Burn side effects were a bit more than expected. "Have had better as far as stimulant products go. Took 2 in the am before workout on empty stomach, felt a little nauseous for a short time. Energy effects wore off sooner than I had anticipated," reported a dieter.
"On an empty stomach, gives me acidity. With acid reflux is not worth it to have an ulcer in the long run," stated a user.
"On the negative side, I constantly had sweaty palms and became mildly nauseous when I would exercise," commented a customer.
According to our research, we've found that something small, like side effects, could impede long-term success. If Ultimate Burn negatively affects dieters, why will they buy it?
Does Science Support Claims?
When we visited the official Ultimate Burn website, the company states it modifies over-the-counter standards, but doesn't provide published scientific research to support claims. According to the Department of Medicine, Harvard Medical School, "Consumers of acacia rigidula supplements may be exposed to pharmacological dosages of an amphetamine isomer that lacks evidence of safety in humans." At DietSpotlight, finding science linking the formula to weight-loss is critical. If there are no studies, we raise the red flag.
The Bottom Line – Does Ultimate Burn Work?
Don't run out and buy Ultimate Burn just yet. We like that the company has been in business for years and that we found some positive customer comments, but we have reservations because of the lack of published clinical research supporting weight-loss claims. Plus, we have issues with the effectiveness and potential side effects.
If you'd like a complete body transformation, we recommend going with a supplement with no reported negative side effects and ingredients proven effective by published clinical research.
Among the best products we've seen in 2016 is one called Leptigen. The supplement contains a formula consisting of a four-ingredient proprietary blend, which has been shown in published research to help jump start metabolism and boost fat loss. Customers commenting on the web are noticing amazing results and there's no one talking about harmful side effects.
Additionally, the company behind Leptigen, in an excellent sign of confidence in the supplement, is providing a Special Trial Offer.