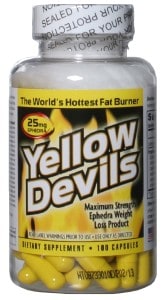 This review is what happened after I obsessed for weeks over Yellow Devils. We at DietSpotlight took the time to create a detailed review, looking closely at the ingredients, side effects, clinical research and level of customer service. Furthermore, we sorted through dozens of user reviews and dieter comments from all over the web. Lastly, we compressed the facts and details we found to give you the info you actually need.
EDITOR'S TIP:
Substitute Yellow Devils with a proven fat burner such as
Leptigen
for better results.
What You Need To Know
Yellow Devils is a supplement created by American Generic Labs. This product is claimed to increase metabolism, provide maximum energy and encourage fat burning. You only need one capsule per serving. As for the ingredients in Yellow Devils, they include; Ephedra Extract (25mg), Caffeine Anhydrous (300mg), Bitter Orange Extract, Capsicum Annum Fruit, Kola Nut Seed Extract, Eleutherococcus Senticosus Root, Acacia Rigidula Extract, Phenylethylamine HCL, Theobromine Anhydrous and Quebrach Bark Extract.
It's unclear when Yellow Devils were first released, but this product is available on the company website for $59.99 (100 capsules). This supplement does contain some natural plant extracts and there is a 60-day return policy provided on the website, but read on…
Dangerous Ingredients – Something to Think About?
According to our Research Editor, "The primary ingredient in Yellow Devils is Ephedra, which is a banned ingredient that can lead to serious health problems. It's prudent to speak with a licensed physician prior to taking a diet product like this."
One customer stated, "These actually gave me a terrible headache."
Another user mentioned, "If you want a pounding heart and serious jitters, these are the pills for you!"
Scroll below for one of the best products we've seen over the last year.
Serious Side Effects!
The key ingredient in Yellow Devils can lead to known adverse effects, especially since it's combined with caffeine. The side effects include chest pains, nausea, headache, stomach pains, jitters, anxiety, and even heart attack or stroke. One customer commented, "My heart races when I take this and I feel sort of dizzy."
"This pill is dangerous! Trust me. I took it for one day and then no more. Crazy side effects," said another user.
The research we've conducted has shown if there is a certain part of a diet pill or program that is especially concerning or troublesome (dangerous ingredients, serious side effects, steep price tag) the odds of long-term success are not very good. This means if Yellow Devils do in fact cause serious side effects in a lot of people, this could be a major dilemma.
Is There Any Science?
Clinical studies and scientific research are not addressed on the official website for Yellow Devils. This is not surprising because this product does contain Ephedra, a banned ingredient. For us at DietSpotlight, we like to see documented research that backs up the diet product and its ingredients.
The Bottom Line: Do Yellow Devils Work?
So, should you run out and buy Yellow Devils? Well, we like that Yellow Devils contain some natural ingredients and there is a 60-day return policy posted on the official website. However, we have some doubts about this diet pill because it's not backed by actual science. Moreover, we're concerned about the dangerous ingredients it contains and the serious side effects this product can cause.
If you'd like to get rid of more excess pounds, then we encourage you to select a product that does not contain any dangerous ingredients, does not lead to harsh side effects and is backed by solid science.
Among the best products we've seen in 2015 is one called Leptigen. This supplement uses a proprietary blend of four unique ingredients, which have been proven in documented clinical research to help speed up fat loss and elevate metabolism. We can't find any complaints of harmful side effects and dieter comments found online express people are seeing great results.
The makers of Leptigen are so satisfied with their product they're offering a Special Trial Offer, which is a good sign.