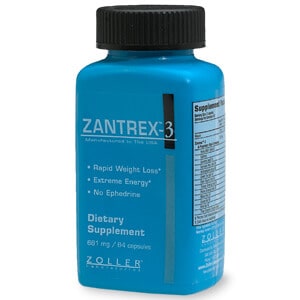 We're hearing a lot of buzz about Zantrex 3, so we focused our attention on ingredients, side effects, customer service and scientific research. Furthermore, we scrutinized hundreds of consumer reviews and comments. We then detailed and summarized to give you the info you need.
What You Need to Know
To begin with, Zantrex 3 fat burner is a supplement containing yerba mate, guarana, trimethylxanthine, damiana, green tea, kola, schizonepeta, black pepper, rhodiola crenulata, Asian ginseng, maca, cacao and black tea. The recommended serving size is two capsules prior to meals to supposedly assist with weight-loss. One of the benefits of the product is the ease of use.
The product, introduced more than 20 years ago by Zoller Laboratories/Basic Research, doesn't appear to use synthetic ingredients, a good decision. You can buy the supplement on the official website and through trusted retailers. We do like the length of time the company has been in business and the money-back guarantee, but read on…
Side Effects – "Leaves You Shaky?"
The first concern we had was Zantrex 3 side effects. "Several fat burners contain caffeine-style ingredients," said our Research Editor. "But when formulas contain additional thermogenics, there is a chance of adverse reactions."
"After using Zantrex-3 the second day, within 15 minutes after taking this supplement, my face felt as though it was on fire and was getting more red by the minute. As I glanced at my arms and hands, they too were turning red," said one user.
"I have been taking it for a week and have never felt so sick in my life. I started with one pill twice a day and bumped it up to two twice a day. Didn't make a difference. I feel so sick every time I eat. Dizzy, nauseous, headaches," offered a dieter.
Scroll below for one of the best products we've seen over the last year.
FDA Judgments – "A Concern?"
In January of 2005, Basic Research was contacted by the Food and Drug Administration about the mislabeling of supplements. According to the complaint, products were claimed to affect "the structure or function of the body." This is not allowed under current laws. The statements have since been removed.
Ineffectiveness – "Just Doesn't Work"
In our review, the consensus was the Zantrex 3 ingredients were ineffective. "Unfortunately, this did energize me, but didn't help me lose anything. 1 bottle down and drum roll please…..I have gained 3lbs," reported one customer.
"Used this with no results a few years back. Very disappointing! I exercised faithfully as well," said a consumer.
"This product didn't do anything for me. I eat a lean diet and exercise 6 days a week. I noticed no difference," offered a user.
Our research has shown that if a portion of a weight-loss system is a concern, such as effectiveness, there's a chance you will not notice success in the long-term. If Zantrex 3 is ineffective, that could be a problem.
The Science – "Legit Ingredients?"
The official Zantrex 3 website states user's experienced "546% more weight loss," but we can't locate clinical trials to that effect. There's no trouble finding research into green tea or caffeine, but you'll also find supplements with these ingredients by the thousands. At DietSpotlight, finding science backing claims is critical. If a company can't provide support, we have concerns.
The Bottom Line – Does Zantrex 3 Work?
So, we've reached the end of the road with this one and what's the final take? There are positives, like a few favorable customer comments and the fact that the company has a strong foothold in the industry, but have reservations recommending it because of the lack of scientific research supporting weight-loss claims. Plus, we're concerned about FDA judgments against the business and several complaints posted on ripoffreport.com.
If you'd like a complete body turnaround, we suggest going with a product that's both cost effective and clinically proven that's had no negative interaction with the Food and Drug Administration.
Among the best products we've seen in 2016 is one called Leptigen. The formula contains a four-ingredient proprietary blend, which has been shown in clinical studies to help ignite metabolism and enhance fat loss. We can't find chatter about negative side effects and customer reviews highlight people seeing exceptional results.
The company behind Leptigen is confident in the supplement, so they're providing a Special Trial Offer, a good decision.