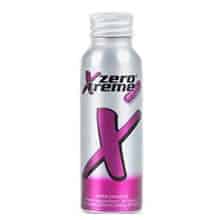 his review is what happened after I obsessed for weeks over Zero Xtreme. We've heard people talking about it, so we've decided to take a closer look at this one. We'll concentrate on ingredients, side effects, customer service and scientific research. Furthermore, we dug through hundreds of consumer comments. We then refined and summarized to give you the info you need.
EDITOR'S TIP:
Click here
to substitute Zero Xtreme with a proven fat burner such as Leptigen for better results.
What You Need to Know
First off, Zero Xtreme is a fat burner containing sibutramine, desmethylsibutramine, coix lacryoma-jobi, mulberry leaf, cassia extract, medical amylum and bitter citrus extract. The recommended serving is two capsules per day, which supposedly increases weight-loss. It's easy to use, a definite plus.
There is no information relating to when Zero Xtreme USA introduced the supplement, but the product is affordable, a plus. You can purchase Zero Xtreme on the official website and through distributors. We like that we found some positive customer comments, but read on…
Ineffectiveness – "Does it Work?"
The first concern we had about Zero Xtreme ingredients was ineffectiveness. "There are a lot of differences in the weight-loss market, but there's one major similarity among dieters," said our Research Editor. "All want the products to work."
"Hi all I tell them I've been taking 30 days and have not dropped a single kilo," reported a dieter.
"I am taking a month and I did not give me anything," stated a consumer.
Scroll below for one of the best products we've seen over the last year.
FDA Warnings
The Food and Drug Administration issued a notification on July of 2015 to Zero Xtreme. The basis of the letter was to inform the public to stop using the supplement, because it contained sibutramine and desmethylsibutramine. Both ingredients were pulled from the market because of safety reasons.
Jittery – "Shake It!"
According to some user reviews and forum posts, one of the more common Zero Xtreme side effects is jitteriness. "The only problem I've had [is I] felt like a kind of trembling hands and parts of my face and the eyebrow and lip," commented a user.
"I take one week consuming the product and since then I cannot sleep and I've begun to feel tremors and chest pain, stop taking it and felt an improvement in my body," said a consumer.
Our research has found that one side effect, like jitteriness, is enough to kill your chances of long-term success. If Zero Xtreme leaves dieters feeling bad, that could be a problem.
The Science – "Proven Claims?"
There are no links on the official website to clinical research proving Zero Xtreme will increase weight-loss. What we did find were statements from the FDA relating to Zero Xtreme ingredients. The formula could, "substantially increase blood pressure and/or pulse rate in some patients and may present a significant risk for patients with a history of coronary artery disease, congestive heart failure, arrhythmias, or stroke. This product may also interact… with other medications a consumer may be taking." At DietSpotlight, locating science to support claims is critical. If the research concludes it's more dangerous than helpful, walk away.
The Bottom Line – Does Zero Xtreme Work?
Let's put this one to bed once and for all. After an exhaustive look at Zero Xtreme, we've come to a decision. The company provides a list of ingredients and we located some positive consumer comments, but we are iffy on supporting this one because the weight-loss claims aren't supported by published scientific studies. Plus, we're concerned that the questionable formula could lead to bigger issues.
If you'd like to shed additional pounds, we recommend going with a supplement with no reported side effects. One that is supported by published clinical studies.
Among the best products we've seen in 2016 is one called Leptigen. It contains a four-ingredient proprietary blend, which has been shown in studies to enhance fat loss and stimulate metabolism. No one is talking about negative side effects and dieter reviews highlight people seeing exceptional results.
It's a bonus that the makers of Leptigen show confidence in their formula by offering a Special Trial Offer.