Updated: 02/14/2018
- Site operated by Burn HD
We hear a lot of buzz about AMPK activation, the new technology from LA-3. We wanted to learn more, so our attention turned toward the ingredients, side effects, and clinical research. Additionally, we read through hundreds of user experiences and testimonials. Then, we summarized the details to give you the info you need.
LA-3 can be purchased through Amazon.
LA-3 Readers:
Click here
to find out why we're giving away samples of our product, Burn HD.
Overview
What is LA-3?
LA-3 is a supplement that is manufactured by LA-3 Live Cell Research, which is based in California. The company refers to itself as a nutraceutical company because it focuses on producing nutrition-based supplements that help heal and repair the body so that it can function at its best.
LA-3 is sold either separately or in an LA-3 kit. The LA-3 kit contains other health products that are supposed to rejuvenate a person's body on a cellular level.
Many health supplement watch groups have been keeping a close eye on the products sold by Live Cell Research because they have seen numerous complaints regarding unhappy customers who spent a fortune on LA-3 products, but didn't get any of the results that they were promised. [1]
Products Similar to LA-3
Ingredients
LA-3 Ingredients
What most people find reassuring about purchasing products from Live Cell Research is that this supplement manufacturer is careful to avoid adding potential allergens in LA-3. None of them contains any lactose, animal products, or chemical-based preservatives.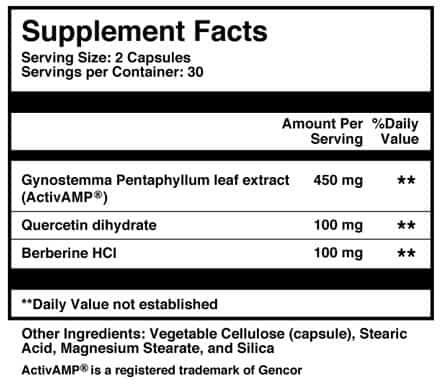 They are also very open about the list of ingredients that they use. This particular product only contains three LA-3 ingredients, which are:
Scroll below for one of the best products we've seen over the last year.
LA-3 Ingredients
Let's take a closer look at La-3 ingredients to determine if LA-3 works.
Gynostemma Pentaphyllum
The first ingredient, gynostemma pentaphyllum, is also called "jiaogulan." It comes from a plant that flourishes in the wild in China, so it is often used in the traditional medicine there. [5]
People in this region of the world seem to live for an exceptionally long time and some believe that this is due to a jiaogulan tea they drink on a near-daily basis.
This longevity and the search for another plant-based sweetener led to rumors that the plant was a "fountain of youth" that could extend a person's life to over a century.
Research has never proven this. Still, alternative medicine currently uses jiaogulan to treat just about every ailment that a person can think of, such as cancer, immune system conditions, and liver disease. [6]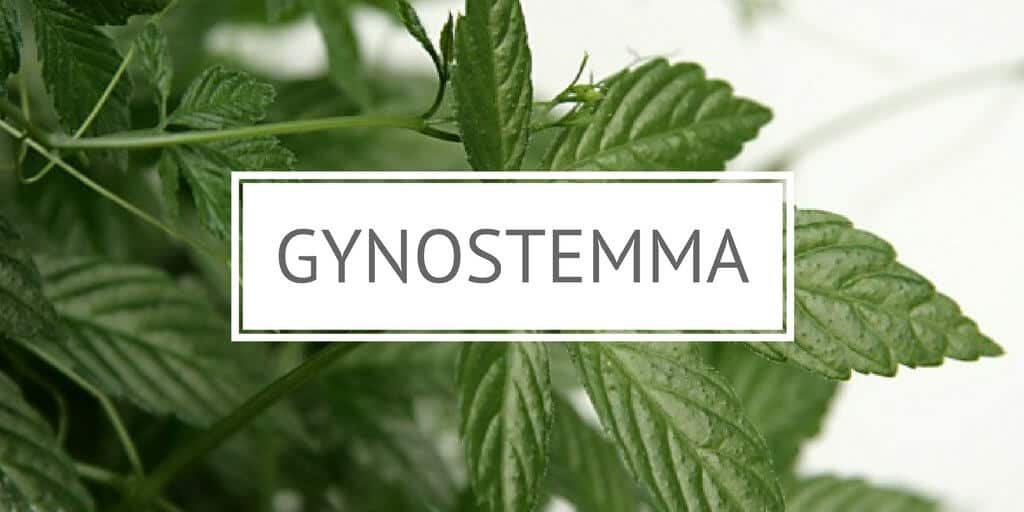 Quercetin Dihydrate
The quercetin dihydrate in the LA-3 pills is different. It was studied more intensively in many small clinical trials, but most of them were sponsored by companies that manufactured quercetin dihydrate supplements. [7]
What researchers found is that quercetin dihydrate is an insoluble chemical in fruits and vegetables that may have antioxidant-like properties.
But that doesn't mean that it is a miracle cure for any disease.
Not long ago, the FDA sent out warning letters to companies who sold quercetin dihydrate products because they were making claims that it could treat serious illnesses, such as cancer.
Since this isn't true, the companies had to change the wording of their advertising for the product to reflect a more accurate statement about it.
While quercetin dihydrate acts similar to an antioxidant, it doesn't have the same chemical composition as one.
So it doesn't have the same ability to cause damaged cells in the body to self-destruct the way that antioxidants can. [8]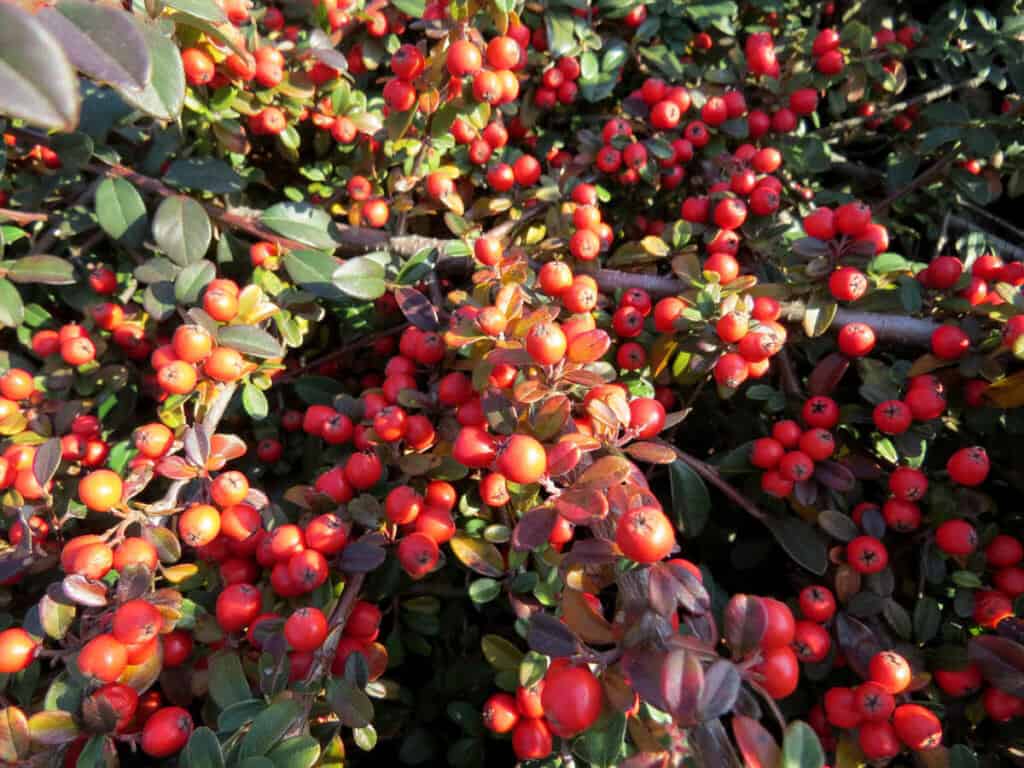 Berberine
The last ingredient, berberine, has got the most attention because some small research studies have proven it reduces inflammation and high blood sugar more efficiently than many pharmaceutical products can.
Berberine is also plant-based. Among others, you can find it in barberry, goldenseal, and Oregon grape plants. [9]
Benefits
What are the Benefits of LA-3?
Live Cell Research says that there are many LA-3 benefits that come with taking their product. Just a few of the LA-3 benefits include:
Improved Energy Level
Supposedly, when a person can build up the amount of AMPK they have in their body, they begin to have the energy levels they once did when they were younger.
In fact, this benefit is one of the supplement's biggest selling points since many adults over 40 years old suffer from fatigue from leading a hectic lifestyle.
Improved Cognitive Functioning
When a person's body can't use energy properly, it can cause them to have "brain fog". This impairs their memory and ability to concentrate.
LA-3 claims to be able to help improve the insulin response of the body, so the cells are no longer starving for sugar. L
ive Cell Research says that this alone improves a person's forgetfulness and ability to perform tasks that require a high level of reasoning skills. [10]
The three active ingredients in LA-3 are supposed to work together to act as an AMPK activator.
The activator is a product that increases the production of the enzyme adenosine monophosphate-activated protein kinase in the body, which is depleted as part of the natural ageing process that people go through.
Specifcally, AMPK is "an enzyme that plays a role in cellular energy homeostasis."[11]
It is concentrated in a number of areas throughout the human body, including the brain, liver, and skeletal muscle. AMPK itself is made up of three proteins: STE-related adaptor (STRAD), mouse protein 25 (MO25), and LKB1.[12]
Supposedly, this enzyme holds the key to everlasting youthful energy. So by increasing the amount of AMPK that a person has in their body, they can feel like their old self again. [13]
Side Effects
What are the Side Effects of LA-3?
Fortunately, LA-3 isn't a supplement that has a lot of dangerous side effects. In fact, people have only reported a few LA-3 side effects:
Though extremely rare, when some people first start taking LA-3, they sometimes get:
Stomach pain
Increased bowel movements
Nausea
These symptoms allegedly do not last very long, but eating before taking LA-3 doesn't reduce them either. Most people who have experienced these issues say that this only lasts about a week or so.
Low blood sugar levels is a potential side effect of berberine. This usually poses no problem for a person with normal blood sugar levels, but those who have blood sugar that is in the low-to-normal range could experience a sudden drop that could present a concern. [14]
Is LA-3 Safe for Everyone?
LA-3 pills are generally safe for adults who are not pregnant or planning to become pregnant. Women who are nursing or anyone under the age of 18 should contact a licensed physician before starting any dietary supplement.
Is LA-3 Expensive?
When researching where to buy LA-3, those with interest in this product won't have to pay too high of a price.
Live Cell Research recommends people start out with a 90-day supply of their product, which is three bottles. But it is also available in individual 30-day bottles too. The cost of each bottle is about $60.
There is also a 90-day guarantee available on all of the LA-3 products. So if a person doesn't get the results they wanted, they can return the product for a full refund. However, some consumers had made mention of the poor customer service available when they tried to get their money back.
Results
LA-3 Results
Experiences regarding LA-3 results have been mixed. Some say that they were able to lose weight, but not as much as Live Cell Research claimed. Others mentioned that it never improved the brain fog that they were suffering from.
To combat the negative issues, Live Cell Research explains how the LA-3 fat burner works – in stages.
During the first week: you have better energy levels than they have ever had in years. You may also begin to feel reduced appetite and limited cravings.
After two weeks: cravings for unhealthy foods stop and you notice a difference in your mental acuity. Due to eating less, you may also see your abdominal fat going away.
After a month: noticeable difference in one's weight. Because of the allegedly increased AMPK levels in your body, you should also notice purity of mind and a more potent memory.
Pros & Cons
LA-3 Pros & Cons
Pros
100% money-back guarantee
New perspective on weight loss
Full disclosure of ingredients
Enzyme research backs it
Cons
Though rare, side effects have been reported
Products
Other LA-3 Live Cell Research Products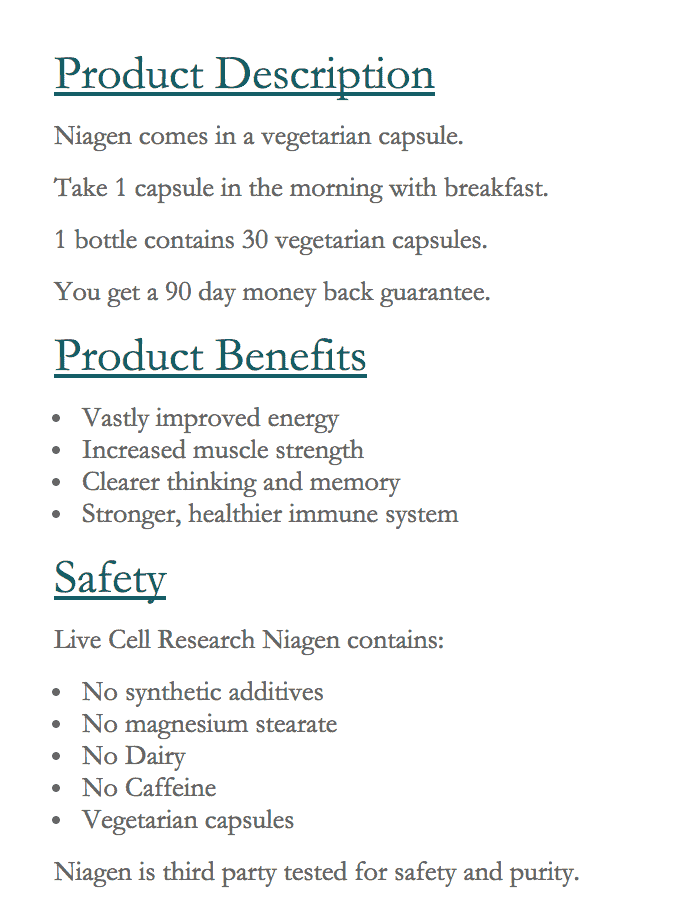 Niagen
Niagen claims to have found a way to improve the communication between our cells' nuclei and our mitochondria, the decline of which is the cause of our ageing.
According to the Live Cell Research website, "niagen is the first product ever developed containing pure nicotinamide riboside, the only substance proven in multiple studies to increase levels of NAD+ in your body."[15]
Price
30-day supply: $46.99
90-day supply:  $117 – 18% 0ff, normally $140.97 (Free S&H)
180-day supply: $214.27 – 24% off, normally $281.94 (Free S&H)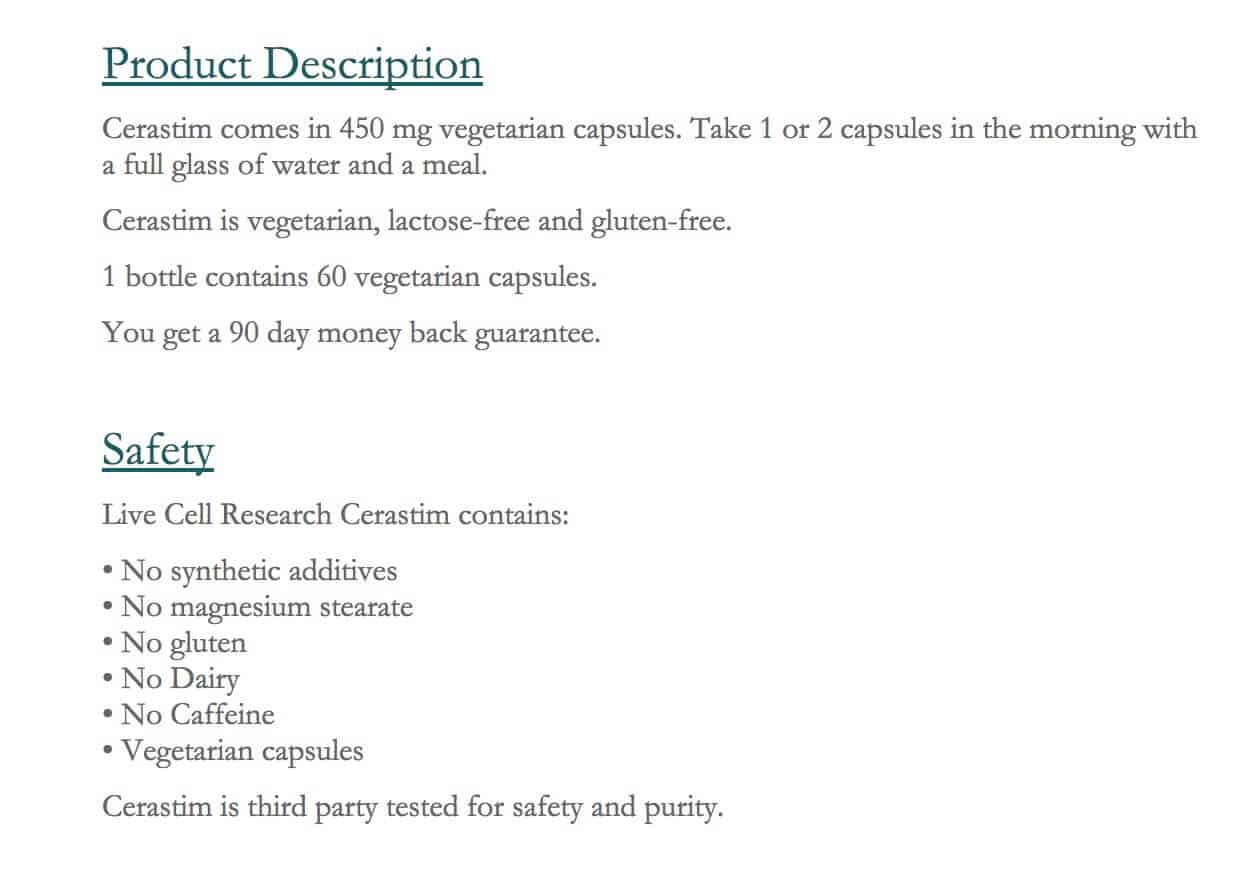 Cerastim
Cerastim is a memory and focus supplement of 5 nootropics, "natural ingredients proven to boost brain activity and provide a wide range of mental benefits", that promises to "improve memory, increase focus, boost motivation and even elevate mood."[16]
Price
30-day supply:  $49.95 – 28% off, normally $69.95
90-day Supply: $119.98 – 42% off, normally $209.85
120-day supply: $179.98 – 57% off, normally $419.70
Midogen
Midogen is another anti-aging supplement from LA-3 Live Cell Research that "contains a synergistic combination of NADH, PQQ and Trans-Resveratrol – ingredients proven to support healthy aging on their own…but work even better together."
The product promises "boosted cellular function", "mitochondrial growth", and "antioxidant protection against free radicals".

Single bottle: $46.99 + $3.95 shipping
Three bottles: $117 + free shipping ($39 per bottle)
Six bottles: $214.27 + free shipping ($35.71 per bottle)
Also: read our Burn HD Weight-Loss Kit review »
Bottom Line
The Bottom Line on LA-3
Will LA-3 be the key to activating your longevity? Well, based on review and research, there's a chance that you'll notice results. There's solid science supporting the claims. As with any supplement, results vary. But, with this one, it's apparent that users see positive changes. You want to lose weight and improve overall health.
Why not consider going with a supplement containing a formula supported by positive customer reviews.
Among the best supplements we've seen this year is the product Burn HD. It contains four clinically-tested ingredients with supportive results published in peer-reviewed journals showing improved metabolism, decreased weight and increased fat loss. Users all over the web report amazing results.
The Burn HD company stands behind the product, and they're so confident that they're offering a 2-Week Sample.
Learn More About Burn HD »