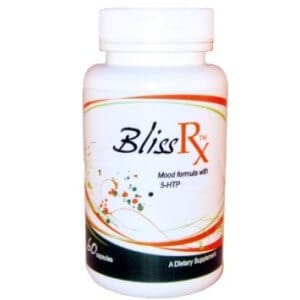 97% of people simply want a diet product that works. Yeah, we're not sure about the other 3%, either. For Bliss Rx, we looked at the ingredients, side effects, clinical research and customer service. We also read dozens of reviews and comments around the web. Then, we compiled what we found to provide you with the information you need.
EDITOR'S TIP:
Click here
to substitute Bliss RX with a proven fat burner such as Leptigen for better results.
What You Need to Know
First off, Bliss RX is a mood enhancer that contains a mixture of Vitamins B1, B2, B6, and B12 along with calcium, folic acid, chamomile, niacinamide, magnesium, and more. It's designed to alter the meal patterns of dieters and reduce emotional or stress eating. It comes in easy to consume capsules that can be taken anywhere, which makes it convenient even for those with active and busy lifestyles.
The company that makes Bliss RX has been around for over 20 years, which is encouraging. It's available online through their official website and through third party retailers. We like that this supplement is affordable for most dieters and that the ingredient list is available online, but read on…
Lack of Results – "No Proven Benefit"
The first thing we discuss about Bliss Rx ingredients is that they may not work as the dieter expected them to.  "There is no proven benefit for those looking to lose weight," said our Research Editor. "It may help improve your mood and serotonin levels, but there is no guarantee of weight-loss."
"Diet and exercise alone is a safer and more effective mood enhancer," said one user.
"I noticed a marginally improved mood (possibly placebo), but I didn't see any weight-loss," said another.
Scroll below for one of the best products we've seen over the last year.
Side Effects – "Something to Consider?"
Bliss RX is supposedly a mood altering supplement. It's not advised to be taken by anyone with a history of depression or mental illness as it can cause negative reactions. "I started taking this drug and I had constant mood swings," said one customer.
"My mood decreased with Bliss RX, I saw no improvement at all or weight-loss," said another.
"I went through 1 bottle and noticed a slightly improved mood, but now I can't stop taking it without mood swings."
If there is a particularly troublesome aspect in your weight-loss regimen or diet supplement (painful workout, too much time commitment, side effects, bad taste, etc.), our research has shown that you're less likely to succeed and meet your goals. If Bliss RX really does cause issues with some users, that could be a problem.
The Science – "Any Evidence?"
Bliss RX has some support as a mood enhancing supplement, but it does not have any research proving that it is effective for weight-loss. We've looked online and were unable to find any studies or research behind it. Without proven results and with negative reviews, we're skeptical about this product's claims and whether or not it will help our readers reach their goal weight.
The Bottom Line – Does Bliss RX Work?
Are we ready to buy this one up? We liked that the company that manufactures Bliss RX has been around for over 20 years and that the product is easy to find and affordable, but without the scientific study proving that it is an effective weight-loss tool, we are skeptical about recommeding this to our readers. We're also concerned about side effects, negative reviews, and concerns if you have some medical conditions.
If you'd like a diet supplement that delivers safe weight-loss at an affordable price point, we suggest going with a product that has ingredients that have been clinically tested with strong support from users.
Among the best products we've seen in 2016 is one called Leptigen. Its unique proprietary blend of four ingredients, all of which have been clinically tested. The formula may promote healthy weight-loss by supporting fat burning and metabolism. We've read the reviews online, and users say they are noticing some amazing results.
To help make your decision easier, the makers of Leptigen are currently offering a Special Trial Offer, which is a sign that they believe it will help you meet your weight-loss goals.