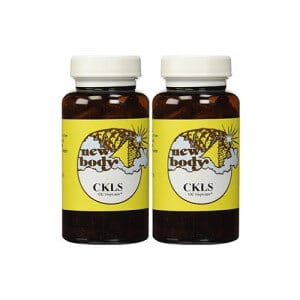 You're about to learn everything you need to know about CKLS. We created a detailed review, examining the side effects, ingredients, customer service and scientific studies. Plus, we examined hundreds of dieter comments and testimonials. Then, we summarized and refined to give you the info you need.
What is CKLS?
First off, CKLS ingredients are aloe vera resin, eucalyptus, cayenne, chamomile, uva ursi, dandelion root, cascara sagrada, fenugreek and chapparal. The supplement promotes wellness by flushing out toxins and detoxing the body.  One benefit is that men and women can use the product.
CKLS is made by New Body Herbs; a company started in 1976. This product is sold through the official website and trusted retailers. We like that we found some positive customer comments and that it contains a few natural ingredients, but read on…
Side Effects – "Like Laxatives?"
The first concern was the intensity of CKLS side effects. "The supplement contains cascara sagrada, dandelion root and uva ursi," said our Research Editor. "Although natural, each has been shown to cause laxative effects."
One person commented, "Gave me terrible stomach cramps and diarrhea. Never again."
"Definitely causes some adverse effects like gas and diarrhea," revealed another user.
We found that side effects are rare. Some customers didn't mention negative reactions.
"It works and clears out all the unwanted waste in your body, without the side effects," reported a user.
Scroll below for one of the best products we've seen over the last year.
Poor Results – "Something Else to Think About"
According to the customer feedback, CKLS ingredients didn't produce results. One person stated, "Did not work on me or my husband."
"This product did not work for me. I took it for a couple of weeks and nothing happened," said another customer.
On the other hand, we located customer comments showing the effectiveness of CKLS. "It keeps your colon clean, eliminates toxins and debris from the body, and makes you feel light and energetic naturally," stated a dieter.
"This colon cleanser works great…just gotta make sure you are near the restroom when you take it because it will release like you never had before," reported another.
The research we've done has shown if there is a particular aspect of a diet pill that's problematic, such as limiting results, the chances of long-term success are reduced. So, if you use CKLS and don't notice any changes, it may be time to think about something that works.
The Science – "Research Based?"
For us at DietSpotlight, locating science used to support claims is critical to the review process. Taking a closer look at CKLS, we noticed it contains a few natural ingredients, including aloe vera and eucalyptus. Both cause laxative effects. While this may cause the needle on the scale to move; this isn't a sustainable weight-management solution. Also, the missing piece of the puzzle is scientific research connecting this formula to weight-loss.
The Bottom Line – Does CKLS Work?
Considering a colon cleanser like CKLS for weight-loss? Well, we like that it contains a few ingredients and that we located some positive customer comments, but we have some doubts because there's no clinical studies connecting it to weight-loss. We're also concerned about the potential side effects and lack of results reported by customers.
You want to lose weight. We hear you, so we suggest going with a product that's backed by positive customer reviews., contains ingredients supported by solid science and not connected to harmful side effects.
Among the best products we've seen in 2016 is one called Leptigen. This supplement contains four powerful ingredients, which have been shown to help speed up fat loss and ignite metabolism. We can't find any complaints of harmful side effects and user feedback around the web shows people are seeing excellent results.
The makers of Leptigen are so confident in their product they're offering a Special Trial Offer, which is very encouraging.