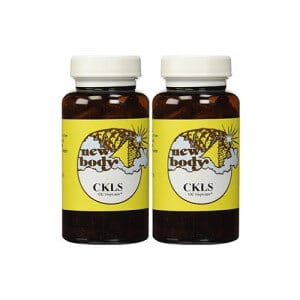 You're about to learn everything you need to know about CKLS. We created a detailed review, examining the side effects, ingredients, customer service and scientific studies. Plus, we read all sorts of dieter comments posted online. At last, we summed up and refined to give you the info you need.
What You Need To Know
First off, CKLS is a dietary supplement that claims to help flush out the colon to aid with weight-loss and overall health. It contains aloe vera resin, eucalyptus, cayenne, chamomile, uva ursi, dandelion root, cascara sagrada, fenugreek and chapparal. Both women and men can use this formula.
From what we could gather, CKLS is made by New Body Herbs. It has been available since 2005. This product is sold online directly through the official website and some customer feedback is posted online, which is helpful, but read on…
Side Effects – "Should You Be Concerned?"
The first concern we had was the potential for CKLS side effects. "CKLS contains laxative ingredients such as cascara sagrada, dandelion root and uva ursi, which can lead to negative issues, including loose stool, nausea, diarrhea and gas," says our Research Editor.
One person commented, "Gave me terrible stomach cramps and diarrhea. Never again."
"Definitely causes some adverse effects like gas and diarrhea," revealed another user.
Scroll below for one of the best products we've seen over the last year.
Poor Results – "Something Else to Think About"
According to the customer feedback, numerous people didn't experience the best results. One person stated, "Did not work on me or my husband. I had to give it a star to post, but wouldn't even give it 1 star if I didn't have to."
"This product did not work for me. I took it for a couple of weeks and nothing happened. I will not buy this again," said another customer.
The research we've done has shown if there is a particular aspect of a diet pill or weight-loss program that is problematic (side effects, poor results, questionable ingredients) the chances of long-term success are not good. This means if CKLS does not produce results, this could be a dilemma.
"What About Actual Science?"
For us at DietSpotlight, we like to see some published science that supports the diet supplement we are reviewing. In regards to CKLS, this product does contain some natural diuretic and laxative ingredients to potentially help with bowel movements. However, we did not find any clinical studies presented on the official website to support this formula, which is certainly discouraging.
The Bottom Line – Does CKLS Work?
So, should race out to buy CKLS? Well, we appreciate that this supplement uses some natural herbs and it may help with regularity, but we have some doubts because it's not really backed by any solid clinical studies that connect it with weight-loss. We're also concerned about the potential side effects and negative user comments.
If you'd really like to drop more pounds, we suggest you choose a product that is backed by positive customer reviews. It should contain ingredients supported by solid science. And, there should be no reports of side effects.
Among the best products we've seen in 2016 is one called Leptigen. This supplement contains four powerful ingredients, which have been proven in documented clinical research to help speed up fat loss and ignite metabolism. We can't find any complaints of harmful side effects and user feedback around the web shows people are seeing excellent results.
The makers of Leptigen are so confident in their product they're offering a Special Trial Offer, which is very encouraging.