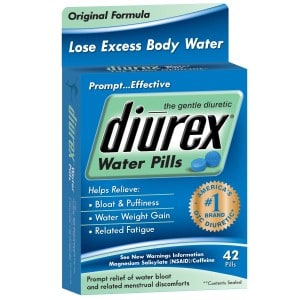 I'm here to cut through the noise and get you to the bottom line on Diurex. We dug deep and came up with a comprehensive review, closely examining the ingredients, side effects, scientific studies and overall customer care. We additionally read tons of comments from all over the web. At this point we compacted and summarized to give you with the info you need.
What You Need To Know
First off, Diurex is a series of supplements made by Alva-Amco Pharmacal Companies, Inc. The key ingredients are solubolized pamabrom and caffeine anhydrous. There are six different formula posted on the official website, which include Aquagels, MAX Water Caplets, Ultra, Water Pills, WaterCaps and Water Capsules. These are intended to "temporarily" reduce bloating and excess water weight. You have to read the directions on each label to find out how many to take.
We are uncertain when Diurex was first released, but the company itself dates back to 1904. You can buy the products in common drugstores, as well as online. You are encouraged to drink plenty of water daily while using the formula, but read on…
Side Effects – "Be Cautious?"
The first issue we realized with Diurex ingredients was that some dieter experienced side effects. "Whenever you choose a new supplement you need to take into consideration how it will make you feel," says our Research Editor. "In this case, users have reported some irritating reactions."
One customer commented, "Diurex causes diarrhea!"
"Doesn't really work, just makes me nauseous," said another user.
Scroll below for one of the best products we've seen over the last year.
Weight-Loss Results – "They're Lacking"
Just so you are aware, Diurex pills do not burn off fat, suppress appetite or elevate metabolism, which means they will not help with long-term fat loss. One customer revealed, "Didn't lose a single pound. These just make you pee a lot!"
Another user said, "No weight-loss from this! Don't waste your money!"
According to our research, if there is some particular part of a supplement or weight-loss program that is very problematic or burdensome (lack or real results, side effects, a federal warning) the chances of long-term success are pretty low. This means if Diurex pills do cause ill feelings, this could be a serious dilemma.
The Science – "Is There Clinical Support?"
Actual science is not addressed on the company website for Diurex. However, this product does contain proven diuretics, so it should help remove excess water weight from the body. Then again, you should not expect it to help you lose excess body fat. After all, it does not contain proven fat burners or metabolism boosters. At DietSpotlight, we prefer to see published clinical studies that prove it works and that's not something this supplement has to offer.
The Bottom Line – Does Diurex Work?
Hold up just one more minute so we can give you the final details on this one. We like that the ingredients in Diurex are offered online and it can help you with water retention, but we don't feel comfortable recommending this to dieters because it is not clinically proven to boost weight-loss. We're also concerned that it may interfere with some prescription medications.
If you need to see faster fat loss results and a slimmer figure, we encourage you to choose a diet supplement that is packed with clinically proven ingredients, does not cause harsh side effects and is supported by plenty of positive user feedback.
Among the best products we've seen in 2016 is one called Leptigen. This weight-loss pill contains four proven ingredients that have been shown in published scientific studies to boost metabolism and increase fat loss. We have not seen any talk of harmful side effects and user feedback around the web shows people are seeing significant results.
Also, the company that makes Leptigen is so confident in the formula they're offering a Special Trial Offer, which is quite a good sign.