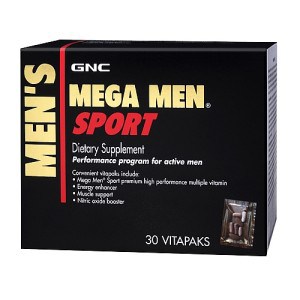 Why is it that so few diet products are backed by science? Let's find out if GNC Mega Men Energy and Metabolism is one of the good ones. There are people interested in this supplement, so we delved into the ingredients, side effects, clinical research and quality of customer support. Additionally, we picked apart hundreds of consumer reviews and comments. We then refined and summarized to give you the info you need.
EDITOR'S TIP:
Substitute GNC Mega Men Energy And Metabolism with a proven fat burner such as
Leptigen
for better results.
What You Need to Know
First off, GNC Mega Men Energy and Metabolism is multivitamin containing caffeine, capsicum seed extract, black pepper extract, green tea extract, amino acids and B-vitamins. The recommended serving is two capsules daily, which supposedly promotes weight-loss and increases metabolism. One of the benefits is the availability of the supplement.
There's no information as to when the company first introduced GNC Mega Men Energy and Metabolism, but GNC was founded in 1935. It doesn't appear the supplement contains artificial ingredients, a good start. We do like the amount of time the business has been in operation and the favorable BBB rating, but read on…
Side Effects – "Something to Worry About?"
The first negative aspect deals with GNC Mega Men Energy and Metabolism side effects. "When you take a multivitamin, it's to support overall health and wellness," said our Research Editor. "What you don't expect are adverse reactions."
"My body temp elevates, I feel jittery, light headed and my stomach acts up," said a user.
"I cut ALL sources of caffeine out of my diet when I started taking this, and within just a couple days I was having feelings of my heart racing, shortness of breath, and my stomach was freaking out," reported a customer.
Scroll below for one of the best products we've seen over the last year.
Regulatory Issues
The New York Attorney General's office contacted the parent company in March of 2015 relating to the mislabeling of products. The ruling stated several supplements didn't contain ingredients listed on the packaging.
Ineffectiveness – "Another Issue"
Based upon numerous customer comments, GNC Mega Men Energy and Metabolism ingredients don't live up to the hype. "I've never felt an upswing of energy from these. I'm a bigger guy (6'6″, 305) and consistently in the gym lifting weights. Even with an upped dosage I still don't feel anything," said a consumer.
"I tried this product for three weeks, I'm still taking it. Didn't work for me, feel the same no increase energy," commented a dieter.
"I didn't really notice any energy effect. I won't buy these again mainly because I have had better multivitamins in the past. Combine that with no feeling of extra energy plus the horrible," offers a customer.
Based upon our research, if any portion of a supplement is thought of as a concern, like ineffectiveness, it could put a damper on long-term success. If GNC Mega Men Energy and Metabolism doesn't live up to the dieter's expectations, they'll not buy it again.
The Science – "Clinically Proven?"
According to the official website, GNC Mega Men Energy and Metabolism is "clinically studied," yet we can't locate published scientific research linking the formula to weight-loss. At DietSpotlight, finding support for claims is a big piece of the puzzle. If a company can't provide science, there's a problem.
The Bottom Line – D0es GNC Mega Men Energy and Metabolism Work?
Ladies and gentlemen, ready for the final word on this one? After an extensive review of GNC Mega Men Energy and Metabolism, we've come to a conclusion. There are some positives, like the length of time GNC has been in business and we found a few favorable customer comments, but we are skeptical about recommending it because the weight-loss claims are not supported by published clinical research. Plus, we're concerned about the FDA's interactions with the company.
If you'd like to lose more weight, we recommend going with a product that contains ingredients proven with clinical studies that are not associated with negative side effects.
Among the best products we've seen in 2016 is one called Leptigen. The four-ingredient proprietary blend has been shown in published scientific research to enhance metabolism and boost fat loss. There's no one talking about adverse side effects and dieter comments on the web show people are seeing excellent results.
The company responsible for Leptigen is so confident in the supplement, they're offering a Special Trial Offer, a nice bonus.