Updated: 02/13/2018
- Site operated by Burn HD
What are the benefits of the Bio X4 weight-management probiotic? Our review focused on the ingredients, side effects, clinical research and quality of customer service. Furthermore, we digested hundreds of user comments and testimonials. Then, we condensed and summarized to give you the details you need.
Bio X4 can be purchased using their Official Site or through Amazon.
Bio X4 Readers:
Click here
to find out why we're giving away samples of our product, Burn HD.
Overview
What is Bio X4?
Bio X4 is a weight-loss probiotic supplement. It comes in capsule form. They instruct users to take it daily for maximum fat-burning and digestive health.
The formula consists of four blends that the manufacturer claims work together to support optimal digestive health, increased calorie-burning and accelerated weight reduction. It also promises to help cut cravings and suppress appetite.
Bio X4 is available online only. Its manufacturer is based in the United States.
Products Similar to Bio X4
Who Makes Bio X4?
Health and wellness manufacturer Nucific developed Bio x4. Nucific is headquartered in Tarzana, California. Nucific's URL was registered in April 2015 and the company's trademark
was filed in June of 2015.
Not only does it manufacture Bio X4, Nucific also researches, develops and distributes a range of nutritional supplements, including:
Probiotic Complex
Dr Amy's Bone Broth
Deep Cell Activator
CL-X3
Nucific products don't contain preservatives, synthetic fillers, antibiotics or food coloring. The company claims the products are 100% natural.
An independent third party facility lab-tests the potency and quality of ingredients in Nucific products, including Bio-X4.
Also, California recognizes Nucific as a green-friendly company that uses only renewable energy and recyclable materials for its production.
Scroll below for one of the best products we've seen over the last year.
Nucific Company Profile
Nucific, which the Better Business Bureau has accredited, is a company with an "A" rating.[1]
The goal of the company is to offer "cutting-edge" supplements that science supports. The fundamental principles of Nucific are:
Potent Ingredients
Quality Testing
Earth-Friendly
California-Made
Nucific maintains public visibility and communication with customers and health enthusiasts by providing educational videos and nutritional information on their official website.
It's important to note that Nucific donates a portion of proceeds from every purchase to Action Against Hunger.
Dr Amy Lee, board-certified in internal medicine, sits on the Board of Directors. She also plays a major role in the development of Nucific products. She's an active member of the health community.
Dr Amy Lee's Three Harmful Foods
Dr Lee made a video discussing three harmful types of "healthy food" that the FDA has still not banned. These are:
Ingredients
Bio X4 Ingredients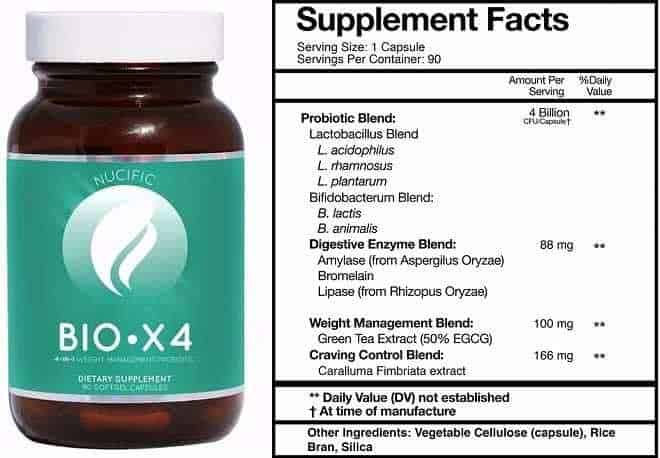 Bio X4 relies on four-ingredient blends to potentially support better digestion, control food cravings, increase energy and promote weight loss. The formulas include a:
Probiotic blend
Digestive enzyme blend
Weight management blend
Craving control blend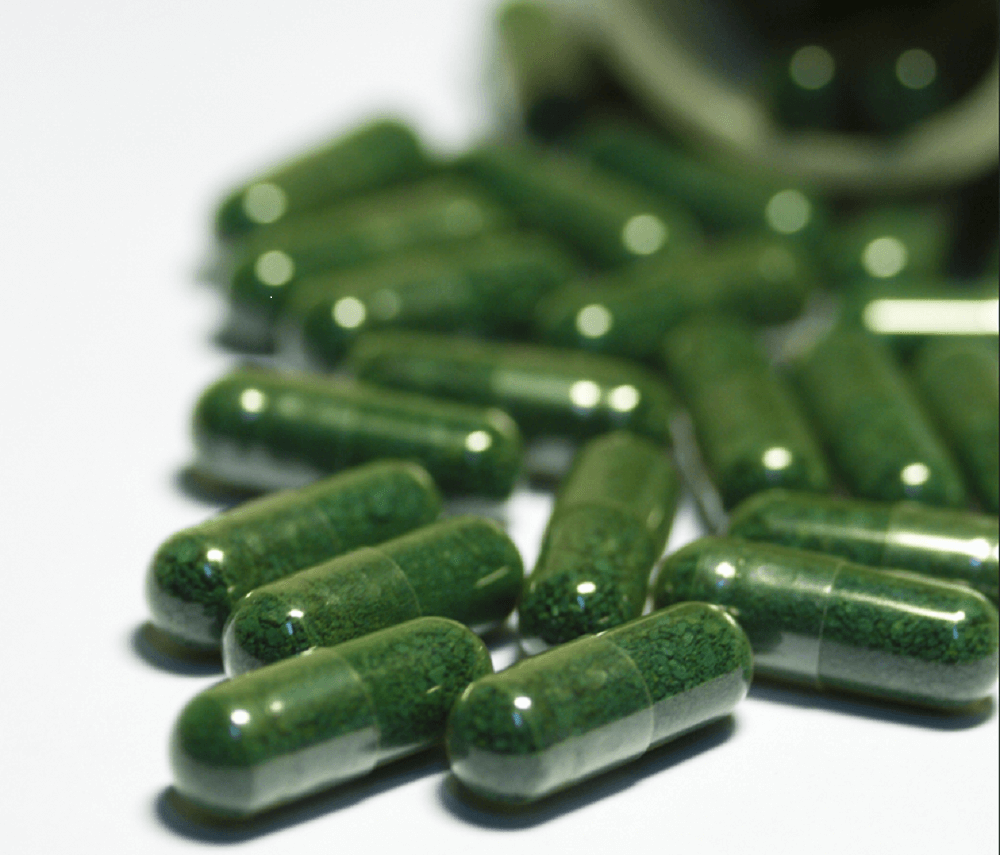 Probiotic blend (Lactobacillus Blend):
By taking 3 capsules per day, you cumulatively ingest 39 billion CFUs.
L. Acidophilus
L. Acidophilus
L. Rhamnosus
L. Plantarum
Bifidobacterium Blend:
B. Lactis
B. Animalis
Digestive Enzyme Blend:
Amylase (from Aspergilus Oryzae)
Bromelain
Lipase (from Rhizopus Oryzae)
Weight Management Blend:
Craving Control Blend:
L. Acidophilus is a common type of probiotic bacteria that may help prevent diarrhea, rebalance bacteria, fight allergies, control cholesterol and aid in digestion. [1]
The only ingredient in the Bio X4 Weight Management Blend is green tea extract.
Green tea is rich in catechins, which are a class of antioxidant-containing polyphenols. There's research that shows green tea as an effective weight management ingredient.
A 12-week study found that people drinking green tea with 583 mg of catechins experienced a decrease in Body Mass Index (BMI) and overall body weight, as well as a reduction in abdominal fat. Additionally, this green tea-supplementing group experienced a decrease in unhealthy LDL cholesterol levels. [2]
Supplementing with green tea extract before exercising may boost calorie-burning and metabolism. A test group drinking green tea before workouts showed a 17% higher rate of fat-burning verses the group who did not.
Additionally, the green tea group [noticed] a 13% decrease in insulin sensitivity, a biological function that plays an important part in metabolic activity and fat-burning. [3]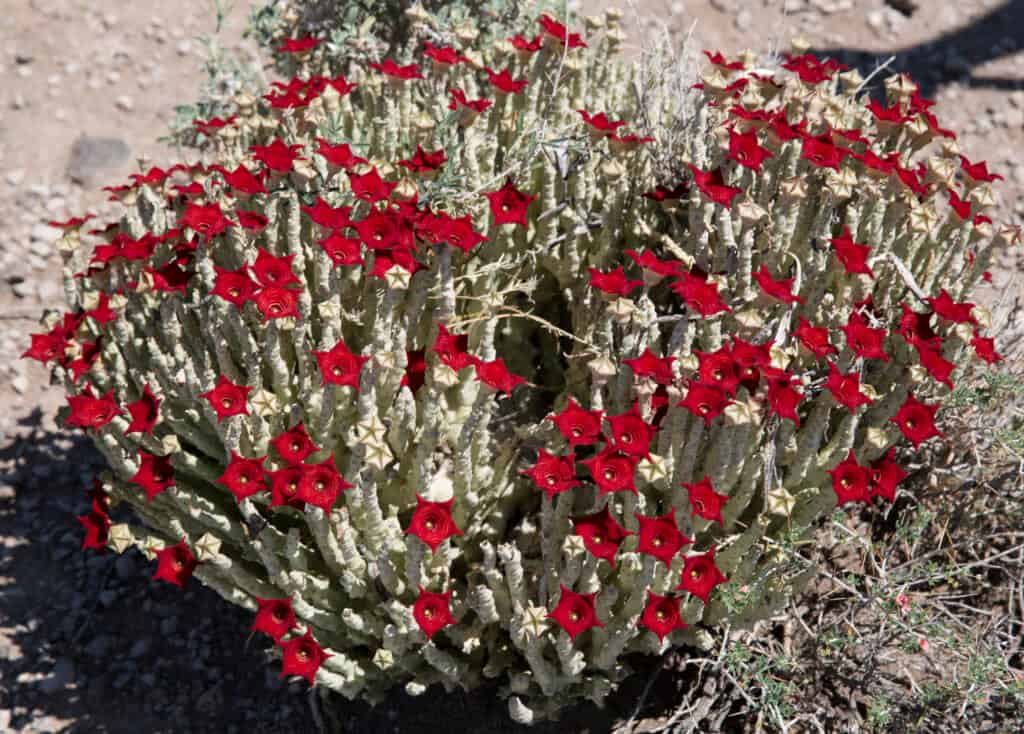 Caralluma fimbriata extract, a wild cactus plant that grows in India, contains chemical compounds that supposedly help control appetite.
A study examined the relationship between caralluma fimbriata supplementation, safety, and weight control. The group using caralluma did show a slight decrease in BMI.
T he participants in the study seemed to tolerate caralluma fimbriata extract well and it seemed to be safe. [4]
There is clinical evidence supporting many of Bio X4's claims regarding the efficacy of its ingredients for weight control and overall wellness effects.
Nutrition Facts
Bio X4 Nutrition Facts
Each serving of Bio X4 is one capsule. A bottle contains 90 capsules, which is a one-month supply.
Each capsule contains:
Probiotic Blend – 13 billion CFU (colony-forming units)
Digestive Blend – 43mg
Weight Management Blend – 100mg
Craving Control Blend –  166mg
The capsules are 100% gluten-free and do not contain any common allergens.
Does it Work?
Does Bio X4 Work?
Bio X4 is formulated to provide gastrointestinal tract support by supplying beneficial gut bacteria.
This, in turn, may help optimize health and promote weight loss.
Probiotics, such as Bio X4, may help restore "good" bacteria in your body and balance bacteria levels. We use probiotics to treat irritable bowel syndrome and allergic responses, as well as to boost the immune system.[5]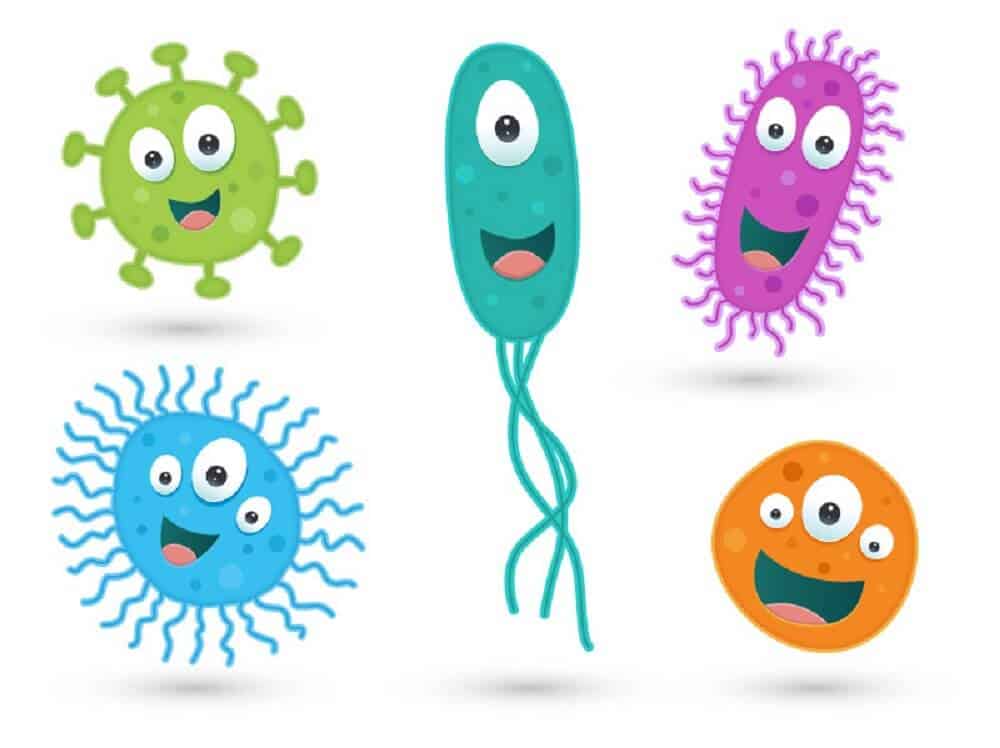 Bio X4 ingredients such as green tea may increase energy and metabolism. Ingredients like caralluma fimbriata may suppress appetite. Through increased metabolism, boosted energy levels and curbing appetite, Bio X4 may help users feel better and lose weight.
It will most likely offer some level of digestion support through reducing some types of inflammation.
Results
Bio X4 Results
As with most nutritional supplements, the longer you maintain usage on a daily basis, the greater the results you may see. The manufacturer recommends maintaining a steady daily regimen and, if you happen to miss a day, do not try to make up for the dose; simply take the recommended dose as per usual.
As for seeing peak results, the manufacturer states that you should be able to evaluate its max performance for you in 60 days effectively. Of course, instructions specify that you have to take the capsules regularly (on a daily basis) for them to work at their maximum capability.
The company claims that, as long as you keep working out and avoid eating sweets, you should be able to see results within a couple of months of taking the product.
Side Effects
Bio X4 Side Effects
Nucific — Bio X4's parent company — says there are no side effects that they know of and that it is safe for most adult consumption.
While this may be true in general, it is important to note that anyone considering this supplement should read the nutrition label carefully to make sure none of the ingredients will trigger an allergic reaction (for those with certain food allergies). Better yet, it is always wise to consult with a nutritional or medical professional before beginning to use it.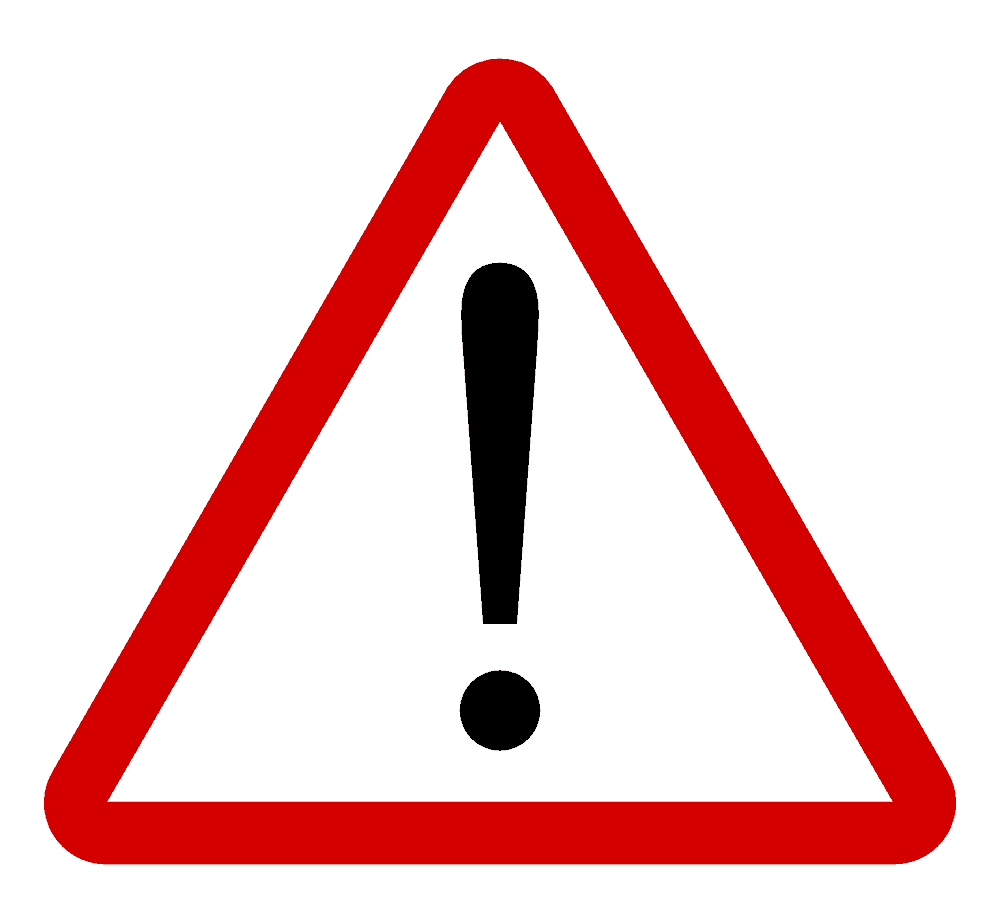 In addition to triggering allergies and interacting with certain medications, nutritional supplements can sometimes produce mild side effects, such as:
Upset stomach
Gassiness & constipation
Diarrhea
Bloating
Always read the product label carefully and stick to the recommended dosage.
Benefits
Bio X4 Pros & Cons
Pros
Promotes optimal digestive health.
The manufacturer offers package deals.
Improves bowel regularity.
Enhances immune system health.
Supports higher energy levels.
Gluten-, allergen-, and lactose-free.
90-day money-back guarantee.
Eco-friendly packaging.
Third-party lab tests.
Transparent about board members and their qualifications.
Useful health blog on the official website.
Cons
There isn't any definitive scientific proof it does everything that it claims to do.
It is fairly expensive.
You must take it on a regular basis to experience maximal effects.
Some users may have trouble remembering to take the capsules three times a day.
Only available online.
Ultimately, it's up to you and your healthcare provider to determine which the best weight control nutritional supplement is for you.
Are There Bio X4 Alternatives?
There is indeed a wide array of dietary probiotic weight control supplements on the market, so much so that it can be an anxiety-inducing experience even to begin to research them all. To help you narrow your search for the right supplement, here are a few guidelines to keep in mind when deciding whether Bio X4 or an alternative is right for your needs.
Always purchase from a reputable manufacturer or another vendor, and look for the GMP (Good Manufacturing Practice) certification to ensure a quality lab produced the product.
Always look for quality ingredients but also a balance of additives that you know to work well in combination.
Bio x4 Alternative Products
Phenocal
Phen Q
Adiphene
Lipoene
Slim Optimum
Plexus
Perfect Biotics
Cost
Bio X4 Price
Fortunately for committed Bio X4 enthusiasts, the manufacturer offers not only single bottles for sale but also two additional multi-purchase promo offers to help users stock up and save.
A single bottle of this supplement — which contains a one-month supply of capsules — retails for $49 on the manufacturer website, which states that this price reflects a $50 savings off the regular price. Another plus is that shipping and handling are free (although it is unclear whether the manufacturer also offers shipping insurance as an option).
One bottle (30-day supply): $49 (down from $99)
Three bottles: $129 (down 12% from $261.36)
Six bottles: $240 (down 18% from $487.08)
Aside from the original manufacturer, prices per bottle will vary. If you aren't going to purchase from Nucific directly, make sure to read all company policies carefully as well as reviews associated with the vendor.
Are There Any Bio X4 Specials?
Each Bio X4 purchase from the original manufacturer comes with a 90-day money-back satisfaction guarantee.
The first Bio X4 package deal offers the discounted price of $129 for three bottles, a price the manufacturer claims reflects a $56 savings per bottle. The second and top-tier package deal offers six bottles of Bio X4 for $240.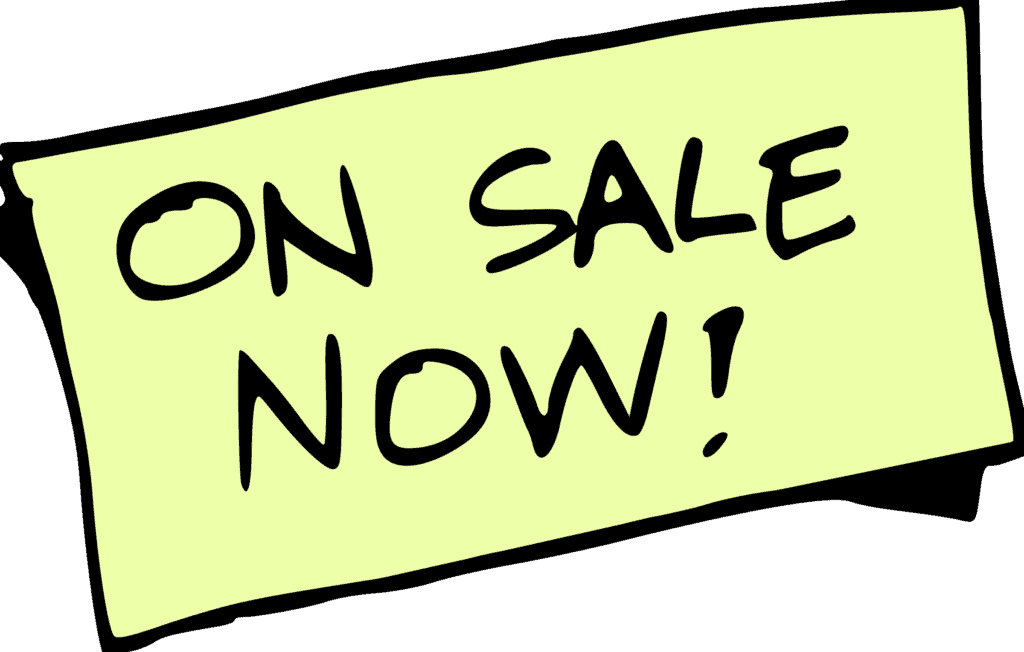 Customers can also enter a coupon code at checkout for further savings, depending on the available promotions at the time of sale.
Where to Buy
Where Can I Buy Bio X4?
Because this weight-loss supplement is fairly new to the market, it is not available in stores at this time. Anyone interested should purchase it directly from the manufacturer to ensure authenticity and freshness.
Otherwise, there are a few reputable supplement vendors online from whom to purchase:
Amazon.com [6]
eBay [7]
Always do your research when considering a vendor. Again, read all company policies closely as well as any reviews associated with the company.
Directions
Bio X4 Directions
Per product instructions, users are to take one Bio X4 capsule with each meal. This includes breakfast, lunch and dinner, for a total of three capsules daily. By supplementing with each meal, the pills are designed to support digestive processes with fewer tummy troubles and potentially even greater nutrient absorption.
Daily supplementation, according to claims, may lead to greatly enhanced digestive health as well as faster weight loss.
Bio X4 Weight Loss
Caralluma fimbriata is one of the ingredients connecting Bio X4 to weight loss. Research shows users reduced body fat and decreased appetite. [8]
Green Tea, Bio X4 and Weight Loss
A myriad of cultures for its health benefits has used green tea for many years. Supplementing with it may help increase metabolism, decrease body fat, and help you lose weight. It also contains caffeine, thought to accelerate metabolism and energy levels.
A meta-analysis conducted on green tea's effects on BMI and weight maintenance found that the catechins present in green tea significantly decreased body weight as well as maintained this reduced weight afterward.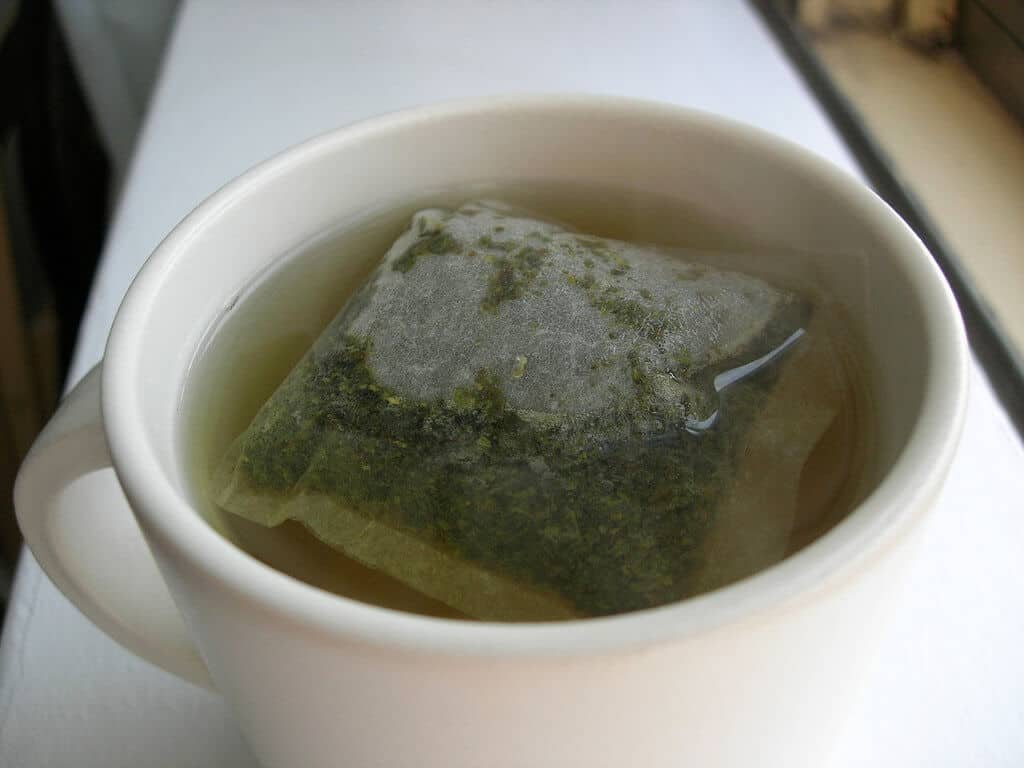 What Users Are Saying
"I tried this primarily for the probiotic impact. As I've gotten older, I've started to have minor digestive issues and increased bloating. It took a good couple of weeks for the effects to kick in but once it did, I felt a great deal better. I broke down and bought Bio-x4 strictly for the Probiotic benefits."
"It helps with digestion."
Also: read our Burn HD Weight-Loss Kit review »
Bottom Line
The Bottom Line on Bio X4
There is little doubt that Bio X4 is a popular nutritional probiotic and weight control supplement among consumers. Most of its ingredients have a historical, worldwide use for weight loss and health. We also like that Nucific is a trusted brand offering a 4-in-1 supplement promoting health and wellness.
If you're at the point you want to lose those extra pounds, consider adding a supplement containing clinically tested ingredients to the mix.
Another product we've seen this year is one called Burn HD. It contains four clinically tested ingredients and there is proof that it helps ignite metabolic rate and ignite fat loss. Customers have shared their experiences seeing great results.
Plus, the makers of Burn HD are so confident in their supplement, that they're offering customers a 2-Week Sample.
Learn More About Burn HD »