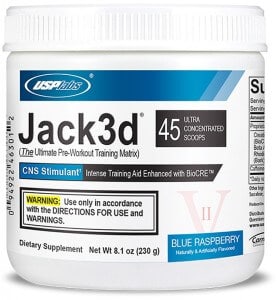 Jack3d is not your grandfather's pre-workout. We dug deep into the side effects, ingredients, clinical research and customer service. We scoured the internet for experiences and found tons. Then, we compressed it all to give you the bottom line.
EDITOR'S TIP:
Click here
to combine Jack3d with a proven testosterone booster such as Pronabolin for better results.
What is Jack3d?
First off, Jack3d is a pre-workout with arginine alpha-ketoglutarate, creatine monohydrate, beta alanine, caffeine, 1,3 dimethylamylamine HCL and schisandra chinensis extract. When taken with exercise it's supposed to boost energy, pumps and focus. One scoop is a serving, but we've found users taking up to three.
Jack3d was available from USP Labs. It looks like the only place you can buy it from is eBay and small supplement companies online. We like that there are so many positive reviews and the ingredients are easy to find, but read on…
Effective – "Maybe Not for Everyone"
The first issue we felt needed some attention deals with Jack3d ingredients. "Not everyone who used the pre-workout felt changes to energy or pumps," says our Research Editor. "If you're taking in this many stimulants, based on the label, and you feel nothing, that could be a problem."
"This product did not work well for me," said one user.
Another shared, "I am almost done with container and using 3 scoops just to feel something. What a waste of money this was."
Then again, some men and women felt a surge after taking Jack3d.
One said, "Despite recent issues with USP labs, Jack3d is still the best."
A customer also claimed, "Jack3d is an excellent starter pre-workout."
Scroll below for one of the best products we've seen over the last year.
Tolerance – "I Need More!"
We also found that multiple reviews mentioned growing tolerant of Jack3d pre-workout in a short period of time.
"I like jacked, but like many I easily became tolerant to it," says one person using it for the gym.
A man claimed, "Tolerance for this increased wayyyyy too fast."
Both men and women alike found that it did work in some cases.
"Highly recommend it, just be careful of the tolerance and to dose correctly," a woman said of Jack3d.
One more user offered, "I like taking this pre workout because my body doesn't get acclimated to it as quick as I would with other pre workout shakes."
It's with years of experience that we've found it takes a little thing, like tolerance, to cut your chances of results. If Jack3d original leads you to taking more than suggested, that could increase risk of side effects.
The Science – "Does Research Back Up Claims?"
Research is extremely important for this formula. The caffeine will boost energy and creatine hydrates the muscle, but it's the 1,3 dimethylamylamine that catches our attention. There are more than a few reports of severe Jack3d side effects. Some have even made it to the news. At DietSpotlight, science gives us the inside story and with this supplement the information raises red flags.
The Bottom Line – Does Jack3d Work?
Are we searching the internet to find some Jack3d? Well, the caffeine and creatine are good additions, but we are very hesitant about suggesting this one. The 1,3 dimethylamylamine has been associated with some strong side effects and there's the fact that you cannot find the supplement from many trusted retailers.
If you want to make the most of your workout, why not replace Jack3d with a supplement that's designed to boost testosterone, increase energy and work with clinically tested ingredients.
Among the best products we've seen in 2016 is one called Pronabolin. This natural testosterone booster is made up of nine scientifically tested ingredients. These are shown to help with energy, muscle growth and more. There are tons of reviews for the supplement and all talk about amazing results.
Plus, the makers of Pronabolin are confident in the formula so they're offering a 120-day money-back guarantee and a multiple-bottle discount.