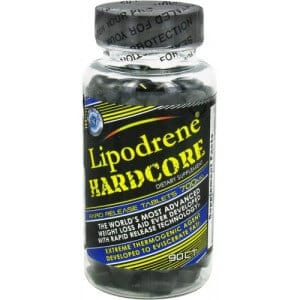 Why are people talking about Lipodrene Hardcore? We've noticed a lot of chatter lately, so we did one of our in-depth reviews. We took a look at this product's ingredients, side effects, scientific research and customer service. We also read comments online. Then, we summarized what we found to give you the bottom line.
EDITOR'S TIP:
Click here
to substitute Lipodrene Hardcore with a proven fat burner such as Leptigen for better results.
What You Need to Know
To begin, Lipodrene Hardcore is a supplement that's supposed to improve upon the original formula. Ingredients include methylphenylethylamine, phenylethylamine, yerba mate extract, green tea extract and cocoa extract. For the most part, this is full of stimulants and fat burners. The capsules are to be taken as 1-2 in the morning and 1-2 at lunch. The daily dosage should not to exceed 4 tablets.
This product is put out by Hi-Tech Pharmaceuticals, which has been around since 1994. It does have an ingredient that have some weight-loss benefits and Lipodrene Hardcore is easily found online or in supplement stores, but read on…
Lack of Results – "Will You Lose Weight?"
Our first concern with this Lipodrene Hardcore ingredients was lack of weight-loss results. "While there are some beneficial ingredients in the formula," said our Research Editor, "the results aren't guaranteed."
"I had a ton of extra energy, but I wasn't losing fat or seeing results on the scale," said one user.
"Some people claim that this works miracles, but I just haven't seen the results," claimed another.
Scroll below for one of the best products we've seen over the last year.
Side Effects – "Something to Consider"
There are many potential side effects with Lipodrene Hardcore, according to numerous customer reviews. "This product caused an elevated heart rate for several hours," said one customer.
"Over 200 mg of caffeine and multiple other stimulants caused jitters, insomnia, and heart palpitations for me," offered another.
Some customers suggested that you start slow, "Make sure that you get a full physical from a doctor and get approval to take this. Once you take care of that, start slow and stop if you see any side effects; these pills are potentially dangerous."
We've come to realize that the more troublesome a diet plan or workout routine is (painful workouts, side effects, high cost, bad taste, etc.), the more likely dieters are to fail when trying to lose weight and keep it off. If Lipodrene Hardcore really does cause some harmful side effects, it could be difficult to realize the results you're looking for.
The Science – "Clinical Proof?"
There are claims that Lipodrene Hardcore will help you drop weight while feeling great. Unfortunately, there is no science to back this statement. We couldn't find any clinical studies or published research for support. At DietSpotlight, when we see a product that hasn't been carefully reviewed, we see big red flags.
The Bottom Line- Does Lipodrene Hardcore Work?
Is Lipodrene Hardcore one we have on the shelf? We like the longevity of the company, availability of the product and affordability of this supplement, but we have reservations about recommending it because there's no scientific research backing their claims. We're also concerned about the reported side effects and lack of results.
If you'd like to lose more weight without unintended side effects, we recommend a powerful supplement that combines value and effective ingredients that are backed by science.
Among the best products we've seen in 2016 is one called Leptigen. This product contains a proprietary blend of four ingredients that help burn fat and boost metabolism, and it's been reviewed in scientific research and featured in clinical studies where it outperformed a placebo. We've seen plenty of positive reviews online and there doesn't seem to be any mention of harmful side effects.
Right now the makers of Leptigen are so confident that you'll love their product that they're offering a Special Trial Offer.