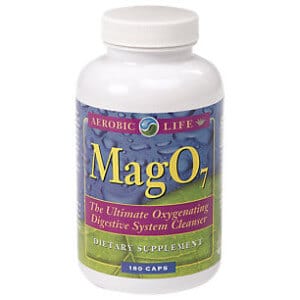 It's been a long journey but I feel I'm now qualified to advise you on whether or not to take Mag 07. We delved into the ingredients, side effects, customer service and scientific research. Additionally, we scrutinized hundreds of consumer comments and reviews. We then refined and condensed to give you the info you need.
What is Mag 07?
First off, Mag 07 is a digestive system cleanser. The ingredients are elemental magnesium and potassium. The recommended serving is up to five capsules per day, prior to bed, for 10 days. The supplement supposedly cleanses the body and possibly helps you lose weight. One of the benefits is product availability.
Mag 07 was introduced by Aerobic Life; a company that was founded in 1980. Customers can buy the product on the official website and through trusted retailers. We do like that we found some positive comments and there's a favorable BBB rating, but read on…
Side Effects – "Concerning?"
Our first concern deals with Mag 07 side effects. "Magnesium and potassium are often used in laxative or diuretic supplements," said our Research Editor. "You should not take a product like this for more than a couple days as there are issues associated with long-term use."
"The side effect to me seems to be upset stomach and the feeling of having heartburn," commented a customer.
"My headaches came back as soon as I started taking this. I started with one at night and felt it right away," reported a user.
There were also a few users that didn' notice negative reactions. As one said, "No side effects, No feeling of sickness."
We found another buyer that claimed, "No pain, no gas, no negative side effects."
Scroll below for one of the best products we've seen over the last year.
Just Doesn't Work – "Say Dieters"
Based upon some consumer comments, the Mag 07 ingredients aren't effective. "I tried two bottles as directed for constipation. It did not work for me," said a consumer.
"The first night I tried 3 pills and nothing happened, so the next night I tried 6 again nothing, 3rd night I tried 4 and drank even more water than normal and nothing," commented a customer.
"I took these for a week and they didn't work for me," said a dieter.
Not every user is going to see results, but there have to be a few, right? According to one person that did see a change, "I noticed a little weight loss."
Another said the same, "I've noticed some weight loss also with the use of it."
Our research has concluded if there is a problem, like side effects, the chances of a supplement working long-term are small. If Mag 07 doesn't promote weight-loss, there's no sense risking adverse reactions.
The Science – "Clinical Proof?"
Sure, using a laxative or diuretic will promote temporary weight-loss. The pounds will come back as soon as you start drinking and eating again. What we found on the official Mag 07 website doesn't link the formula to dieters losing weight. At DietSpotlight, locating published scientific research backing claims is the biggest piece of the puzzle. If a company can't back up statements, we step away.
The Bottom Line – Does Mag 07 Work?
Give me your attention ladies and gentlemen. After taking all things into consideration about Mag 07, we've come to a decision. There are some positives, like the availability and we found some favorable customer comments, but we are uncomfortable recommending it because there's no published clinical research supporting weight-loss claims. Plus, we're concerned about the supplement being ineffective and causing negative side effects.
If you'd like to drop the weight, we suggest going with a product that just works thanks to clinically proven ingredients. It's also important to choose a supplement that isn't associated with negative side effects.
Among the best products we've seen in 2016 is one called Leptigen. The formula contains a four-ingredient proprietary blend, which has been shown in published scientific research to promote fat loss and accelerate metabolism. We can't find any reports of adverse side effects and reviews show dieters are experiencing some amazing results.
Additionally, the company behind Leptigen is confident in the supplement, so they're providing a Special Trial Offer, which is a good choice.