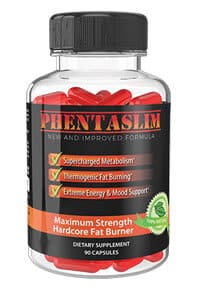 There's been a great deal of talk about Phentaslim diet pills, so we did some intensive research and created one of our in-depth reviews, examining the side effects, ingredients, clinical studies and overall customer service. Also, we examined hundreds of customer comments and dieter reviews found online. At this point we compressed all the data to give you the info you need.
EDITOR'S TIP:
Substitute Phentaslim with a proven fat burner such as
Leptigen
for better results.
What You Need To Know
Phentaslim is a weight loss product made by Optimum Nutra Inc. This supplement is fine for women and men trying to lose weight. According to the company website, Phentaslim helps by boosting energy levels, decreasing hunger and food cravings and reducing excess body fat. This diet pill should be taken 20 minutes prior to breakfast, lunch and dinner (along with a glass of water). However, you should not take Phentaslim after 6pm (contains stimulants). As for the ingredients used in this diet aid, they include the following; Guarana Seed (100mg), Caffeine Anhydrous (270mg), Green Tea Extract (375mg), Magnesium (80mg), Zinc Accetate (15mg), Cayenne Pepper (50mg), Panax Ginseng Root (120mg), L-Tyrosine (200mg), L-Theanine (225mg) and L-Carnitine (200mg).
Phentaslim has been available since 2012 and can be purchased via the official website for $59.99 (plus $4.95 for shipping and handling). This supplement is backed by a 30-day satisfaction guarantee, and there are some user testimonials posted on the website, but read on…
Fad Diet Ingredients
"Phentaslim relies on ingredients such as Cayenne Pepper and Panax Ginseng Root, neither of which have been proven to assist with weight loss or fat reduction. This is certainly concerning," says our Research Editor.
One customer stated, "Not effective at all. Been taking for six weeks now."
"Another scam pill. Doesn't work like it's supposed to."
Scroll below for one of the best products we've seen in 2015.
Negative User Reviews!
It's always a good idea to check out customer reviews posted online. We discovered that one person stated, "I started Phentaslim on 6th Dec. Not seen any weight loss yet. But I feel more energy. But since couple of days I am feeling dizziness and heavy head after consuming the medicine. The headache is quite a lot."
Another dieter said, "Serious jitters and nausea from this diet pill."
After doing some extensive research, we came to the conclusion that if there is an individual aspect of a fat-loss pill or diet system that is quite troublesome (too many negative reviews, fad diet ingredients, serious side effects) the true likelihood of lasting weight loss results is minimal. This means if Phentaslim does result in a lot of discouraging user reviews, this could be a serious dilemma.
The Science
Even though the official website states that Phentaslim uses ingredients that are supported by clinical research, we could not find the actual studies/research presented on the company website. Here at DietSpotlight, we need to see documentation of real science before we can get behind a weight loss product.
The Bottom Line
While there is definitely a lot of hype concerning Phentaslim capsules, we would not recommend this weight loss formula. The reality is there are only two customer testimonials posted on the official website, and this product does use some fad diet ingredients. Not to mention, Phentaslim can obviously lead to certain side effects.
If you want to see more fat loss results, we advise you to select a diet supplement that is supported by plenty of positive customer reviews, does not cost a fortune and does not rely on fad diet ingredients.
One of the best weight loss products we've spotted in 2015 is Leptigen. This supplement contains four unique ingredients, which have been shown in documented scientific studies to help enhance fat loss and increase metabolism. We have not discovered any talk of bad side effects and customer comments found on the internet show people are seeing real results.
Also, the makers of Leptigen are so confident in their product they're offering a special trial offer, which is a good sign.