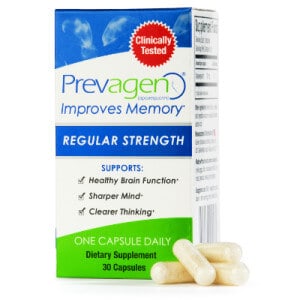 You may be surprised by what I say in this Prevagen review. We at DietSpotlight dug deep and thoroughly researched the ingredients, side effects, customer-service quality and scientific studies. Plus, we took a close look at hundreds of customer comments and reviews. Then, we compressed all the facts to give you the info you need.
What is Prevagen?
First off, Prevagen is an over-the-counter dietary supplement containing the active ingredient Apoaequorin. Take one each morning and it supposedly improves memory, promotes clearer thinking and a sharper mind. The product doesn't contain synthetics – impressive.
Prevagen was first introduced in 2007 by Quincy Bioscience. Although it's not sold on the official website, several trusted retailers have it on the shelves. We like the longevity of the company and that we located some favorable customer comments, but read on…
Adverse Effects – "A Consideration?"
The first thing that concerned us were reports of Prevagen side effects. "We read one review after another with claims of negative reactions," says our Research Editor. "That's not what the customer is looking for."
One user complained, "Developed heart flutter about 75 days after I started taking this."
"Upon taking my first Prevagen, within a half hour I became light headed and dizzy and my focus was worse than ever the rest of the day," commented one user.
Another person said, "I don't have high blood pressure and it made my blood pressure go up."
Scroll below for one of the best products we've seen over the last year.
User Complaints – "Another Concern"
Numerous customer complaints are posted online concerning Prevagen. One user stated, "I had a reversal of memory while taking this product. Many instances where I forgot peoples' names in public situations."
Another customer said, "I took the Prevagen 10mg pills for 30 days and I honestly don't notice any difference. Don't waste your money on this."
There are some users who saw positive results.
"The change was subtle to begin with but has suddenly became more noticeable by the 4th month," said one person.
Some felt the results were good, but the price was a little over the top.
"I have taken this product with positive results but I think it is too expensive," offered up one user.
The extensive research we've done has revealed if there is a particular facet of a dietary supplement that's concerning, such as too many user complaint, the probability of long-term success is low. If Prevagen does cause reactions in users, this could be a serious problem.
The Science – "Is it Legit?"
There are some studies presented on the official website that pertain to Apoaequorin, the active ingredient in Prevagen. While this is good to see, there's no proof this product relates to weight-loss. Also, the FDA had to issue a warning about this product because it can lead to side effects. At DietSpotlight, research is imperative. If the science doesn't back the claims or support you losing weight, we raise the red flag.
The Bottom Line – Does Prevagen Work?
So, should you race out to buy Prevagen? Well, we like that Prevagen is easy to find and that we found, but the research not pointing toward weight-loss leaves us concerned. Furthermore, we have some issues with the numerous customer complaints, especially relating to adverse effects.
Do you want to lose weight and improve wellness? Consider combining Prevagen with a supplement containing clinically-tested ingredients shown to help with weight-loss.
Among the best products we've seen in 2016 is one called Leptigen. This supplement contains clinically-tested ingredients, which have been shown to help boost metabolism and accelerate fat loss. We have not found any talk of harmful side effects and user comments indicate people are seeing substantial results.
The makers of Leptigen are so confident in their product they're offering a Special Trial Offer, which is a good sign.