Updated: 01/12/2018
- Site operated by Burn HD
I've been hearing a lot of chatter surrounding brain enhancement product Focus Factor lately, so today I dive straight into the ingredients, side effects and scientific research. I'll then search high and low for customer reviews and any feedback on the product. Finally, I'll compile my research and lay it all out for you – serving up the bottom line on this brain health formula.
Focus Factor Readers:
Click here
to find out why we're giving away samples of our product, Burn HD.
Overview
What is Focus Factor?
First of all, Focus Factor is a memory booster that provides you with proper the nutrition to help you feel sharper and more alert throughout your everyday activities.
Factor Nutrition Labs, LLC, based in Westbrook, Maine, owns Focus Factor. Factor Nutrition Labs is a subsidiary of Synergy Strips Corp.
Among the ingredients are:
Focus Factor also contains vitamin E, DHA, thiamin, DMAE, and magnesium (citrate, malate, and taurinate).
Said to be safe and effective for both women and men, Focus Factor is a nootropic intended to increase brain function. More specifically, they say it helps with memory loss, concentration, and focus.
Call me crazy, but I've seen those promises before…
This supplement comes in a couple different forms: Original, Extra Strength, Brain and Vision, and Kids Extra Strength.
Focus Factor has been available since 2000 and it is backed by a 100% money-back guarantee.
So far so good.
Products Similar to Focus Factor
Ingredients
Focus Factor Ingredients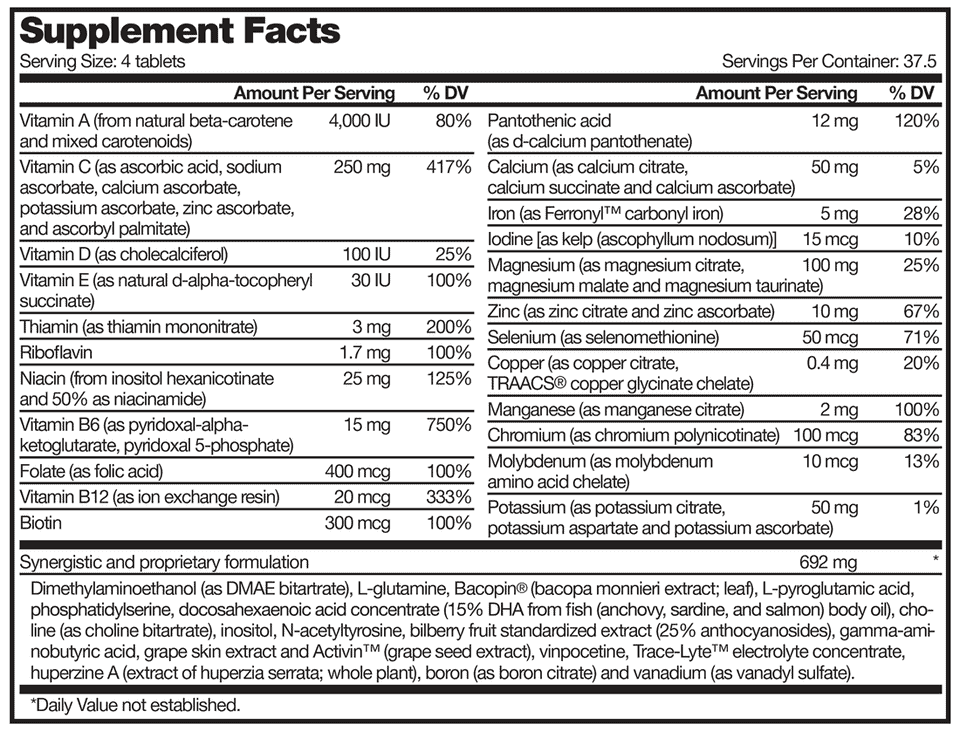 This is the part where I get into the ingredients a little more. I want to share a little about what they are and what their purpose is. More importantly, I want to see what the medical world is saying.
Can they pass the test? 
Choline
Choline is a water-soluble "vitamin-like essential nutrient" involved in metabolism, the transport of lipids and neurotransmitter synthesis.[1]
One study published by Nutrition Reviews points at the importance of choline as an essential nutrient for public health. They write, "given the importance of choline in a wide range of critical functions in the human body, coupled with less-than-optimal intakes among the population, dietary guidance should be developed to encourage the intake of choline-rich foods."[2]
The Journal of Human Kinetics found choline to be effective in rapid weight loss. They write that the results "revealed significant differences between pre- and post-competition measurements of leptin, free plasma choline, urine choline and urine malondialdehyde levels; body mass was also reduced in the post-competition measurements."[3]
We'll call that a bonus.
It's worth mentioning that there wasn't much more evidence supporting choline for weight loss or its ability to support brain function later on in life.
DMAE
DMAE (or dimethylethanolamine) is a compound used occasionally for depression. It allegedly changes the level of acetylcholine in one's brain, yet this is on anecdotal evidence. There are not a lot of quality studies available about the effects of DMAE, so it is difficult to conclude if it has an actual effect on brain function or memory.[4]
L-glutamine
L-glutamine is an amino acid that improves muscle recovery, but can also provide brain benefits. Glutamine has also treated ADHD and alcohol withdrawals. Other uses are against depression, anxiety and insomnia.[5]
L-glutamine maintains production of the neurotransmitters glutamate and GABA. Glutamate could have a significant impact on memory loss and learning.[6]
Oh, it's not over yet!
DHA
DHA (docosahexaenoic acid) is an Omega 3 fatty acid with some research showing that it may be able to slow the decrease in cognitive function that happens as a result of ageing. This slowing down of cognitive abilities was unfortunately not effective in the mental function for older individuals in the tests.
Bummer.
Pharmacological Research says that DHA "has a positive effect on diseases such as hypertension, arthritis, atherosclerosis, depression, adult-onset diabetes mellitus, myocardial infarction, thrombosis, and some cancers."[7]
Biotin
Also known as Vitamin H, the biotin supplement is used to treat neuropathy, hepatitis, and brittle nails.
According to WebMD, it contributes to the good "health of the skin, nerves, digestive tract, metabolism, and cells.
"One small study suggested that biotin and other micronutrients helped treat peripheral neuropathy, nerve pain in the extremities that can result from kidney failure or diabetes."
In addition, "Biotin might decrease insulin resistance and nerve symptoms related to type 2 diabetes. It requires more research.
"Some preliminary evidence suggests that biotin might help strengthen brittle nails.
"Other uses of biotin — for conditions like cradle cap, hepatitis, hair loss, and depression — are unsupported or untested."
It's important to note that biotin deficiency is very rare as our bodies receive much of it from food and then recycle the used-up quantities. Food that contains biotin includes whole-grain cereals and whole-wheat bread, eggs and dairy, peanuts, soya nuts, chicken, and salmon.[8]
Riboflavin
Riboflavin is a B vitamin that you can find in food like meat, milk, nuts, eggs, and green vegetables. It it used for the health maintenance of the skin, blood cells, and the lining of the digestive tract, among other things.
According to WebMD, besides treating riboflavin deficiency (of course), the supplement can also combat "cervical cancer and migraine headaches. It is also used for treating acne, muscle cramps, carpal tunnel syndrome, and blood disorders such as congenital methemoglobinemia and red blood cell aplasia.
"Some people use riboflavin for eye conditions including eye fatigue, cataracts, and glaucoma."[9]
Niacin
Niacin, or Vitamin B3, boosts good cholesterol and lowers triglycerides and bad cholesterol, as well as other heart risks.
According to WebMD, however, in order for niacin to be effective in combating bad cholesterol and triglycerides, it has to be taken in high quantities, which "could pose risks, such as liver damage, gastrointestinal problems, or glucose intolerance".
Niacin has also been used to "reduce atherosclerosis or hardening of the arteries in some people.
"For people who have already had a heart attack, niacin seems to lower the risk of a second one. In addition, niacin is an FDA-approved treatment for pellagra, a rare condition that develops from niacin deficiency."
Phosphatidylserine
Phosphatidylserine is a phospholipid that has both amino and fatty acids. omega-3 fatty acids EPA and DHA work with phosphatidylserine to help produce healthy cell membranes.
According to WebMD, phosphatidylserine is used to treat a number of degenerative and other mental health conditions like "Alzheimer's disease, age-related decline in mental function, improving thinking skills in young people, attention deficit-hyperactivity disorder (ADHD), depression, preventing exercise-induced stress, and improving athletic performance."[10]
However, WebMD also clarifies that besides in cases of Alzheimer's and age-related mental decline, there is insufficient evidence to suggest a clear link between phosphatidylserine and the reduction of other mental health conditions.
Some foods that contain phosphatidylserine include soy lecithin (by far the most, with 5,900mg of phosphatidylserine in every 100g of soy), bovine brain (713mg/g), Atlantic mackerel (480mg/g), chicken heart (414mg/g), tuna (194mg/g), and Atlantic herring (360mg/g).
L-pyroglutamic acid
Pyroglutamic acid (also known as pyroglutamate, 5-oxoproline and pidolic acid) derives from amino acids glutamine and glutamic acid. People often use it to help the production of healthy neurotransmitters, with anxiety management, and to support memory.
A study at the Laboratory of Pharmacology at the Russian Academy of Medical Sciences, Moscow, found that pyroglutamic acid improves blood circulation in the brain's small arteries.
Another study, from the Department of Neurological Pathology at the University of Catania, Italy, tested pyroglutamic acid against a placebo on patients 65 and above with memory problems.
At the end, the scientists found that the memory of people on pyroglutamic acid showed notable improvement compared to the placebo group.[11]
N-acetyltyrosine
N-acetyltyrosine, or N-acetyl L-tyrosine and tyrosine, is an amino acid that assists in the production of noradrenaline and dopamine.
According to WebMD, people take tyrosine to combat a number of attention disorders as well as narcolepsy and degenerative mental conditions: "depression, attention deficit disorder (ADD), attention deficit-hyperactivity disorder (ADHD), the inability to stay awake (narcolepsy), and improving alertness following sleep deprivation.
"It is also used for stress, premenstrual syndrome (PMS), Parkinson's disease, Alzheimer's disease, chronic fatigue syndrome (CFS), alcohol and cocaine withdrawal, heart disease and stroke, ED (erectile dysfunction), loss of interest in sex, schizophrenia, and as a suntan agent and appetite suppressant."
The body naturally produces tyrosine with another amino acid, phenylalanine, but tyrosine can found in dairy, meat, fish, eggs, nuts, beans, oats, and wheat.[12]
Bilberry fruit standardized extract
People have used the bilberry plant's leaves and fruit as medicine since at least the Second World War. According to WebMD "during World War II, British pilots in the Royal Air Force ate bilberry jam to improve their night vision, but later research showed it probably didn't help. Bilberry is also used for treating eye conditions such as cataracts and disorders of the retina."
It also has its uses in treating heart and blood vessel conditions, as well as other health problems like kidney problems, urinary tract infections, and diabetes.
Bilberry gets its medicinal value from tannins, chemicals that help with diarrhoea and mouth and throat irritations. Some evidence suggests that bilberry leaves can "help lower blood sugar and cholesterol levels."[13]
Gamma-aminobutyric acid
Gamma-aminobutyric acid, or GABA, is a chemical produced in the brain that reduces excitability of neurons and regulates muscle tone.
When taken as a supplement, GABA reduces anxiety and symptoms of PMS (pre-menstrual syndrome), heightens mood, and treats ADHD (Attention Deficit-Hyperactivity Disorder). It also helps with muscle growth, burns fat, balances blood pressure, and relieves pain. However, more evidence is needed to support these claims.[14]
Grape seed extract
Grapes have been part of human civilization for thousands of years, and their every aspect, including leaves and sap, has been used medicinally since then.
According to WebMD, there is ample evidence to suggest that grape extracts help with cardiovascular issues: "grape seed extract may help with a type of poor circulation (chronic venous insufficiency) and high cholesterol. Grape seed extract also reduces swelling caused by injury and helps with eye disease related to diabetes."
In addition, WebMD says there are claims that grape seed extract is an antioxidant and could help with certain cancers and other conditions ("ranging from PMS to skin damage to wound healing") but that "results have been inconclusive". [15]
As the name suggests, the only food source for grape seed extract is, you guessed it, grapes!
Grape skin extract
Grape skin extract allegedly helps with heart issues, manages cholesterol levels, provides antioxidants and assists with healthy blood sugar levels but, as with grape seed extract, research is inconclusive on its benefits.
Vanadium
Vanadium is a mineral that treats "diabetes, low blood sugar, high cholesterol, heart disease, tuberculosis, syphilis, for improving athletic performance in weight training; and for preventing cancer."[16]
According to WebMD, there is also some evidence to suggest that vanadium functions in a similar way to insulin or in a way that boosts the functions of insulin. [16]
A study from the University of Maryland Medical Center reports that "since few clinical trials involving humans have been completed, vanadium isn't recommended for any disease or condition. However, it may have an effect on blood sugar in people with diabetes.
"[…] vanadium may lower blood sugar levels and improve sensitivity to insulin in people with type 2 diabetes. In one study of people with type 2 diabetes, vanadium also lowered total and LDL ("bad") cholesterol."
The same study also says that the best food sources for vanadium are "mushrooms, shellfish, black pepper, parsley, dill weed, beer, wine, grain and grain products, and artificially sweetened drinks."[17]
Vinpocetine
Vinpocetine is an artificial chemical that is similar to something found in the Vinca minor plant. According to WebMD, vinpocetine "requires considerable laboratory work, stretching the Dietary Supplement Health and Education Act (DSHEA) definition of a dietary supplement."
WebMD also reports that most people take vinpocetine because they believe it helps with improving "blood flow to the brain, enhancing memory and preventing Alzheimer's disease and other conditions that harm learning, memory, and information processing skills as people age."
However, it also clarifies that research on the supplement is decades-old and unreliable: "most of the studies were published prior to 1990, and results are hard to interpret because they used a variety of terms and criteria for cognitive decline and dementia."[18]
Generally speaking, Philip Gregory, Pharm.D., the editor of the Natural Medicines Comprehensive Database, the evaluator of dietary supplement evidence, says that "even for the few ingredients that have shown promise for boosting cognition, the evidence is pretty meager."[19]
All-in-all, there is research on the ingredients, but there is still some evidence on the formula missing that I would have loved to see.
Scroll below for one of the best products we've seen over the last year.
Side Effects
Focus Factor Side Effects
I hope they don't scare me off here. 
There are some possible Focus Factor side effects that come from taking these supplements. According to my research, some users report:
Gastric upset
Irritability
Headaches
Stomach pain
OK, we've seen the customer complaints. Now, I want to focus a bit more on the potential side effects of some of the ingredients.
Choline side effects are:[20]
Fishy body odor
Gastrointestinal distress
Diarrhea
Vomiting
I'll take, "Supplements that don't make me smell like a fish" – for 400.
Some side effects of L-glutamine include:
Chest pains
Muscle pains
Nausea and vomiting
Headache
Mild rash
Dry mouth
Yikes and a half – those are a bit too much for me.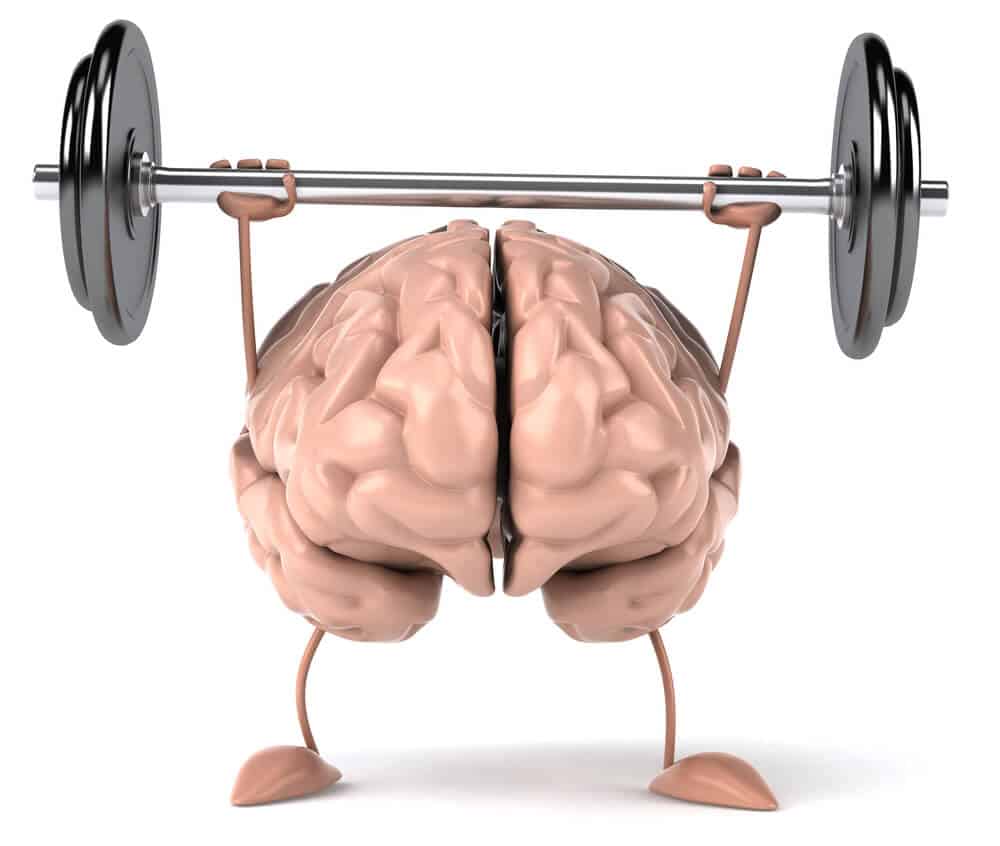 Benefits
Focus Factor Benefits
Yes! Finally, something good to talk about.
There are, as you might have guessed, a long list of claimed benefits from the makers of this product.
These benefits include:
Improved memory
Enhanced focus
Higher concentration
Increased brain function
Another benefit would be that they are easy to take – but we'll circle back to that in a bit. 
DHA offers a host of benefits. Omega-3 fatty acids can be helpful for improving brain function, with some studies backing it.
The only problem?
The studies don't prove a cause and effect. This means, despite its benefits, DHA shows "only that there is an association between eating fatty acids in fish and the risks of Alzheimer's disease or the risks of dementia."[21] and nothing more.
There is very little evidence to suggest that Focus Factor, as a whole, is a truly effective brain enhancement product.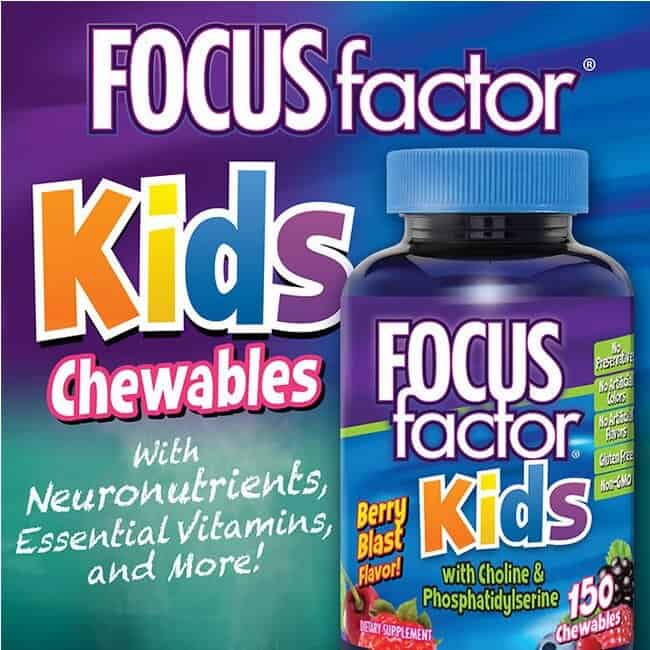 Focus Factor Age Range
OK, I know what you're thinking:
"Is there a 'one-size-fits-all' solution to mental health?"
The simple answer is no – but don't freak out.
Focus Factor offers a variety of products for both adults and children (called Focus Factor Kids).
Focus Factor Brain & Vision
Brain and Vision, $49.99 per 120 tablets, claims to help with "memory, concentration and focus" and it includes "specialized eye nutrients lutein and zeaxanthin for healthy eye support"[22]
– Lutein, "the eye vitamin", can prevent eye problems like cataracts and retinitis pigmentosa. You can find it in foods like kale, zucchini, and corn.
– Zeaxanthin, in conjunction with lutein, protects eyes from high-energy light like ultraviolet sun rays. WebMD says that "studies suggest that a high level of both in eye tissue is linked with better vision, especially in dim light or where glare is a problem."
WebMD also reports that "many studies combine these two nutrients with others such as vitamins C and E. It may be that the mix of nutrients does more for your eyes than any single one of them."[23]
Focus Factor Extra Strength
Extra Strength is $49.99 per 120 tablets. Its ingredients include potassium, Vitamins A, B6, B12, C, D, and E, magnesium, iron, and calcium.
The product page boasts that Extra Strength "is an advanced formulation that improves memory, concentration and focus. […] In fact, Focus Factor can even replace your daily multivitamin."[24]
Focus Factor Kids, $29.99 per 120 tablets, is for children four years old or older. Besides that, the sky is the limit – apparently. They say that even elderly men and women can take (and see results) using the Focus Factor for adults.
Focus Factor Kids has far fewer ingredients than the adult equivalents: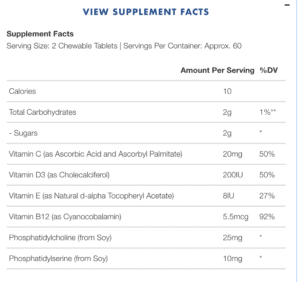 One thing that sets Focus Factor apart from the competition is: I didn't notice these options with other nootropics, like Ceretropic and Nootrobox.
Directions
Focus Factor Directions
I told you we'd come back around to the directions, and so here we are.
Want to see how easy it is?
The original supplement says to take four tablets a day with food. To adjust based on weight, diet, and other factors, customers can take more tablets -with a maximum of eight per day.
Focus Factor Kids dosage is specifically for children, allowing two per day with food. They should take the supplement for at least six weeks to see results – according to the company.
The Science Behind Focus Factor
I know, I know – I've already mentioned studies, cited medical websites and I listed known benefits of some of the more important ingredients.
There are just a few things I had to mention about the science behind this supplement.
There seems to be a lot of debate surrounding brain booster products. After about five minutes of research, my head started swirling around and my hands became clammy.
According to medical experts, it's just not fully proven that supplements with nutrients or botanical herbs can increase mental capabilities.
That's super annoying to me.
What's even more annoying is that there are no studies outside of the company. There's no way of telling whether this product works or not based on any outside scientific evidence.
Sure, there's research out there backing certain nutrients for being beneficial to the human brain – but does that tell me that this specific formula is going to help me pass a math test and help me remember to bring my calculator?
No, it doesn't.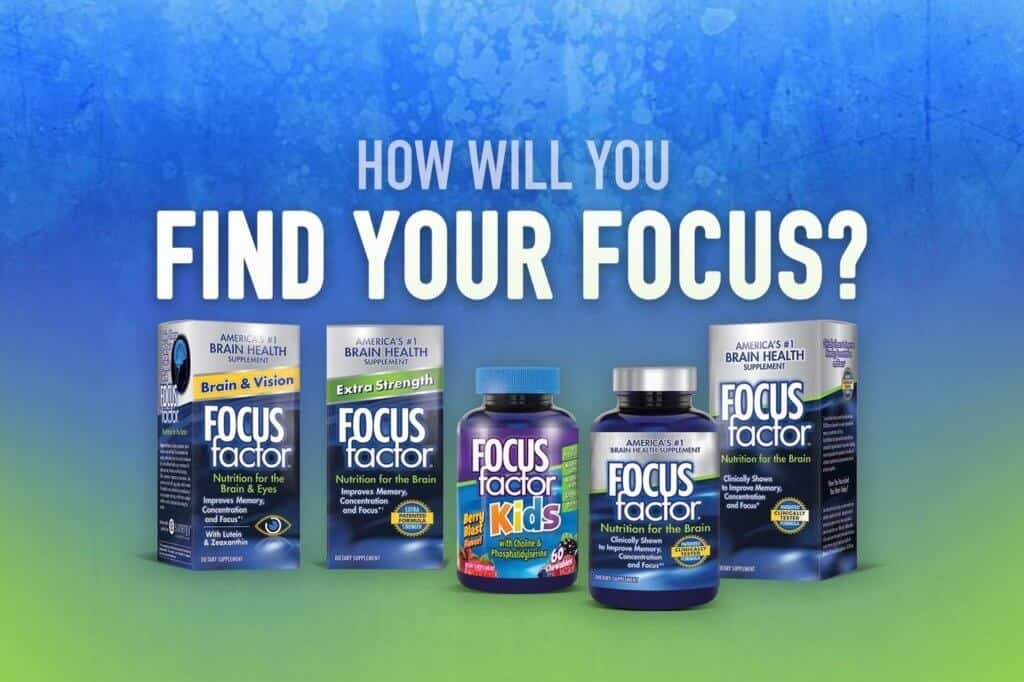 What Users Are Saying
"Excellent I would purchase the item without prejudice. Idea for quick great bargain. Would recommend this with five stars. To anyone."
Bottom Line
The Bottom Line – Does Focus Factor Work?
Alright, here's the moment of truth.
I won't beat around the bush, there were some good things about this product. I liked the ingredients and the research behind some of them. The list of benefits is long, and if this product works, it could be beneficial to users.
However…
There were some things I couldn't let slide.
The lack of conclusive scientific research that supports Focus Factor's claims.
Too much of a debate on nootropics in the medical world.
Too many potential side effects.
If your goal is to enhance brain function and overall health, pairing this supplement with a reliable fat burner could be exactly what you need to stay in focus and achieve your goals.
Among the best out there is Burn HD. It's a proprietary blend of four ingredients, that clinical research has shown to boost metabolism, increase energy and curb appetite. There's no mention of negative side effects and the customer reviews are showing some pretty amazing results.
Want to hear something even better?
We've got a 2-Week Sample going on so you can try it out for yourself – that's how confident we are in this product.
Learn More About Burn HD »