14 New Year's Eve Healthy Appetizers for Weight Loss
As the temperature starts to drop outside, many people are thinking about making New Year's Eve plans. At the same time, some people are trying to find ways to keep their weight under control. One of the most common locations for a diet to get derailed is at a party. With access to alcoholic beverages, sweets, and a wide variety of delicious food, it is easy to see how people might have trouble adhering to their calorie limits. The good news is that there are plenty of New Year's Eve healthy appetizers that you can eat without derailing your diet. Take a look at a few of the top recipes below. You do not have to sacrifice taste to keep your calorie count low.
Cantaloupe Slices Wrapped With Prosciutto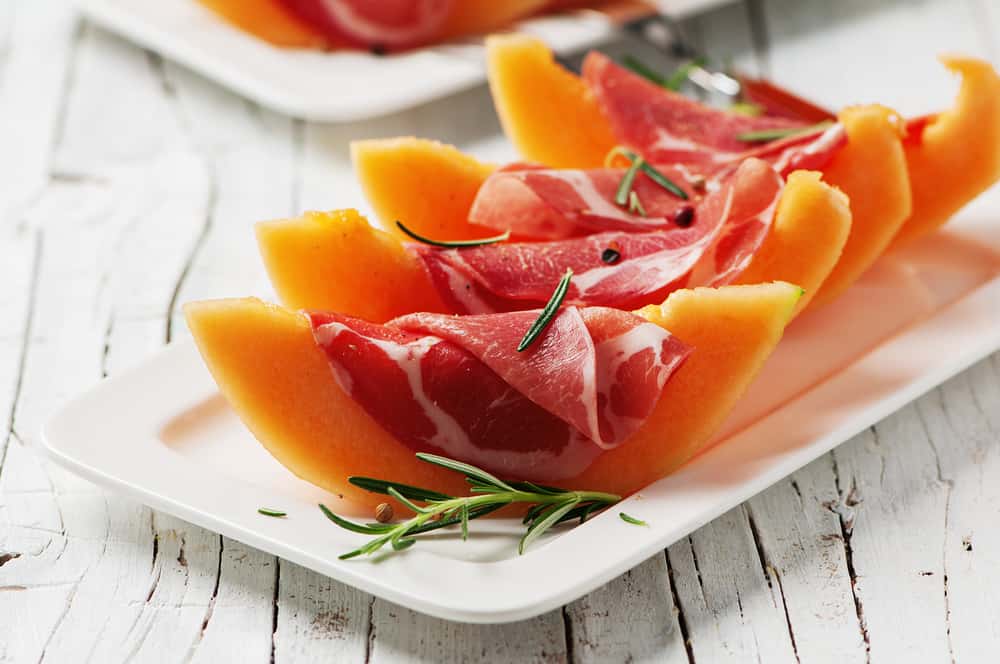 If you plan on getting creative for your New Year's Eve party, then think about wrapping a few cantaloupe slices in prosciutto. It is a visually appealing look and does not require a lot of time. Furthermore, reaching for fruits and vegetables is a great way to fill up without packing on the calories.
Cantaloupe is a tasty, nutritious fruit. Furthermore, multiple medical studies have shown that cantaloupe also contains a lot of antioxidants. Antioxidants can fight inflammation while also keeping your eyes healthy. Antioxidants are beneficial for your long-term health by scavenging free radicals that could otherwise cause problems. In addition to being high in vitamins A and C, cantaloupe is also a good potassium source. Packed with vitamins and minerals, this is one of the healthiest New Year's Eve healthy appetizers on this list.
By combining cantaloupe with prosciutto, you also add a bit of protein to this appetizer, creating a nice, well-balanced, tasty snack. To complete this recipe, you should:
Take one cantaloupe and cut it into wedges.
Cut the wedges into smaller pieces that are about 3.5 oz each. If you are using a scale, try to shoot for 100-gram pieces.
Take some slices of prosciutto and cut it into long strips.
Take one strip and wrap it around a small piece of cantaloupe.
Drive toothpicks through it to hold it together.
Repeat until all of the cantaloupe pieces are wrapped.
Finally, put all of the pieces together and serve them accordingly. Prosciutto is a dry, cured ham that will create a nice dichotomy of sweet and salty as you eat it. Furthermore, this snack also comes in at less than 200 calories, meaning that you can enjoy this appetizer without busting the top on your diet plan. Think about serving this unique, tasty appetizer at your New Year's Eve party this year.
As the New Year approaches, start thinking about putting yourself first this year with a dedicated weight-loss program that focuses 100% on you. That program is Noom. As a user, you are paired with a personal and group coach, who are real people and can answer questions and help you tackle hurdles along the way. Daily lessons and quizzes help you take small steps toward lasting lifestyle changes that have eluded you for so long. Take a chance today with a free trial offer. You have nothing to lose but weight.
Hot Spinach Artichoke Dip
Another delicious option for your New Year's Eve party this year is to put together an easy, cheesy, warm spinach artichoke dip. This recipe also contains a few shifts and twists compared to the classic recipe that will make it just a little bit healthier. To put this recipe together, you will require:
Artichoke hearts, packed in water and drained
A bag of frozen spinach thawed
Some chopped onions and shallots
Cloves of garlic
A cup of fat-free Greek yogurt
A small helping of light mayonnaise
Grated Parmesan cheese
Mozzarella cheese
Once you have all of the ingredients together, you should preheat the oven to 375 degrees F. Then:
Take out a small food processor to chop the artichoke hearts. Use the food processor to chop up the onions, shallots, and garlic.
Take all of the ingredients and combine them in a medium bowl, including the cheese, mayo, spinach, and Greek yogurt.
Finally, place all of the ingredients in a dish that is safe to put in the oven. Bake everything for somewhere between 20 and 25 minutes. All of the cheese should look hot and melted when it is done.
Once you take the dish out of the oven, give it a few minutes to cool; however, it should be ready to serve immediately. Even though it is fine to eat this dip with crackers, you can make it even healthier by dipping cucumber slices or baby carrots in it instead.
A quarter-cup contains only 73 calories with 3.5 grams of carbohydrates. Only one gram of sugar is included in this recipe. Furthermore, 1/4 cup of this recipe also packs more than 5 grams of protein, making it that much healthier than the original. This dish is sure to be a hit at your New Year's Eve party without packing an excessive number of calories. Your guests might even ask for more.
Spicy Avocado with Cucumber Slices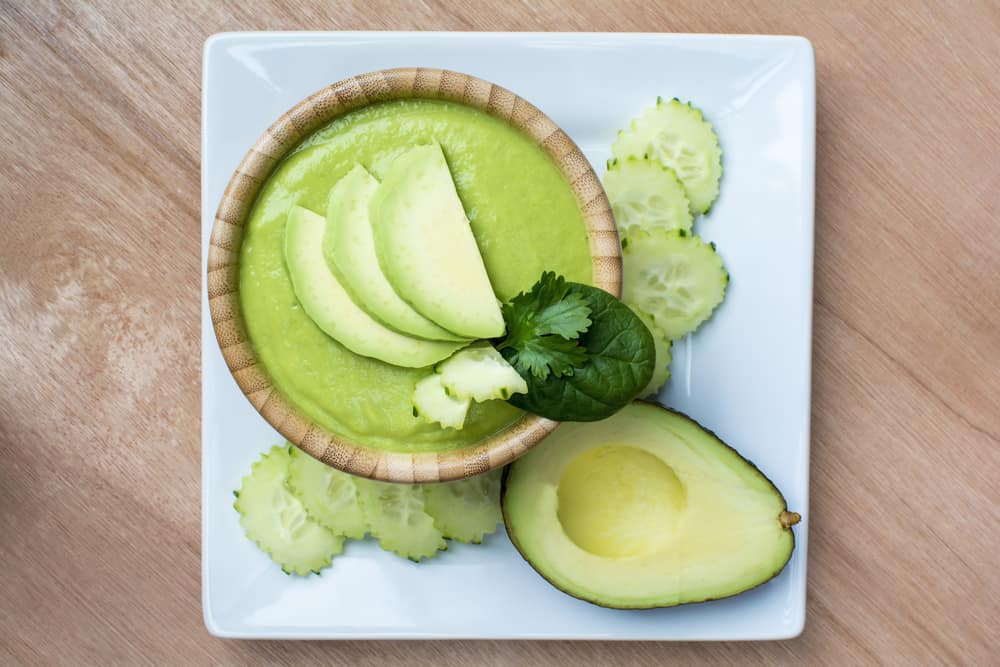 Another delicious, healthy appetizer that you can think about serving at your New Year's Eve party is some spicy avocado with a few cucumber slices. Avocado has become popular during the past few years due to its nutritional value and its versatility in the kitchen. You need to be able to tell whether or not an avocado is ripe. In general, the darker the avocado is, the riper it is. If the avocado yields to a gentle amount of pressure from your fingers, then you know that it is ripe and ready to eat. Remember to use feel and color to figure out whether the avocado is ready to be eaten.
Medical studies have shown that avocado can help you improve your cholesterol profile, deal with aches and pains, and protect your skin against sun damage. Because avocados are high in magnesium, potassium, and fiber, they are also healthy.
This is another straightforward recipe to put together. Peel the avocado and remove the pit, leaving only the green pulp behind. Then, take a small bowl and mash the avocado. Add a pinch of salt along with two teaspoons of cayenne pepper and a drizzle of lemon juice or vinegar (to keep the avocado from browning). Mix the entire thing to create a beautiful, spicy avocado dip. Then, slice up a cucumber, and it is ready to serve.
This spicy avocado dip is sure to get the attention of everyone at your New Year's Eve party. Because there is some capsaicin added from the cayenne pepper, this only adds to the nutritional boost. Dip made from an entire medium avocado with some cayenne pepper and cucumbers will come in at fewer than 150 calories, making for a tasty, guilt-free New Year's Eve appetizer.
Turkey Roll-Ups with Pickles
Deli meat makes for a popular healthy appetizer at parties, including those that take place on New Year's Eve. Therefore, it should come as no surprise that turkey roll-ups find themselves on this appetizer list. Turkey is not only delicious but nutritious as well. Packing a tremendous amount of protein, the turkey will also help you feel full, reducing the speed you eat.
Medical studies have also shown that turkey can help you preserve your muscle mass while burning more calories during the digestive process than fats or carbohydrates. Therefore, this is a great way to not only stick to your calorie count at your New Year's Eve party this year but also burn more calories in the process.
To make turkey roll-ups with pickles, you will need:
Ten slices of turkey breast, oven-roasted or baked
Ten teaspoons of light cream cheese
Ten pickle slices or strips
Salt, pepper, and seasoning to taste
Two to three tablespoons chopped chives
Some toothpicks to hold everything together
Place the cream cheese, salt, pepper, seasonings, and chopped chives in a medium bowl and microwave for 10 seconds to soften nicely. Remove from the microwave and stir well to combine. Then, it's time to assemble.
Start by placing the turkey breast slices on a large plate. Spread one teaspoon of light cream cheese spread on each of the slices. After this, place a pickle strip on top of each turkey slice. Finally, roll up the turkey slice around the pickle and anchor it with a toothpick.
This is a quick, simple, and easy recipe that is sure to get plenty of attention at your New Year's Eve party this year. This recipe will pack a tremendous amount of protein while limiting the serving to fewer than 200 calories. Get ready to hear about guests asking for more, as this delicious, healthy appetizer is sure to be a hit at the party this year.
Skinny Coconut Shrimp with a Sweet and Spicy Dip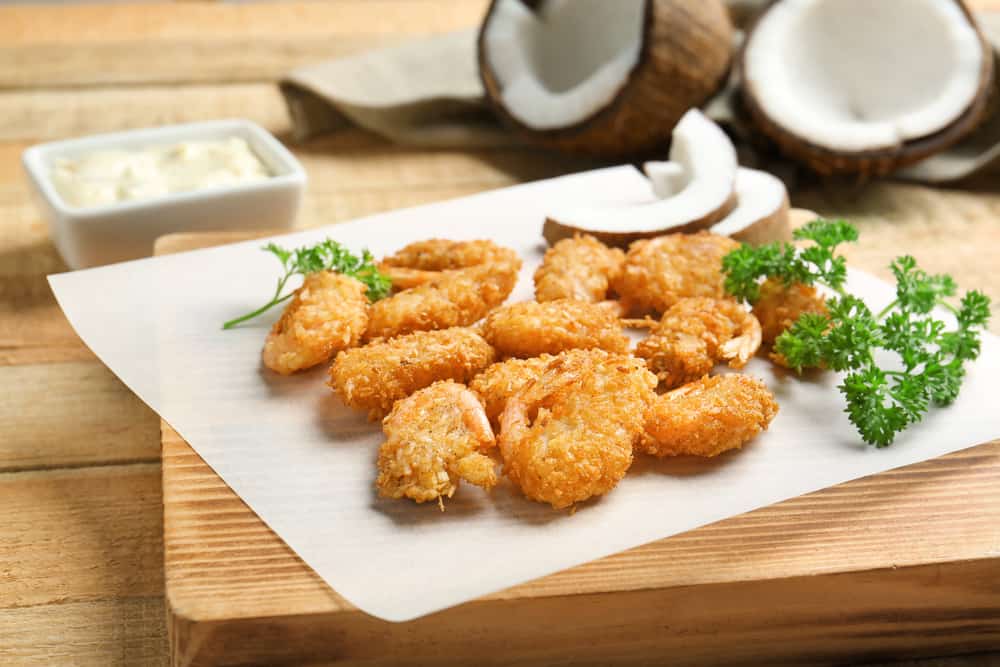 If you are looking quick and easy New Year's Eve healthy appetizers that you can serve with a sweet and spicy dipping sauce, skinny coconut shrimp is the answer. If you place these shrimp on a platter in front of your hungry party guests, they are sure to disappear in a heartbeat. You can even use an air fryer to make them even healthier.
To make this recipe, you will need:
One pound of large, raw shrimp that have been peeled and deveined (if you are going for weight, then weigh them after peeling)
½ cup of shredded coconut
½ cup of panko crumbs (or gluten-free crumbs)
All-purpose flour (you can substitute with gluten-free if you'd like)
One large egg
You will also need ¾ cup apricot preserves, 1 tbsp rice wine vinegar, and some crushed red pepper to make the dipping sauce. Simply combine in a small bowl and set aside until the shrimp are cooked.
To complete the recipe, you should:
Preheat the oven to 425 degrees Fahrenheit and spray a baking sheet with nonstick spray.
Combine the coconut flakes and panko crumbs. Add a pinch of salt to the bowl if you would like.
In a separate bowl, crack open the egg and whisk it until it is scrambled.
Season the shrimp to taste. Dip each shrimp first in the all-purpose flour, then the egg, then the crumb and coconut mixture.
Place shrimp on the baking sheet. Then, bake on the middle rack for about 10 minutes. Turn the shrimp over after the 10 minutes are up and cook them for another 7 minutes.
After they have been removed from the oven, you can serve them with the dipping sauce.
As an alternate method, you can also bake them in an air fryer preheated to 375°. In total, the shrimp should cook for 6 minutes. You can turn them over 4 minutes after adding them to the air fryer to ensure they cook evenly. The recipe for the dipping sauce is the same.
Overall, this is an easy recipe to create a delicious, sweet, and spicy seafood appetizer. Three shrimp from this recipe contains about 160 calories. The serving also packs 10 grams of protein. Even though this recipe does have 15 grams of sugar, most of this comes from the dipping sauce. If you would like to cut down on the amount of sugar in the recipe, please replace the apricots with some sugar-free preserves. This is a healthy appetizer recipe that is sure to have all of your guests talking about how delicious it is.
Mushrooms Stuffed with Spinach, Parmesan Cheese, and Bacon
When it comes to healthy appetizers, it is unusual to find bacon on the list. Even though it is true that bacon can be fattening, you can also replace this recipe with turkey bacon to make it a little bit healthier. This recipe presents an excellent alternative when compared to traditional stuffed mushrooms. They are packed with flavor and are sure to be a big hit at your New Year's Eve party.
To make this recipe, you will need:
A pound of fresh mushrooms washed with the stems removed
Two cloves of garlic, chopped or sliced
Four cups of fresh baby spinach
Four slices of regular bacon or turkey bacon
Two tablespoons of parmesan cheese
Some bread crumbs
Once you have collected all of the ingredients, you should preheat the oven to 400° Fahrenheit and prepare a baking pan by spraying it with nonstick cooking spray. After this:
Make sure the stems are removed from the mushrooms. Go ahead and mince the stems.
Rinse the spinach and add it to a skillet on medium heat. Cook the spinach until it wilts, which should take about 1 to 2 minutes.
In a separate skillet, cook the bacon until it is cooked through. Coarsely chop the bacon.
Add some olive oil to the pan and saute the garlic until it is golden, which should take about two minutes. After this, add the mushroom stems and sautee them until they are soft, which should take another 2 minutes.
After this, remove everything from the heat. Combine the parmesan cheese, bread crumbs, bacon, spinach, and mushroom stems. Fill the mushroom caps with this mixture and round off the tops.
Finally, place the stuffed mushroom caps on our prepared pan. Bake for about 20 minutes.
The mushroom caps should be golden when they are removed. One mushroom only contains between 30 and 35 calories and 3 grams of carbohydrates. Each mushroom cap only has about 0.5 grams of sugar, making for a delicious, guilt-free snack.
Mushrooms are one of those foods you can eat tons of and feel full without consuming a bunch of useless calories. These types of foods are referred to as light on the calorie density scale, which means little calories for lots of food volume. Real answers to weight loss like these are available with the free trial offer of Noom available today!
Skinny Popcorn Drizzled with Olive Oil and Cayenne Pepper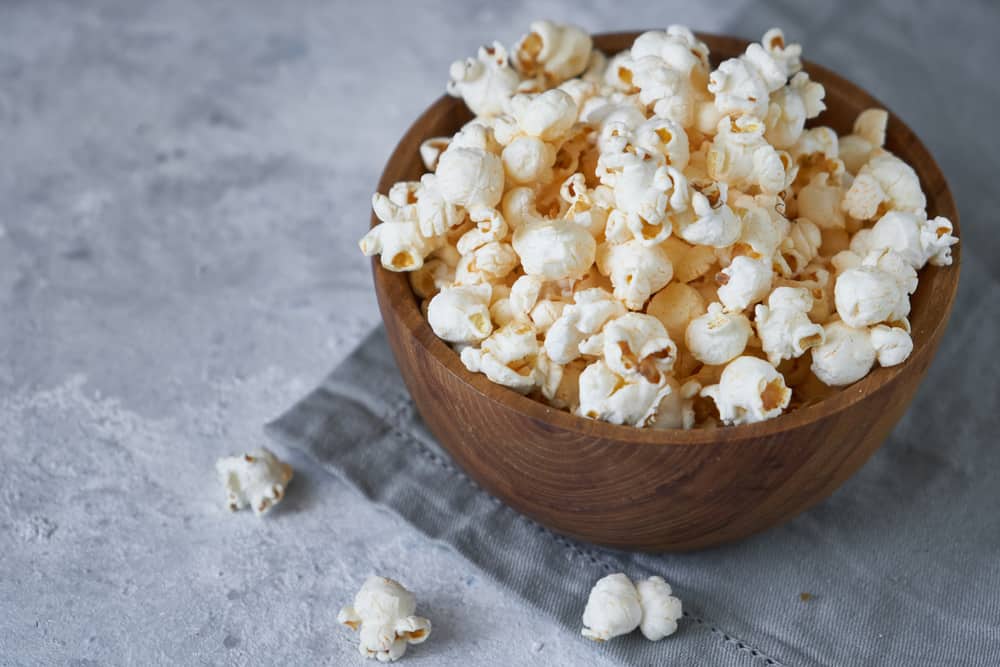 If you are looking for a quick and easy appetizer that you can serve at your New Year's Eve party, it doesn't get much easier than popcorn. With this simple recipe, you can create a healthy, tasty version of the popcorn that most people are used to in movie theaters. By adding cayenne pepper, the capsaicin will even increase your metabolism a little bit, helping you burn some extra calories.
This recipe is very straightforward. Take some air-popped popcorn and pour it into a mixing bowl. Drizzle some olive oil over the top. Sprinkle with as much cayenne pepper as you'd like.
Toss the popcorn to ensure the olive oil and cayenne pepper are distributed evenly. It might be easier to pour everything into a mixing bowl that has a lid. That way, you can attach the top and shake it up.
Finally, place this delicious snack out as a New Year's Eve party appetizer. A single cup of skinny, healthy popcorn only has 39 calories. Even though a few extra calories will be added from the olive oil, this is a remarkably healthy New Year's Eve party appetizer. Why not give this one a try? Place it out in front of your guests. It is sure to be one of the most popular New Year's Eve healthy appetizers at the party this year.
Dip with Black Bean, Avocado, Cucumber, and Tomato
Another of the top New Year's Eve appetizer recipes is this delicious dip with avocado, cucumber, tomato, and black beans. With a little bit of lime and a touch of cilantro, this salad makes for a delicious bite.
To make this recipe, you will need:
A single, seedless cucumber, peeled and chopped
Two ripe, medium tomatoes, diced
Two ripe avocados, peeled, pit removed, and diced
A single can of black beans, rinsed and drained
A few tablespoons of minced red onion
A touch of cilantro, lime juice, salt, and pepper
Once you have collected all of the ingredients, simply combine them in a giant mixing bowl. Make sure that all of the ingredients have been mixed thoroughly. You can prepare this recipe in advance and place it in the refrigerator until it is ready to be served.
In ½ cup of this recipe, there are only about 125 calories. It also contains 5 grams of protein and more than 6 grams of fiber, making it incredibly healthy.
This is one of the most elegant New Year's Eve healthy appetizers you can make. When you find out how healthy this is, it is easy to see why this dip is so popular. This appetizer is the perfect preview to any main courses that might be served at the party.
Roasted Chickpeas with Red Pepper Flakes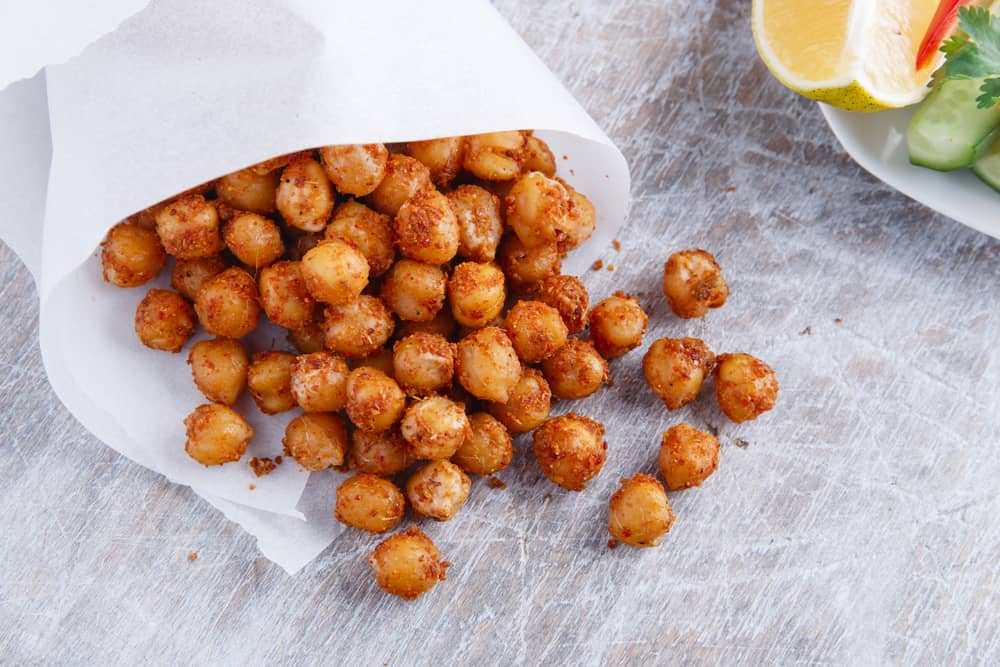 For another delicious recipe, think about making some roasted chickpeas with red pepper flakes. Multiple medical studies have shown that chickpeas are healthy. Notably, they might be able to reduce inflammation throughout your body, helping you with aches and pains while preserving your long-term health. Also, they make for a delicious appetizer, particularly when they are roasted. When you combine them with something that has a little bit of a kick, such as red pepper flakes, the capsaicin not only makes them tasty but can also increase the rate at which you burn calories. Therefore, you can not only control the calories you consume, but you can also burn calories more quickly at your New Year's Eve party this year.
All you need is chickpeas (canned is fine), some extra-virgin olive oil, and some red pepper flakes to make this recipe. After this, you should:
Preheat the oven to 400 degrees Fahrenheit.
Open up your chickpeas, rinse them, drain them, and make sure that they are set aside to dry.
Spread out the chickpeas on a kitchen towel to make them dry faster. It is important to make sure the chickpeas are totally dry before you add the olive oil. Otherwise, the chickpeas are not going to crisp up in the oven. If you notice that loose skins are falling off of the chickpeas, that is fine. Simply discard them.
Once the chickpeas are dry, transfer them to a baking sheet that has been sprayed with nonstick cooking spray. Drizzle the chickpeas with olive oil. Make sure the chickpeas are spread apart evenly on the baking sheet to make sure they crisp well.
Place the chickpeas in a preheated oven and roast them for about 20 minutes. They should look crispy when you pull them out.
Once they come out, add the red pepper flakes to the chickpeas while still warm to help them stick better.
Even though chickpeas contain a moderate amount of calories, with 46 calories in a single ounce, they are still exceptional for helping you stick to a diet, burn calories, and lose weight. Because chickpeas are loaded with fiber, they are going to provide you with that satiated feeling.
Artichoke Hearts Marinated in Olive Oil
One of the most popular New Year's Eve healthy appetizers is marinated artichoke hearts. They are incredibly delicious and filled with nutrients. Artichokes are a fantastic source of fiber, folate, and vitamin K1. Even though some people are ambivalent about artichoke hearts, one taste of this recipe will have your party guests asking for more.
Many medical studies have suggested that artichoke hearts are incredibly healthy. Because artichokes contain prebiotic fibers, this can be beneficial for your digestive tract. Not only is this recipe low in calories, but it can help you take care of your gut.
To make this recipe, you will need:
A tablespoon of lemon juice
Two tablespoons of extra virgin olive oil
Two chopped cloves of garlic
A can of artichoke hearts drained and quartered
Once you have all of the ingredients, mix the lemon juice with the extra virgin olive oil. Add salt and pepper to taste, if you wish. Add the garlic to the mixture and place it in a plastic container. Seal the container and shake it to emulsify the mix completely.
Remove the lid. Add the artichoke hearts and reseal the lid. Shake the container until the artichoke hearts are entirely coated. You can marinate this for as long as you wish. The longer you allow the artichoke hearts to sit in the marinade, the more delicious they will be. Feel free to play around with spices and seasonings to take the hearts to another level of delicious.
This recipe is also popular because of its relatively low-calorie content. A single serving of artichoke hearts marinated in olive oil, usually three and a half ounces, only contains about 190 calories. This is another guilt-free New Year's Eve healthy appetizer that is sure to be a hit at your party.
Do you know what calorie density is? What if I told you it was one of the secrets to losing weight and keeping it off? Check out the free trial offer of Noom today to learn more about this hidden gem of knowledge and more.
Hard-Boiled Egg Bar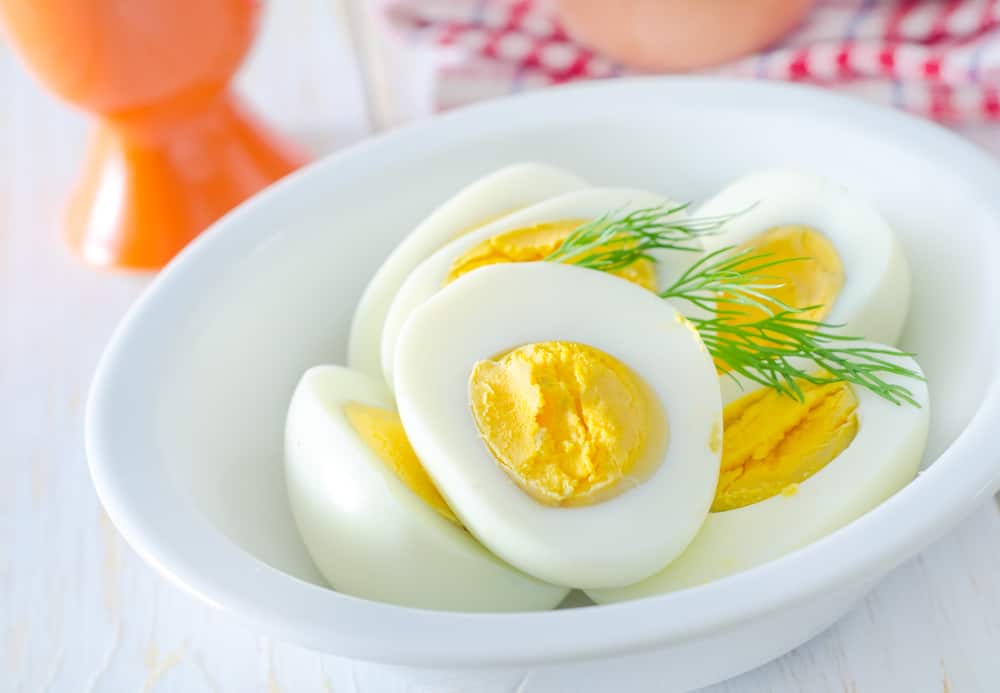 If you are looking for a popular New Year's Eve appetizer at your party that will help you lose weight, consider going with hard-boiled eggs. When it comes to limiting calories and encouraging weight loss, eggs are one of the healthiest choices. Eggs are filled with vitamin K, vitamin B12, and a tremendous amount of protein. Because eggs are filling, they will also reduce the number of calories you eat at the party.
To make hard-boiled eggs for your party, you should:
Take out a saucepan and fill it about a quarter of the way with water. Place the eggs at the bottom of the saucepan. If the eggs are poking through the water, add more water so that the eggs are covered by about an inch of water.
Turn on the heat and bring the water to a boil. It could be helpful to add a teaspoon of vinegar to the water to prevent the egg whites from running out of the eggs. Adding a pinch of salt to the water may make the eggs easier to peel when you remove them.
Once the water comes to a rolling boil, turn off the heat. Keep the pan over the hot burner. Cover the pan and let it sit for about 10 minutes.
Once you let the eggs sit for a little while, you should be able to remove the eggs from the water. You may need to use a pair of tongs if the water is still hot. Finally, peel the eggs, rinse to remove the residual shell, and set them aside for later. If you'd like, you can season them with salt and pepper.
Even though eggs can sometimes get a bad rap for their cholesterol content, they still have a tremendous amount of protein. Too large, hard-boiled eggs provide about 13 grams of protein and only 140 calories. The nice thing about hard-boiled eggs is that you can avoid the cholesterol if you decide to eat the egg whites without the yolk.
Now, what about the bar part of the recipe?
Here is where you can get creative. Try placing out sliced avocado, tomatoes, lettuce, onion, and other sandwich-style veggies. You can even put out hummus or tzatziki sauce. Get creative. These toppings will only add a small number of calories to your overall dish.
Spinach and Feta Pie
If you are looking for a delicious, savory dish that you can serve at your New Year's Eve party this year, then think about going with this spinach and feta pie. This is a fantastic dish packed with flavor thanks to the feta cheese, scallions, and fresh spinach. This recipe is very similar to spanakopita and makes for a versatile dish. Therefore, it works great as an appetizer at New Year's Eve parties. You can even make it ahead of time and serve it at room temperature without sacrificing any flavor.
To make this recipe, you will need:
A bag of fresh spinach
½ cup of scallions, chopped
Two tablespoons of fresh dill
A half-cup of reduced-fat feta cheese
A teaspoon of baking powder
Two tablespoons of grated Parmesan cheese, asiago cheese, or Romano cheese (your choice)
A half-cup of whole wheat flour (or gluten-free flour)
⅔ cup of skim milk
Some olive oil
Salt and pepper to taste
Two large eggs, beaten
Once you have collected all of these ingredients, you should:
Turn on the oven and preheat it to 400 degrees Fahrenheit.
Spray a pie dish with nonstick cooking spray or olive oil.
Mix the dill, scallions, spinach, and feta cheese. Spoon this mixture into the pie dish.
Sift the flour and baking powder into a medium bowl. Add all of the remaining ingredients to the bowl and mix everything. Pour it into the pie dish.
Finally, bake everything for about a half-hour. When you stick a knife into the mixture, it should come out clean. Allow the dish to stand for about 5 minutes before you serve.
Be sure to cut this pie into multiple pieces to allow all of your guests to have a slice. 1/6th of the pie contains about 125 calories with 12 g of carbs and around 9 g of protein. This recipe only contains about 1.5 g of sugar, making it healthy enough to have a second piece.
If there are any leftovers, be sure to wrap them tightly with plastic. You can store the pie in the freezer for up to three months. If you would like to eat it the next day, simply thaw it overnight in the refrigerator and heat it in the oven or microwave. It is hard to go wrong with this delicious pie.
Tomato-Mozzarella Salad with Arugula and Balsamic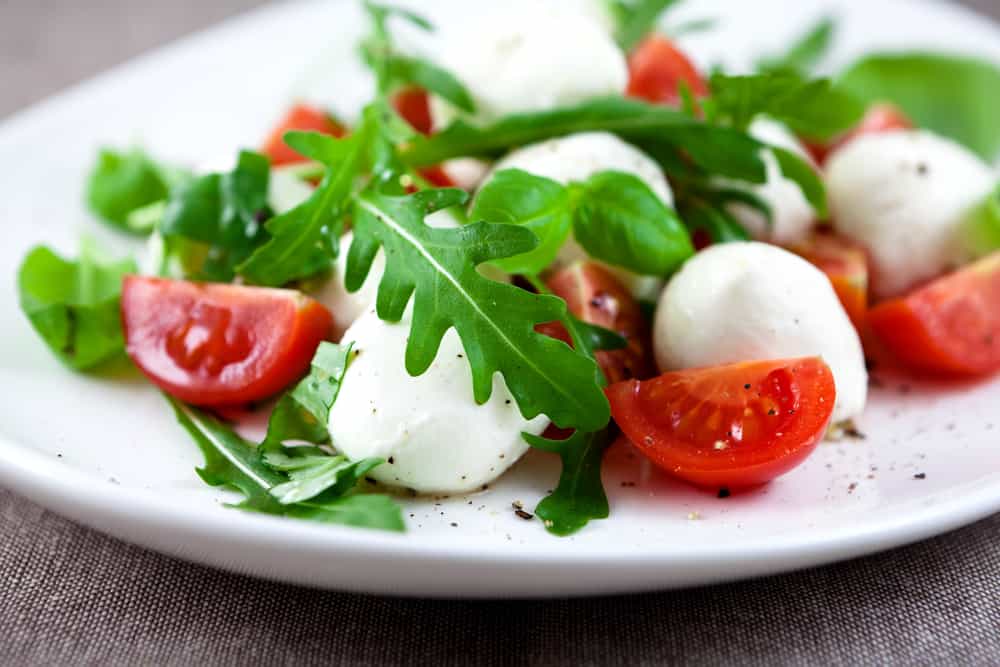 As another delicious New Year's Eve healthy appetizer, take advantage of the flavor dichotomy of fresh, ripe tomatoes and strong, firm mozzarella cheese. This is a flavor mix that is simply made for the palate.
Tomatoes are packed with potassium, vitamin C, and antioxidants that can protect your long-term health. Mozzarella is high in protein, calcium, and vitamin B12. Medical studies have shown that mozzarella cheese can also help your cholesterol.
To make this recipe, you will need:
¼ cup of olive oil
¼ cup of balsamic vinegar
Salt and black pepper to taste
One pint of grape or cherry tomatoes
½ cup of mozzarella cheese in cubes or spheres
Fresh basil
One clove of garlic, minced
½ cup of arugula
To make this recipe, get out a mixing bowl and add the tomatoes and mozzarella. Then, drizzle with olive oil and balsamic vinegar. Add the fresh basil, salt, pepper, garlic, and arugula. Toss all of the ingredients together to make sure that the dressing coats evenly. Finally, cover the salad and set it aside in the refrigerator until it is ready to serve.
A single cup of cherry tomatoes can be paired with two ounces of mozzarella cheese and still come in at fewer than 200 calories. Therefore, not only is this a filling New Year's Eve appetizer, but it will also keep you on track with your diet. This recipe tastes delicious, either chilled or at room temperature, making for a versatile dish. The beautiful flavors that come together in this dish are sure to have everyone asking for another serving.
Vegetable Medley with Hummus
Hummus is considered a staple of numerous parties, including those that take place on New Year's Eve. Therefore, do not hesitate to go with hummus as one of your New Year's Eye healthy appetizers. Hummus comes and a variety of flavors and styles. Some of the most popular hummus styles include olive tapenade, roasted red pepper, spicy chili paste, and roasted garlic.
Not only is hummus tasty, but it is also incredibly healthy. Hummus is usually made from olive oil, chickpeas, and garlic, each packed with excellent benefits.
Even though it is possible to dip chips and crackers into your hummus, it is much better to go with vegetables, such as baby carrots, cucumbers, bell peppers, and celery.
It is not complicated to put this recipe together. There are plenty of hummus varieties, and all of them can be eaten with your vegetable medley. It does not hurt that the nutritional profile of this recipe is exceptional.
A typical serving of vegetables is about 3.5 ounces. This only contains about 100 calories, making for a healthy snack. When this is combined with one cup of hummus, this healthy appetizer still comes in at only about 180 calories. This is a delicious, guilt-free appetizer that is sure to be popular at your New Year's Eve party this year.
Eat Healthy and Enjoy Your New Year's Party with These Appetizers
These are just a few examples of the top healthy appetizers you can enjoy at New Year's Eve parties this year. With so many New Year's Eve appetizers ideas from which to choose, there are plenty of delicious dishes that you can serve to your party guests without breaking from your diet. You must plan ahead of time regarding how much you will eat, what you are going to avoid, and how many plates you allow yourself to have. By sticking with healthy New Year's Eve healthy appetizers, you can enjoy the party, eat some delicious food, and adhere to your calorie count.
Your weight loss is a personalized journey, as it should be. With Noom, you stay on that personal journey, but you are joined by human coaches, a vast library of education and resources, psychology experts, and more. You have a complete support system all housed in a simple-to-use app. And, you can take advantage of the program today with a free trial offer!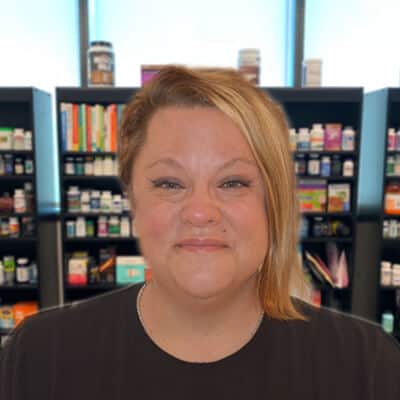 About the Author:
Summer Banks has researched over 5000 weight-loss programs, pills, shakes and diet plans. Previously, she managed 15 supplement brands, worked with professionals in the weight loss industry and completed coursework in nutrition at Stanford University.
Updated: