Trying to lose weight can seem like a truly frustrating experience, and you may be wondering how the 17 Day Diet meal plan will provide you with any different results.
It is understandable that you may feel a bit discouraged or perhaps even cynical about trying yet another diet.
However, when you read through a few 17 Day Diet reviews, you will see that real people are enjoying incredible results from this doctor-designed weight loss program.
What Is the 17 Day Diet?
According to WebMD, this is a special diet plan that was designed by Dr Mike Moreno, and it was created to take advantage of the natural fat burning process by regularly adjusting your diet every 17 days.
With this in mind, you may be wondering what do you eat on the 17 Day Diet and what are some of the 17 Day Diet results that could potentially enjoy.
With a closer look at reviews of the 17 Day Diet and other important facts about the meal plan and ingredients, you can more easily decide if this is the right diet option for you to consider using.
The 17 Day Diet Plan Ingredients
After asking what the 17 Day Diet is, a common question people have relates to what do you eat on the 17 Day Diet.
Depending on what your current diet consists of, you may find it rather easy to follow the typical 17 Day Diet meal plan, or this process may be somewhat challenging for you.
However, you can see from looking at impressive 17 Day Diet before and after pictures that this is a diet that can yield tremendous results in a relatively short period.
The 17 Day Diet Plan by Dr. Mike Moreno does not feature pre-packaged foods or beverages that you need to buy.
Instead, you will prepare your own healthy and delicious 17 Day Diet recipes using specific ingredients (see Chewfo for cycle 1 – food list).
The 17 Day Diet food list will adjust every 17 days, so there are three cycles to pay attention to. This is the 17 Day Diet food list for each cycle.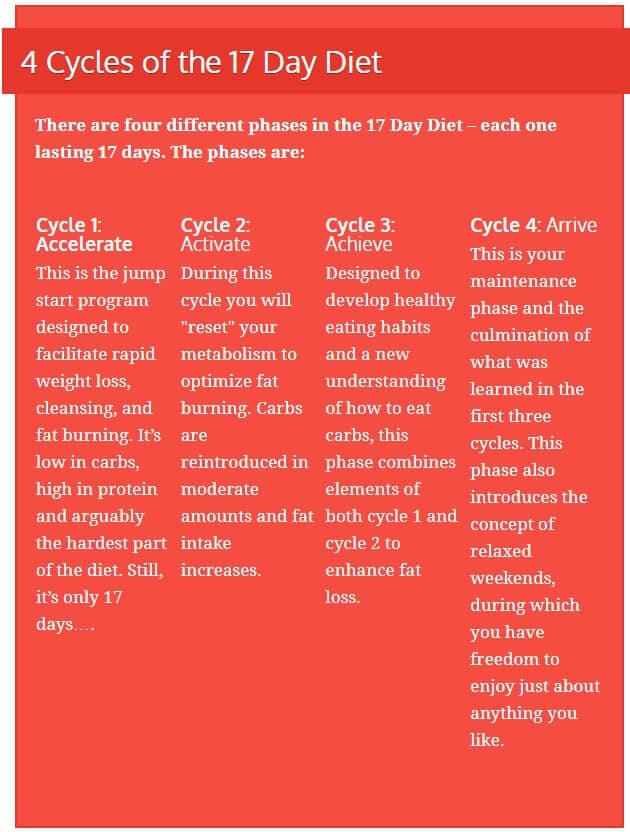 17 Day Diet Cycle 1 Foods
Foods on the 17 Day Diet Cycle 1 include:
Lean protein meats
Up to two eggs
Unlimited vegetables
Up to two servings of fruits before 2 pm
Two servings of low-fat probiotics
Friendly fats
Unsweetened, non-alcoholic beverages
17 Day Diet Cycle 2 Foods
The second stage will begin on day 18, and the 17 Day Diet cycle 2 foods are slightly heavier on healthier carbs and fats than what you found in the first cycle.
17 Day Diet Cycle 2 foods include:
Lean proteins, including shellfish
Up to two eggs per day
Unlimited vegetables
Up to two servings of fruit before 2 pm
Two servings of probiotics, which may be made from whole milk products
Up to two servings of natural starches
Some condiments
17 Day Diet Cycle 3 Foods
The third stage begins after 17 more days have passed.
The 17 Day Diet cycle 3 foods include:
Lean or reduce fat proteins, including shellfish
Up to two servings of natural starches
Unlimited vegetables
Up to two services of fruit before 2pm
Two servings of your choice of probiotics
A greater selection of friendly fats and condiments
One serving of alcohol per day
17 Day Diet Side Effects
Before you get too excited about seeing such incredible results in the 17 Day Diet before and after pictures, it is important to learn as much as possible about what this diet plan entails and how it may affect your body.
There are a few potential 17 Day Diet side effects that you may notice. The level of severity for these symptoms can range dramatically from one individual to the other.
17 Day Diet side effects aren't necessarily negative, but may include:
Weight loss, which may be as high as a few pounds per week
Initial fatigue as you adjust to consuming fewer calories and less sugar
After a few days, you may feel more invigorated and lively as your body adjusts to consuming healthier foods
A potential decline in your blood sugar level
17 Day Diet Cost and Where to Buy
You may be reading through the many positive 17 Day Diet reviews posted online to see where you can purchase the items necessary to get started.
If you want to enjoy amazing 17 Day Diet results yourself, you should take time to read the book written by Dr Mike Moreno.
You can purchase this book in English or Spanish.
On average, the 17 Day Diet book costs less than $20.
Remember that there are several books available as well as a cookbook filled with delicious 17 Day Diet recipes that you may want to invest in.
The cookbooks may make it easier for you to follow the 17 Day Diet menu on a daily basis.
You can also download the 17 Day Diet app.
This 17 Day Diet app is available for both Apple and Android products, and it can help you to track your program, provide you with helpful tips and much more.
Guarantee/Refund Policy and How to Return the 17 Day Diet
You may feel skeptical about trying another diet when so many others have failed to produce the results you desire.
However, you are guaranteed to enjoy great 17 Day Diet results, or you can return your products for a full refund.
There are specific rules that you must follow to qualify for the refund, and you can reach out to the company directly if you are not satisfied with the results of this diet program.
17 Day Diet Recipes
One of the easiest ways to stick to the 17 Day Diet menu is to learn about some of the great recipes that you can enjoy at each stage.
You can easily find 17 Day Diet recipes (cycle 2) online, in the cookbook or through the app.
17 Day Diet Recipe (cycle 1)
Turkey Meatloaf
1 lbs Ground Turkey, Lean
1 Egg, large
1/4 cup Scallions, chopped
Handful of Spinach, fresh
2 tbsp Worcestershire Sauce
1 tsp Salt
1/2 tsp Poultry Seasoning
1/8 tsp Cracked Balck Pepper
2 tsp Garlic Salt (use garlic powder for less salt)
Directions
In a large bowl, mix all ingredients together with a whisk, except the ground turkey and spinach.
When mixed well, add the turkey and spinach. Use your hands to knead the mixture together.
Shape into a loaf about 1.5-2.5 inches thick. Bake at 350 degrees for 1 hour or until done.
17 Day Diet Recipes (cycle 2)
Mustard Chicken and Rice
1 lb Chicken Tenders, no skin
2 Tbsp Extra Virgin Olive Oil
3 Scallions, diced
1-2 Cloves Garlic, minced
1/2 Cup Dry White Wine
1/2 Cup Fat Free Sour Cream
3 Tbsp Dijon Mustard
1 Package Frozen Broccoli
1/2 Cup Long Grain Wild Rice
Salt & Pepper to taste
Directions
Heat olive oil in skillet. Season the chicken tenders with salt and pepper, then cook over medium heat until golden brown on both sides. Set aside on a plate covered with foil to stay warm.
Meanwhile, cook the rice according to the package directions. 5 minutes before the rice is finished, add the frozen broccoli, stir and cover.
In the same skillet used to cook the chicken, add scallions and garlic. Saute for a few minutes. Then add the white wine and bring to a rapid boil, stirring until reduced and slightly thickened.
Add the fat-free sour cream and mustard to the skillet and stir well. Return the cooked chicken and any juices that accumulated in the plate to the skillet. Stir and cover until heated.
Serve the chicken and mustard sauce over the broccoli and rice mixture.
17 Day Diet Recipes cycle 3
Simmer Slaw & Pork Medallions
1 pound trimmed pork tenderloin
Olive oil spray
Garlic powder, to taste
Sea salt, to taste
Fresh ground black pepper, to taste
1/4 cup + 2 teaspoons red wine vinegar
2-1/2 teaspoons toasted sesame oil
4 teaspoons nonfat Greek yogurt
1/2 teaspoon sea salt, or to taste
Fresh ground black pepper, to taste
2 cups shredded green cabbage
2 cups shredded red cabbage
2 cups bite-size red bell pepper strips (about 2 small peppers)
1-1/2 cups bite-size yellow bell pepper strips (about 1 medium pepper)
1/2 cup snap peas, thinly sliced on the diagonal
1/2 cup seeded, chopped cucumber
1 cup grape tomatoes (about 20 tomatoes), halved
Directions
Preheat a grill to high heat.
Lightly mist the tenderloin with the olive oil spray and season it with garlic powder, salt, and pepper.
Grill the tenderloin for 3 to 5 minutes on the 3 faces until it is just barely pink in the center (or a thermometer inserted in the center reads 160°F).
Remove it to a cutting board or platter and tent it with foil. Let stand for 5 minutes.
Then slice it into 1/2″-thick pieces.
In a small mixing bowl, whisk the vinegar, sesame oil, and yogurt until well combined.
Whisk in the salt and season with pepper.
Meanwhile, in a large mixing bowl, toss the cabbages, peppers, peas, cucumber, and tomatoes with the dressing.
Divide the slaw among four dinner plates, mounding it to one side of the plate.
If using, in a small microwave-safe bowl, mix the cranberry sauce and ginger.
Microwave on medium power for 30 seconds, or until the sauce is slightly melted and warm.
Fan one-quarter of the pork slices next to the slaw on the empty portion of each plate.
Spoon 1 tablespoon sauce on the side of each, if desired.
The 17 Day Diet vs the South Beach Diet
You may be wondering which of these two diet plans is a better choice to try.
When you compare the 17 Day Diet vs the South Beach Diet, you will see that both diets have similar phases, and you can eat more foods after you pass through each stage.
The meal plans vary slightly, but the concepts are the same.
More than that, the books are both priced affordably, but the South Beach Diet has more pre-packaged meals and online resources available.
17 Day Diet vs Weight Watchers
You may also be comparing the 17 Day Diet vs Weight Watchers, which is another popular diet program.
Some people have notably criticized Weight Watchers for allowing any foods to be consumed as long as you do not go over the allocated number of points allowed per day.
The 17 Day Diet seems to place more thought into the health content of the foods that you consume and does not require you to track points every day.
17 Day Diet vs Dukan Diet
Another comparison you may make is between the 17 Day Diet vs Dukan Diet.
The Dukan Diet is very similar to the 17 Day Diet and the South Beach Diet in that it has phases that start out being very restrictive and gradually become more lenient.
Reviewing the different food choices available in these various plans may help you to decide which option is right for you.
17 Day Diet vs Atkins
You can also compare the 17 Day Diet vs Atkins, another popular weight loss program.
With Atkins, the focus is heavily on eating lean proteins and a low amount of carbs, according to WebMD. The 17 Day Diet, on the other hand, seems to offer a more healthily balanced meal plan.
What Users Are Saying
"Wonderful lifestyle plan! – Don't be fooled. This is not a diet. This is simply a healthy way to eat, lose weight, & feel great. I'm just your average middle age post menopausal woman This plan makes it easy to feel better & look better in a short period of time."
"Impossible diet – After completing a 28 day diet that helped me to lose 9 pounds and increase my metabolism, I bought this book in order to vary my diet routine but the 17 day diet is way too difficult. I began by following the recipes and eating according to the restrictions, I began to lose energy as well as feeling hungry. Right now, I am ready to throw this book into the garbage."
"17 Diet Book – Basically this is a stricter version of Adkins. Impossible to sustain. But the concept of low or no refined sugar and good fats is very important as a life change not just 17 days."
The Bottom Line on the 17 Day Diet
Is the 17 Day Diet right for you? There are both positive and negative aspects of this plan to consider. On the positive side:
You can lose a tremendous amount of weight in a reasonable amount of time.
The focus is on improving your diet and learning how to eat better.
You can enjoy a wide range of foods.
On the other hand, there are negative aspects to consider as well, and these include:
The diet may be hard on your kidneys because of how protein-heavy it is.
This meal plan is not well-suited for vegetarians and others with special dietary considerations.
You may gain weight back when you move to the third cycle.
However, based on the benefits of the 17 Day Diet, there's a chance you'll lose weight improve overall health and wellness.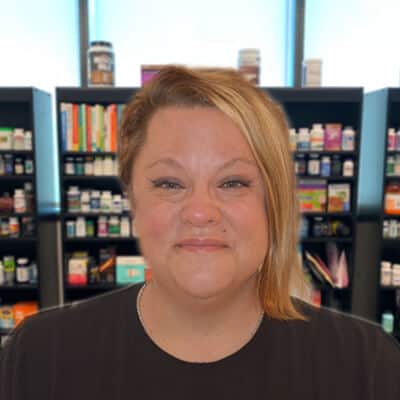 About the Author:
Summer Banks has researched over 5000 weight-loss programs, pills, shakes and diet plans. Previously, she managed 15 supplement brands, worked with professionals in the weight loss industry and completed coursework in nutrition at Stanford University.
Updated: