There've been whispers around the weight-loss market about a system that has companies and experts in the industry quite interested. In the past year, our research team has tackled more than 300 diet products, plans and systems. The one that stands out is a system called Noom.
Let's take a closer look.
Noom can be purchased through their Official Site.
EDITOR'S TIP:
Noom is offering our readers a
14-day trial
, for a limited time.
Click here
for this special offer!
Frustrated With Dieting: This is Your Answer
Noom is a health-and-wellness company that uses mobile technology to help people lose weight and keep it off. We like that the claims are backed by multiple scientific studies.
Many of Noom's clients stop dieting and get lifelong results, all from your smartphone. We also noticed the system is easy to follow. Noom took research, studies, expert advice, proven weight-loss methods and smartphone technology to create an all-in-one program that seems to be taking the diet industry by storm.
This isn't like Weight Watchers, Jenny Craig or even Lose It! The key is Noom's personalized weight-loss program and human coaching.
Personalized Weight-Loss Program and Human Coaching
No two people are the same, so when we noticed Noom offers a personalized weight-loss program with human coaching, we knew this one was different. Other programs pull bits and pieces of proven tactics and throw them together in a companion app, but Noom is different.
Noom's system IS an app. So that means no books, binders, point calculators – nothing. Everything you need to lose weight and keep it off is in the app.
Extensive Food Database
Noom offers one of the most extensive food databases we've ever seen. Unlike nearly every other food-tracking app, the program doesn't allow just anyone to add foods and food facts to the database. The database is maintained by an in-house team of experts that includes registered dietitians and nutritionists who know food and know how food plays a critical role in reaching and maintaining weight-loss goals.
Food Logging
Food tracking in the specific way Noom does it is backed by significant science published in journals such as Journal of the American Dietary Association. The key is easy access, easy use and easy support – all of which is offered through its app.
Exercise Tracking
Noom believes in exercise as part of healthy lifestyle changes. The app recommends a moderate exercise regimen. At first only ten minutes a day to improve metabolism, increase the number of calories burned and promote overall health. With the Noom app, you get easy access to exercise tracking that doesn't take a rocket scientist to understand.
No Restrictive Dieting
Noom helps people avoid "Yo-Yo dieting" and instead achieve long-term results through changes to behavior and habits. We noticed the app avoids restrictive diets, which are proven to fail time and again because they cause that "Yo-Yo" effect. You lose weight then gain more, then lose weight again, and gain even more.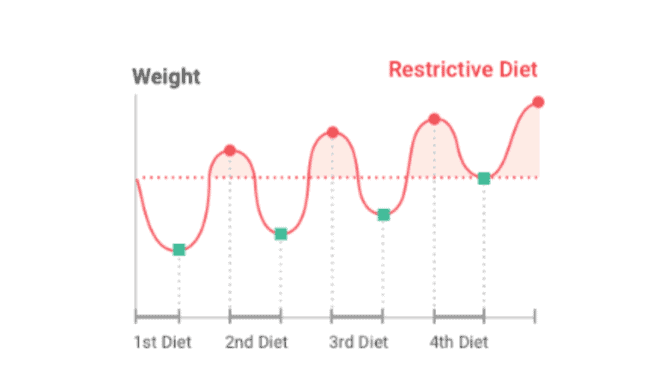 With Noom, you don't experience a "Yo-Yo" effect, so the weight you lose stays off for good.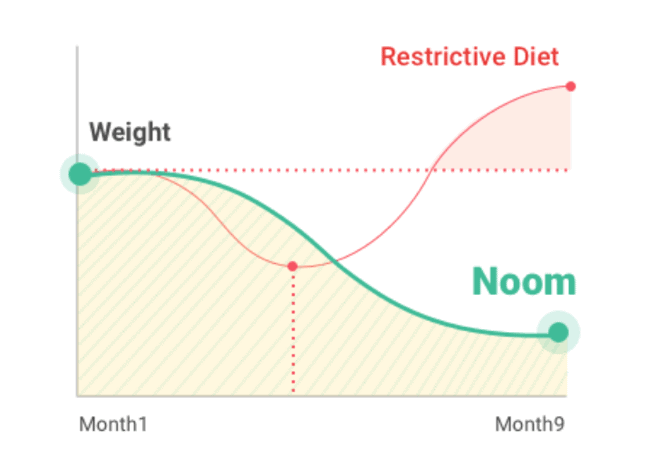 Science & Research
Noom Weight Loss, Clinical Studies and Support
Scientific Reports: According to a Noom study, "Between October 2012 and April 2014 … a total of 35,921 participants were included in the analysis [of Noom], of whom 77.9% reported a decrease in body weight while they were using the app" over nine months.
BMJ Journals: Research into weight loss by Noom world-class experts shows human coaching plays a critical role in losing weight. "Our findings support the effectiveness of a uniquely mobile … intervention, producing weight loss comparable to studies with high engagement, with potential for scalable population health management." In total, 64% of Noom users shed more than 5% of their body weight.
Kaiser Permanente: The health and wellness giant Kaiser Permanente stands behind food logging as an essential part of lasting weight loss. "Keeping a food diary can double a person's weight loss." These results were part of "the largest and longest running weight-loss maintenance trials ever conducted."
Centers for Disease Control and Prevention: "In 2017, Noom received full recognition by the Centers for Disease Control and Prevention (CDC)."
University of Sydney Medical Center: "Using an app to support weight loss can be helpful for people who want to get a better idea of the amount of food and kilojoules they are eating each day." The university named Noom the number one weight-loss program out of 800 reviewed.
Scroll below to read the bottom line.
Experts
The Team Behind Noom

World-Class Experts: Medical experts and leading researchers work with Noom. These include Andreas Michaelides, PhD – Chief of Psychology; Youngin Paul Kim, MD – Medical Director; and Kitt Farr, MD, FACC, FNHI – Chief Medical Advisor.
Noom also works with dietitians and nutritionists to ensure the food database is updated regularly with proven nutrition facts and the latest in meal options.
Who's Talking About Noom? (Hospitals, Health Plans and News Outlets)
People have taken notice of Noom because it works, but don't take our word for it. Some of the biggest names in the business use the app to support weight loss and overall health.
Used by: Aetna, EmblemHealth, Aurora Health Care, New York – Presbyterian
The news outlets haven't left Noom behind either. World-class news outlets have published fantastic support for this proven platform.
Featured in: Consumer Reports, Women's Health, Shape, New York Times
Q&A
Questions and Answers
Q: What comes with the Noom program?
A: The Noom program comes with food logging, meal feedback and analysis, virtual support group, nutritional tips and advice, daily challenges and quizzes, hundreds of original articles and one-on-one coaching.
Q: Does Noom really Work?
A: Yes, clinical research shows Noom works. Based on a Noom study with more than 35,000 participants that spanned two years, more than 75% of people reported weight loss while using the Noom app.
Q: How should Noom be used?
A: Noom should be used in conjunction with a regular exercise program, as approved by your doctor. Anyone with health or medical conditions will want to seek advice from a healthcare provider before making drastic changes to diet or activity level.
Noom is intended to use for weight loss AND weight maintenance, so you reach your goals and stay there for good!
Q: Will I feel deprived?
A: No, with Noom's personalized diet plan, you won't feel deprived. Food choices aren't restricted, as they are with many weight-loss programs. You can eat the foods you love and still lose weight – guaranteed.
Q: Can I cancel my Noom subscription?
A: Yes, you can cancel your Noom app subscription at any time without question. Simply contact the customer service department and your subscription, and all future payments will be canceled.
Q: How can I buy Noom to give it a try?
A: For a limited time, Noom is offering a Risk-Free 14-day trial to Dietspotlight readers for $1. In just 14 days, you'll find yourself tracking food, eating better and losing weight.
Let's Hear a Drum Roll …

What are we thinking? After digging into Noom for hours, we can't find a single hiccup in the app. Every feature we could want is packed into this program, which has been shown to promote:
Lasting Weight Loss
Fat Burn
Metabolism
Long-Term Lifestyle Changes
Bottom Line
Bottom Line: Yes, Noom Beats the Competition
We're so confident Noom works that we've decided to partner with the company so our readers can take advantage of a Risk Free 14-day trial.
Our readers get instant, full access to all Noom features, including a personalized diet plan, food tracking, exercise tracking, health articles and contact with a human coach who's dedicated to helping you reach your weight-loss goals.
Click here if you're ready to give Noom, and the expert support, a try today.
Order Noom Today!