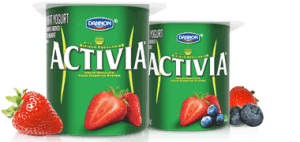 Recently there has been a great deal of discussion about Activia yogurt, so we decided to write a detailed review, scrutinizing the ingredients, side effects, scientific studies and customer-service quality. Furthermore, we read through hundreds of customer comments and user reviews we found online. At last, we summed up all of the data we discovered to give you the facts you need.
EDITOR'S TIP:
Combine Activia with a proven fat burner such as
Leptigen
for better results.
What You Need To Know
Activia is a "probiotic yogurt" that is made by Dannon. This product contains the key ingredient known as Bifidus Regularis, which is a probiotic culture or active bacteria that may help benefit the digestive tract. Put simply, this yogurt is claimed to help with regularity and maintaining a healthy digestive system. Adults and children can eat Activia yogurt, but it's typically marketed at women in particular. This product is not a laxative, and it can be consumed daily for maximum results. Activia is available in flavors such as; black cherry, vanilla, blueberry, strawberry, peach, prune, mixed berry and strawberry banana. Also, there are different types of this yogurt available, which include Activia Fiber, Activia Greek and Activia Light.
This probiotic yogurt was initially released in France back in 1987. It is commonly available in local grocery stores and you have several flavors to choose from. Furthermore, there are Activia smoothie drinks for those who prefer an alternative to yogurt, but read on…
Class-Action Lawsuit – Uh Oh
"Back in 2008, there was a class-action lawsuit filed against Dannon, which stated that Activia does not live up to its claims. In other words, Dannon was accused of false advertising and this yogurt may not help with digestive health and regularity as advertised," says our Research Editor.
One customer revealed, "I purchased a 24 pack box of Activia yogurt from a club card share house store. I broke off a vanilla yogurt, and grabbed a plastic spoon from my kitchen. I peeled off the yogurts' seal, and after the third bite, my attention got caught by the weird sensation of something lumpy in my mouth. As soon as I took the fourth spoonful of yogurt in my mouth, I moved the small lump to the front of my mouth with my tongue and took it from my mouth with my fingers. It was a maggot."
Another user stated, "I purchased Activia with the belief it would help my digestive system, only to find out that it did not."
Scroll below for one of the best products we've seen in 2015.
Adverse Effects – Yikes
Some customers have complained of side effects from Activia yogurt. In fact, one user said, "I recently tried Activia yogurt because it states it can cure your tummy troubles in two weeks. I ate 1 a day for about 5 days. On the 5th day while at work, sharp pain started radiating in my chest and stomach area, the pain was terrible."
"Unable to expel gas and pooh for days, it has led me to discontinue its use completely," said another person.
The research we've done has shown if there is a particular aspect of a diet product that is especially bothersome (class-action lawsuit, terrible taste, adverse effects) the real likelihood of prolonged weight loss success is minimal. This means if Activia does in fact lead to adverse effects in numerous people, this could be a major problem.
The Science
Here at DietSpotlight, we like to see documented clinical research that supports the diet product and its ingredients. In regards to Activia yogurt, we did not find any scientific studies or clinical trial results presented on the official website. While there are plenty of claims that this yogurt helps promote regularity and digestive health, there does not appear to be real studies to support these claims.
The Bottom Line
While everyone wants excellent digestive health, there sure are plenty of complaints about Activia products. When you stop to consider the class-action lawsuit and customer complaints, this probiotic yogurt does not look too promising. It makes more sense to stick to a healthy diet plan that is rich in fiber and water. This will naturally promote regularity and digestive health. Furthermore, you should note that Activia does not actually promote weight loss.
If you want to see more significant weight loss results and a slimmer figure, we encourage you to try a diet product that truly helps burn off fat, contains ingredients that are supported by clinical studies and does not lead to nasty side effects.
Among the best diet products we've come across in 2015 is one called Leptigen. This weight loss supplement contains four unique ingredients that have been shown in published scientific studies to help ignite metabolism and accelerate fat loss. We have not seen any complaints of side effects and user reviews posted on the web indicate people are seeing excellent results.
Also, the makers of Leptigen are so confident in their product they're offering a Special Trial Offer, which is a good sign.