Updated: 09/22/2015 - Sponsored by Leptigen
Athletic Greens Review - Does This Superfood Shake Work?
Are price and pushy marketing deal breakers?
PUBLISHED: 09/04/2015 | BY: SUMMER BANKS, SENIOR REVIEWER
Editor
's Review:
3.5
/ 5.0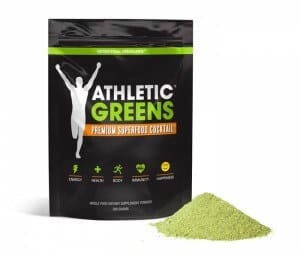 We were interested in all the hype about Athletic Greens, so we researched the ingredients, side effects, customer service quality and clinical research. We took hundreds of forum posts and comments into consideration. After, we compacted and summarized so you have the info you need.
EDITOR'S TIP:
Combine Athletic Greens with a proven fat burner such as
Leptigen
for better results.
What You Need to Know
Athletic Greens is a superfood similar to a protein shake. The ingredients include more than one hundred fruit and vegetable extracts. The powder is mixed in water, juice or milk – depending on your taste. There are 30 servings in the container, but you have to use one heaping tablespoon so that could equate to more or less. There's no information on how often to take the supplement, so it may only last two weeks.
We're not sure when the company started or when Athletic Greens was released, but we do know the webpage was published in 2009. Purchasing can be done on the official website and at some online retailers. Only natural ingredients are used in the formula – a good decision. We like that the customer service department offers phone and email contact and the ingredients do support overall nutrition, but read on…
Price – "Your Wallet is Empty!"
The first issue we have is with Athletic Greens cost. The ingredients are similar across all products, but this one is priced more than twice the others. "You can't eat enough fruits and vegetables to get the nutrition in a greens supplement," says our Research Editor. "But you can buy a less expensive Athletic Greens alternative to this superfood." One bag sells for $109 and, according to one user, it takes two bags a month. That's more than $200.
One forum posts explains, "Maybe there's $5 worth of product in the can, and they mark it up to $90 or whatever it is they sell it for."
"Crazy expensive though ($3.00 for a single tbsp serving.)," claims another buyer.
Scroll below for one of the best products we've seen in 2015.
Pushy Marketing – Daily Reminders
At the heart of online marketing is the email, but some companies take that contact a bit too far. Customers are not happy with the daily reminders after they bought, or showed interest in, Athletic Greens.
"If you do buy it, you'll get even more emails from them. Lots more. I think at least some of the emails are timed to come X, Y and Z days after you order," a buyer reports.
We also found another claim of over marketing, "Yep, they are very pushy…before i bought it I signed up for their club or whatever it was called hoping they'd send me a coupon code for at least free shipping or something…bad idea. ended up getting them and i'm still getting pretty much daily emails."
Throughout our experience we found it takes only one problem to slim down the chances of long-term success. If the Athletic Greens price is too high and the marketing department is pushy, those aren't the best choices.
The Science
Science is certain about one thing, more fruits and vegetables are excellent for overall health, but Athletic Greens doesn't even bother to share that information. For the dieter looking for clinical studies showing weight-loss, there are none to find. Research is one of the most important parts of a supplement. At DietSpotlight we believe leaving this out is enough to stop any kind of support.
The Bottom Line
Our look at Athletic Greens brought us to a firm conclusion. We like Athletic Greens for the nutrition it provides and the customer service department did answer our questions without issue, but we can't recommend the product because there's no scientific support and the price is way too high. Plus, we're concerned about the taste often described as green.
If you're time has come to lose weight, we suggest trying a supplement giving you both a good price and clinically proven ingredients.
Among the finest supplements we've seen in 2015 is one called Leptigen. The proprietary blend is made up of four ingredients, each with published scientific support showing help increasing metabolism and fat loss. We didn't find talk of negative side effects and customers consistently report seeing big results.
Plus, the people behind Leptigen are so confident in the formula they're offering a Special Trial Offer, awesome.
(Feel free to scroll below for our previously published full-length reviews of Athletic Greens)
Previous Athletic Greens Review (Updated March 18, 2014):
What You Should Know
Click Here To See Our Highest Rated Review
Athletic Greens is a green supplement that is pretty comprehensive. The ingredient list is available on the official website and we went through each and every ingredient searching for something new and spectacular, but there was nothing new. There are superfoods and superfruits; antioxidants and more antioxidants. Thrown in for good measure is a bit of protein, but as a whole greens supplement, you can expect more of the same – green taste and more green taste.
List Of Ingredients
Ingredients:
Beta Carotene
Vitamin C
Vitamin K2
Vitamin E
Thiamin
Riboflavin
Vitamin B3
Vitamin B5
Vitamin B6
Folic Acid
Vitamin B12
Biotin
Calcium
Phosphorous
Magnesium
Zinc Amino Acid Chelate
Selenium
Copper
Manganese
Chromium Picolinate
Organic Spirulina
Lecithin
Organic Apple Powder
Organic Inulin
Organic Wheatgrass Juice Powder
Organic Alfalfa Powder
Chlorella Powder
Organic Flaxseed Powder
Organic Barley Leaf Powder
Acerola Cherry Fruit Juice Powder Extract
Organic Broccoli
Organic Broccoli Flower Powder
Carica Papaya Powder
Natural Pineapple Fresh Fruit Concentrate
Policosinol
Organic Bilberry Fresh Extract
Rosehip Fruit Powder
Carrot Root Powder
Organic Spinach Leaf Powder
Cocoa Bean Polyphenol Extract
Grapeseed Extract
Green Tea Extract
Licorice Root Powder
Wolfberry Fruit Extract
Ginger Rhizome Powder
Slippery Elm Bark Powder
Kelp Whole Plant Powder
Alkaline Pea Protein Isolate
Citrus Bioflavonoids Extract
Globe Artichoke Extract
Citric Acid
Eleutherococcus Senticosus Root Extract
Gotu Kola Extract
Rosemary Leaf Extract
Rosemary Leaf Extract
Milk Thistle Seed Extract
Beta Glucans
Alpha-Lipoic Acid
Withania Somnifera Extract
Dandelion Root Extract
CoQ10
Astragalus Membranaceus Root Extract
Bromelain
Burdock Root Powder
Reishi Mushroom Powder
Lactobacillus Acidophilus
Bifidobacterium Bifidum
Papaya
Broccoli
Cherry Powder
Carrot
Pineapple
Carob
Natural Vanilla
Product Features
Aside from the green ingredients in Athletic Greens we did notice dandelion root and burdock root. These are diuretics and completely unneeded in an athletic supplement. Diuretics force extra water out of the body, but athletes don't need the help. Sweat is the most powerful diuretic of all.
So, all you do is mix Athletic Green with water or juice and you get all the fruits and vegetables you need in one serving. This product is not a weight loss supplement, but it could be used before a meal to reduce hunger and thus impact weight loss.
Advantages
Supplies all the fruits and vegetables the athlete could need.
Disadvantages
May not mix well in water.
May not taste the best.
Conclusion
Athletic Greens is a supplement advertised on multiple websites. When we see new products like this we look closely to see if the company is offering a good supplement or just pushing another generic supplement. This time around the formula is pretty sound, but the website leaves much to be desired. There are misspelled words and we did not find a product label.