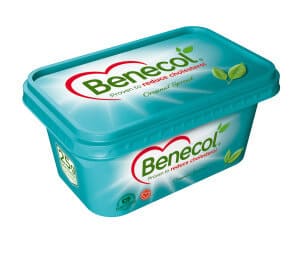 Give me two minutes and I'll tell you whether Benecol actually works. We wrote an in-depth review, examining the side effects, ingredients, clinical studies and overall customer service of this one. We additionally read dozens of user comments posted online. Lastly, we condensed everything we found in order to give you the information you need. We realize the journey can be long and hard, which is why we aim to give you just the facts. Is there really a connection with weight-loss? Maybe.
What is Benecol?
To start off with, Benecol is a brand that offers instant cereals, spreads, oatmeal and Smart Chews. These products claim to help lower cholesterol levels. Some ingredients include Sugar, Corn Syrup, Nonfat Milk, Cornstarch, Soy Lecithin, Glycerine and Salt. You can use the variety throughout the days with meals or as a supplement. They are supposed to help promote healthy cholesterol levels, which can positively affect heart health.
Benecol is owned by Raisio Group, which is a European company. It has been around since 2007 and these diet products are available on Amazon. Also, there are plenty of customer reviews posted online, but if you're looking for a connection to weight-loss, keep reading…
Unpleasant Taste – "Really That Bad?"
The first common issue that came up time and again with Benecol ingredients was taste. "If a product is designed to be eaten, it has to have a good flavor to keep dieters around," says our Research Editor. "According to multiple reviews, that's not the case with these foods."
One customer said, "Tasted like a combination of butter, sugar and caramel flavoring and in a word, YUCK!"
Another complained, "They taste grainy, greasy, and artificial."
Yet another said, "They leave a greasy white substance on the roof of my mouth and don't taste that good either."
Taste was clearly not an issue for some users. There are actually some who liked the products.
"They are reasonably inexpensive, taste good," according to one buyer.
Another shared, "They do have a decent caramel taste but kind of a weird texture."
Scroll below for one of the best products we've seen over the last year.
Bad Customer Reviews – "Too Much?"
There are plenty of negative user reviews posted online for Benecol.
One customer stated, "There was no improvement or very little in my LDL. Sorry to give Benecol a bad review."
Another said, "After only two chews I developed severe diarrhea and stomach pain. the stomach pain was so bad I was up all night."
However, some users did find good things to say.
As one put it, "I love these chews but had no proof that they worked."
"I like the convenience of taking this chew to help lower my cholesterol," another said.
Now, our research shows that something small, like an off taste or slow changes to cholesterol, is more than enough to hinder chances of success. If Benecol doesn't have the best flavor or if it doesn't work for some, the dieter may choose to go a different route with dietary changes and a clinically tested supplement for weight-loss.
Did We Find Any Valid Science?
There is some clinical research presented on the official website for Benecol products, which shows how they have been proven to lower cholesterol levels. However, the company doesn't bother to show a connection with weight-loss. What we found is that a diet aimed at naturally lowering cholesterol can be effective at helping you lose more, especially when partnered with a strong, effective supplement.
Does Benecol Really Work?
We are excited to see that Benecol spreads, chews and cereals can potentially help people lower their bad cholesterol levels to improve heart health. But, we'd like to see a stronger focus on dietary changes that could also help weight-loss. There is a direct connection between losing and improving overall health. Plus, we've got the negative reviews and problems with taste to consider.
For dieters who need to slim down and drop pounds of fat, we suggest partnering a product like Benecol with a clinically tested weight-loss supplement that's backed with some amazing customer testimonials.
After reviewing hundreds of products, the best we've found is called Leptigen. The formula is made up of four ingredients – no fillers and fluff. Clinical testing shows it can help boost metabolism and fat loss, both can improve overall health. As if that wasn't enough, dieter reviews show some fantastic weight-loss.
Also, the company responsible for Leptigen is so confident in their supplement they're offering a Special Trial Offer, which means the only thing you have to lose is those extra pounds!