Updated: 09/29/2015 - Sponsored by Leptigen
Benecol Review - Does This Diet Product Really Work?
Are unpleasant taste and negative customer reviews deal breakers?
PUBLISHED: 09/11/2015 | BY: SUMMER BANKS, SENIOR REVIEWER
Editor
's Review:
2.8
/ 5.0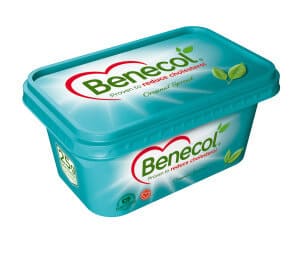 We've seen a great deal of buzz concerning Benecol diet products, so we wrote an in-depth review, examining the side effects, ingredients, clinical studies and overall customer service. We additionally read dozens of customer comments and user reviews posted online. Lastly, we condensed everything we found in order to give you the information you need.
EDITOR'S TIP:
Combine Benecol with a proven fat burner such as
Leptigen
for better results.
What You Need To Know
Benecol is a brand that offers instant cereals, spreads, oatmeal and Smart Chews. These products are claimed to help lower cholesterol levels. For instance, the Smart Chews ($38.99) contain the following ingredients; Sugar, Corn Syrup, Nonfat Milk, Cornstarch, Soy Lecithin, Glycerine, Salt, Caramel Color, Natural and Artificial Flavors and Yellow 6. These chews are consumed daily (4-8 chews), and help block the absorption of cholesterol and reduce LDL cholesterol levels. This in turn can help with obesity and improve overall heart health.
Benecol is owned by Raisio Group, which is a European company. Benecol has been around since 2007, and these diet products are available on Amazon. Also, there are plenty of customer reviews posted online and people of all ages can use these products, but read on…
Unpleasant Taste
"There are all sorts of user reviews posted on distributor websites such as Amazon for the Benecol Smart Chews. However, many customers have complained about the actual taste of this cholesterol-lowering chew," says our research editor.
One customer said, "Tasted like a combination of butter, sugar and caramel flavoring and in a word, YUCK!"
Another complained, "They taste grainy, greasy, and artificial." Yet another said, "They leave a greasy white substance on the roof of my mouth and don't taste that good either."
Scroll below for one of the best products we've seen in 2015.
Bad Customer Reviews!
There are plenty of negative user reviews posted online for Benecol. One customer stated, "There was no improvement or very little in my LDL. Sorry to give Benecol a bad review."
Another said, "After only two chews I developed severe diarrhea and stomach pain. the stomach pain was so bad I was up all night."
Our research has shown if there is a certain aspect of a diet product or weight loss supplement that is especially problematic (pills that make you jittery, bad taste, too many complaints) the chances of long-term success is quite low. If Benecol does in fact lead to a lot of customer complaints, this could prove to be a major concern.
The Science
There is some clinical research presented on the official website for Benecol products, which shows how they have been proven to lower cholesterol levels. However, there is no scientific research that supports these supplements for weight loss purposes. At DietSpotlight, we must see documented clinical research presented on the product and its ingredients, and how they help with real weight loss.
The Bottom Line
We are excited to see that Benecol spreads, chews and cereals can potentially help people lower their bad cholesterol levels to improve heart health. However, these products do not directly help with weight reduction at all. Considering the high number of customer complaints for Benecol chews, we do not recommend this product. Also, there are other medications available for lowering cholesterol levels, which have been proven to be very effective. Cutting back on meats and dairy products and increasing your daily intake of fiber and water can also help with this.
For dieters who need to slim down and drop pounds of fat more quickly, we advise you to go with a diet product or weight loss pill that is backed by scientific studies and doesn't cost you an arm and a leg.
Among the finest diet products we've spotted in 2015 is one called Leptigen. It provides a proprietary blend of four ingredients, which have been proven in published scientific studies to help increase fat loss and accelerate metabolism. Moreover, we are unable to find any bad feedback regarding harmful side effects and customer reviews posted online indicate people are seeing real results.
Also, the makers of Leptigen are so confident in their product they're offering a special trial offer, which is a good sign.