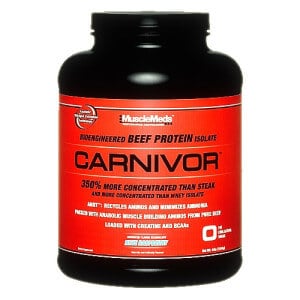 No joke – over 50% of diet products simply don't work. So what about Carnivor? We spent some time writing an in-depth review, closely examining the ingredients, side effects, customer service and clinical research. Furthermore, we scrutinized all sorts of user responses from all over the internet. At this point we compressed all the facts and specifics in order to give you the information you need.
EDITOR'S TIP:
Click here
to combine Carnivor with a proven testosterone booster such as Pronabolin for better results.
What is Carnivor?
To begin, Carnivor is a powder that is made by MuscleMeds Performance Technologies. Hydrolyzed beef protein isolate is the core ingredient. This product claims to be more concentrated than whey supplements. It is intended to increase body strength, build mass, minimize muscle loss and help improve physical training sessions. You simply add one scoop to 6-8 ounces of cold water. Each serving provides 23 grams of protein, 2.5 grams of creatine, 120 calories and eight grams of carbohydrates. It does not contain fat or cholesterol.
From what we could gather, Carnivor was released in 2013. This supplement is available directly through the official website for $47.99. Larger sizes are also available and there are several flavors to choose from, but read on…
Unpleasant Taste – "Uh Oh!"
The first issue we found with Carnivor ingredients was that many users felt them impossible to keep down. "We noticed that there are numerous customer complaints posted online regarding the taste of this protein powder. This is never a good thing because how will you use a supplement daily if it's bad?," says our Research Editor.
"Tasted sludgy and vulgar," stated a customer.
"Bad taste, not worth the money," said a consumer.
Scroll below for one of the best products we've seen over the last year.
Side Effects – "Customer Complaints?"
If you take a close look at distributor websites like Amazon, you will find plenty of customer complaints for this protein supplement. One dieter commented, "I got past the taste, but I feel bloated and nauseous."
"I felt queasy for an hour or two after. I'm glad I was taking this post workout because if I had done it as a pre-workout I can only imagine how much worse it would make the workout," stated another.
"Horrible diarrhea, and bad stomach aches with the chocolate. Would never buy again," reported a customer.
According to the research we've done, if there is some particular facet of a diet product or supplement that is very bothersome, like negative side effects, the likelihood of extended success is slim. This means if Carnivor is hard to swallow and leaves users unhappy, this could prove to be problematic.
The Science – "Evidence?"
Here at DietSpotlight, we need to see documented clinical studies that support the supplement and the ingredients it uses. Sadly we were unable to find any research concerning Carnivor protein powder. While some "science" is addressed on the website, there are no details mentioned that reveal how well this product actually works.
The Bottom Line – Does Carnivor Work?
So, do we have a final take on this one? It is interesting that this supplement uses beef, but there are just too many complaints from customers who've tried Carnivor to help us feel comfortable giving it a thumb up. While this powder does provide a significant amount of protein per serving, there are more affordable options that offer just as much. Furthermore, it appears it tastes pretty bad.
Those who wish to slim down and improve lean body mass, you should go for a supplement that uses clinically proven ingredients, does not lead to a lot of negative user reviews and comes with excellent customer service.
Among the best products we've seen in 2016 is one called Pronabolin. This diet supplement uses a formula, some of which are clinically-tested, and has been shown to boost muscle strength and energy levels. Furthermore, we can't find any discussion of negative side effects and user comments found online show people are seeing great results.
Also, the producers of Pronabolin are confident enough in the ingredients to offer a 120-day money-back guarantee and multiple-bottle discounts, which are positive signs.