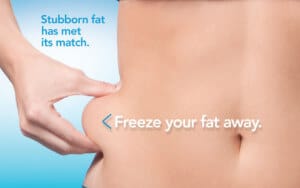 In my never-ending quest for the best diet product, this week I took a look at Freeze Fat. We decided to do one of our in-depth reviews, looking closely at the side effects, ingredients, research and customer service. Plus, we read hundreds of testimonials from all across the web. Then, we summarized and condensed it all to give you the information you need.
What is Freeze Fat?
Firstly, Freeze Fat is a non-invasive procedure used to kill fat cells. The ingredients used in the gel aren't disclosed. The affected area is cooled down to the point where adipose tissue is killed, causing a slimming effect. Each session lasts about 60 minutes and you can visit a clinic until you meet your goals.
Freeze Fat is a technique from ZELTIQ®. The company was founded in 2005. The procedures are only performed by licensed professionals. We like the fact that the procedure is FDA approved, but read on…
Cost – "Yeeouch?"
The first issue with the Fat Freeze treatment is the high price of the proceduce. "Sessions will cost an average of $2,250," said our Research Editor. "It may take multiple sessions to get the results you are looking for and cost tens of thousands of dollars."
"I had to stop due to cost, plus I have not lost any weight or inches from my CoolSculpting procedure…sadly," said one user.
Sometimes there are dieters who believe an opportunity is worth the cost. With Fat Freeze, we didn't find anyone that felt the price was a positive.
Scroll below for one of the best products we've seen over the last year.
Effects – "Wait a While"
The official website for the procedure says it can take up to three weeks to start seeing the results of the procedure, while other reviews have said it can take months. It can be disheartening to spend that kind of money on a treatment and see no real change.
One user said, "After my procedure I felt extremely uncomfortable, but tolerable by day 2-7 I've been in pain. I tried a heating pad and that was worst!"
"I am over 2 months since my procedure and unfortunately I don't see a significant result," said another.
The clinics that offer Fat Freeze will tell you it can take months for the results to appear. That doesn't mean all people have to wait that long. One person who tried the treatment said, "The session was done 10 days ago and i already can see the difference."
Our research indicates that if there's part of a diet program that's difficult, like the cost of treatment, dieters won't be able to maintain additional treatments that may be necessary to maintain the results.
The Science – "Validated?"
The research we were able to find on the procedure suggests that while it does kill cells, causing them to release fat, it is quickly reabsorbed into another part of the body. Instead of promoting weight-loss, this procedure seems to only promote the redistribution adipose. While the before and after pictures are promising, research is critical for us at DietSpotlight. When the connection to weight-loss isn't solid, we have concerns.
The Bottom Line – Does Freeze Fat Work?
Are we running out to the nearest clinical to get frozen? We were looking forward to reviewing Freeze Fat because it appeared to be a solid company. We were disappointed to see a number of complaints about the procedure doing nothing to promote weight-loss, and in some cases causing pain and discomfort, so we're not comfortable giving this one the green light.
If you'd like to shed some pounds, we recommend choosing a product that gives you safe and effective ingredients, value for your money and clinically proven results.
Among best products we've seen in 2016 is one called Leptigen. It is made with a proprietary blend of four ingredients clinically proven to help promote faster metabolism and burn more fat. As we've searched the internet, we couldn't find talk of negative comments about side effects, but we did find that users are seeing good results.
The makers of Leptigen are so confident in their product they're giving new customers a Special Trial Offer, which we love to see.