Updated: 08/25/2015 - Sponsored by Leptigen
It Works! Review - Does This Body Wrap Work?
Are price and negative customer reviews deal breakers?
PUBLISHED: 08/13/2015 | BY: TORY GRAY, SENIOR REVIEWER
Editor
's Review:
3.4
/ 5.0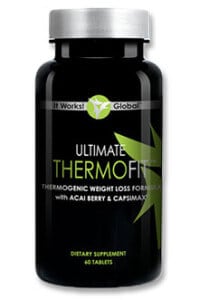 When we heard the phrase, "Have you tried that crazy wrap thing?," we knew we wanted to dive deeper into the It Works phenomenon. We didn't just check out the pricing, customer reviews and effectiveness – we also looked at the company as a whole. We took this information and narrowed it down to better educate the customer.
EDITOR'S TIP:
Combine It Works! with a proven fat burner such as
Leptigen
for better results.
What You Need to Know
To start, It Works is a product line that includes body wraps and supplements. You wrap the body every three days and use the defining gel between sessions. You must leave the Fab Wrap in place for 45 to 90 minutes. You cannot use It Works on the run and you cannot sweat during the suggested time.
It Works was founded in 2001 and the company claims to use all-natural ingredients. You can purchase wraps and supplements on the official website and through online retailers. We like the length of time It Works Global has been in business and some customer reviews are positive, but read on…
Price – "A Bit Overboard"
Our initial concern with It Works is the price. You spend $59 for the body applicator, $45 for the defining gel and $5 for the Fab Wrap. That is more than $100 for a single kit. If the wraps last 30 days you will pay about $1200 a year on It Works. "It Works may work in a bind to slim out the body where the wrap is placed, but the effects are not long-term," says our Research Editor. "You are spending more than $1000 a year to look thinner when you could actually be thinner with other products."
"It's just a wet paper towel…the most expensive paper towel I've ever bought," offers one consumer.
Another dieter says, "I saw no difference at all. There is no way I would order 3 more just [to] see if a full treatment actually worked as expensive as they are."
Try scrolling below for information on one of our favorite products for 2015.
Negative Customer Reviews – "It Matters!"
We found tons of negative reviews for It Works on forums and online retail stores. According to customers, It Works just does not work. A user suggests, "Don't waste your money, you have to keep buying for it to work and only gets rid of water weight."
"If I could give this junk zero stars I would!!!! This junk did absolutely nothing for me, I tried for 3 to 8 hours each drank plenty of water and [saw] zero results!!!," another upset customer claims. One person said, "This was a waste of time and money. I would not recommend this to anyone unless I dislike them."
Research we've completed shows a link between lack of long-term success and troublesome issues. If It Works is as ineffective as customers claim, that could be a serious issue.
The Science
There is no clinical support for It Works and the company does not bother to claim research exists. There is no guarantee mentioned on the official website and the company, though it has been around for more than 14 years, is not accredited by the BBB. We look for proven results at DietSpotlight. If support does not exist, we raise the red flag.
The Bottom Line
We were quite interested in It Works. With all the hype surrounding the product, we expected to find great results. If It Works costs too much and customers are not happy with the effect, we can't give our seal of approval. We're also concerned about the lack of guarantee or BBB rating.
If it's time to shed a few extra pounds, we say try out a supplement that offers ingredients with clinical support and a great price.
Of all the products we've come across in 2015, Leptigen is one of the best. The four ingredients used in the formula are supported with clinical research. The studies show the product helps boost your metabolism and speed up fat loss. Dieters do not mention side effects and customers consistently comment on their good results.
The company that makes Leptigen is confident you will love the product so they're offering a special trial – that's a good sign.
(Feel free to scroll below for our previously published full-length reviews of It Works!)
Previous It Works! Review (Updated March 18, 2014):
What You Should Know
Click Here To See Our Highest Rated Review
It Works! is a program that provides the customer with multiple resources and products that may be helpful with helping them to lose weight. It also seems as if It Works! may have a money making opportunity available for people if they want to join. In this review, the points of this program will be examined so there may be a better understanding of how the program is designed to work.
Ingredients
It Works! is a program that is made up several products. These products are Body Applicator 2.0, Defining Body Gel, Fat Fighter, So Regular, It's Vital, New You, The Answer 2.0 Weight Loss Formula, and It's Greens. Now a brief description of each product will be provided.
Product Features
Body Applicator 2.0 is described by the website as a body wrap that can help you to lose inches, tighten loose skin from dieting, and diminish the look of cellulite in as little as 45 minutes, but get better with continued use. Defining Body Gel was designed to moisturize and tighten skin to help reduce the appearance of cellulite and loose skin. Fat Fighter is a product that is supposed to block fat and carbohydrates before they are absorbed into the body, minimizing the effect that they may have on the body. So Regular is a product that is supposed to clean your colon gently by slowing removing the toxins from the walls of the digestive system daily so that it is not as invasive as other cleansing products. It's Vital is a vitamin supplement that is fortified will all of the body's daily needs so that it may provide support for the immune system and daily needs. It is said to have a high absorption rate and totally complete. New You 2.0 was designed to boost the growth hormone that controls weight gain and weight loss, and supports mental clarity. This hormone gradually diminishes with age. The Answer 2.0 is a weight loss supplement that is promoted to be able to increase metabolism and induce thermo genesis. It's Greens! was developed for people who simply do not have enough green vegetables in their daily diets. It is an orange flavored drink mix that can be added to water to ingest.
The products that are available at It Works! appear to be based on the theory of Homeopathic Synergy. These products work best when use in conjunction with one another. There is also a business opportunity here that involves fees. The fees can be either inexpensive or expensive, depending on which package is wanted to begin the at-home-business with.
Advantages
There may be clinical proof that confirms that the products work.
May provide a legitimate moneymaking opportunity.
Disadvantages
Using all of the products at once can be expensive.
A good start up package for the at-home-business is $299.
Conclusion
It is apparent that these products may actually work. It does recommend that all of the products should be used in conjunction with one another, which may prove to be expensive. A good start up package may also be expensive if the consumer wants to join in the money making opportunity. However, some people may find it worth the money if the products are able to deliver what they promise.
GD Star Rating
loading...