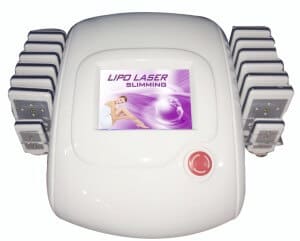 In my never-ending quest to discover the best diet program, this week I reviewed Lipo Laser. Liposuction is a popular topic in weight-loss because it allows you to quickly lose without working for it, but it can have dangerous complications. We did one of our in-depth reviews, looking at the process, side effects and clinical research. We also looked at reviews online and results that actual customers have seen. We then compiled and condensed to give you the info you need.
What You Need to Know
To start, Lipo Laser uses low level lasers to target the fat stores in your body. It works to convert these deposits into energy, which is burned off in post-treatment exercise. One major benefit is that it is conducted by a licensed doctor, is approved by the FDA and is a much safer alternative to Liposuction.
Lipo Laser was first introduced and approved by the FDA in 2010. It has seen growing popularity as an alternative to liposuction. Lipo Laser does help you look better by losing inches off the treatment area and it can be easy to find a Lipo Laser company that has a good BBB rating, but read on…
Price – "Tough on the Wallet?"
The first complication with Lipo Laser was price. As with any medical procedure or innovative technology, this one is expensive. At a rate of $100 to $500 per session, with the recommended 10 sessions, it can cost upwards of $5000. "Lipo Laser is a non-invasive treatment that helps eliminate fat deposits," said our Research Editor. "But the impact on your wallet is something to take into consideration."
"I had a discounted first session, but then realized I needed 10 sessions to see results! There's no way I can afford to go back even one more time," said one user.
"I'm sure these lasers do wonders, but at this price, I'll never know," claims another.
There's no doubt the cost of Lipo Laser is high, so we didn't find any positive comments from people who tried the procedure that claimed the money was worth it.
Scroll below for one of the best products we've seen over the last year.
Lack of Results – "Serious Concern"
Another issue that was a common theme was the lack of results. "Lipo Laser requires you to work out after treatment to burn the new energy your body has. I was unaware of this, and didn't see any results from my treatments," said one user.
"I attended 10 Lipo Laser sessions, and my results were minimal. I don't have time for exercise, and I thought this would help me lose weight, but it didn't," reports another.
If you're looking for people who've had good experiences with Lipo Laser, they are out there too. As one customer noted, "An inch off my hips. Half an inch off my middle. Three-quarters of an inch off my waist."
Another shared a method of losing weight, "A total body transformation program combining detox, body wraps, healthy eating habits, water consumption, & the lipo laser will yield fantastic results."
Our researchers have shown that a particular part of an exercise or diet system that is particularly troublesome (painful exercise, pills with side effects, cost, minimal results, etc.) can minimize the chances for long-term results. If Lipo Laser really doesn't offer weight-loss results for those that need it most, it will be difficult for those that opt for this liposuction alternative to be successful.
The Science – "Legit?"
There is plenty of scientific research backing up the claims of Lipo Laser. They have proven that this is an effective way to get rid of your body's fat cells and lose weight, but it would be nice to see a study comparing this to much more affordable weight-loss options. It's also important to note that this process does not stop weight gain if the dieter does nothing to change lifestyle. At DietSpotlight, we emphasize unbiased science to validate a product's promises, so when comparisons to others are missing, it's a big red flag for our researchers.
The Bottom Line – Does Lipo Laser Work?
So, we've gotten to the bottom of this one rather quickly. There was a lot to like about Lipo Laser that intrigued us when writing this review. The non-invasive process, proven results, positive reviews and FDA approval were all encouraging, but the lack of clinical research comparing Lipo Laser to cheaper alternatives is a deal breaker. We're also concerned about the lack of results, the inconvenience and the difficulty of keeping the weight off if you do lose any with Lipo Laser.
If you'd like to slim down with a safe and affordable alternative, we suggest you find a diet supplement that has proven results via clinical research. We also believe it's important to find a great price tag.
Among the best products we've seen in 2016 is one called Leptigen. It contains a unique blend of four ingredients that is proprietary formula proven to help boost metabolism, improve fat loss and accelerate weight-loss. We've read the reviews online and have seen positive feedback from actual users, with no talk of negative or harmful side effects.
The makers of Leptigen are currently offering a Special Trial Offer, which shows that they stand behind their product and are sure that you'll love it as much as they do.