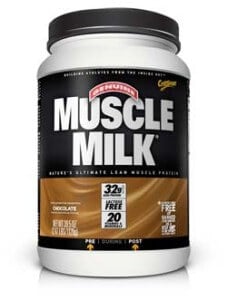 We're hearing lots of buzz around Muscle Milk, so we decided to do an in-depth review, examining the side effects, ingredients, customer care and scientific studies. We also focused on numerous experiences and responses from all over the internet. Lastly, we condensed all of the data we collected to give you the bottom line.
What You Need To Know
First off, Muscle Milk is a protein shake available from CytoSport. The ingredients are milk protein isolate, whey protein isolate, L-carnitine, L-glutamine, taurine, whey peptides and a vitamin and mineral blend. This supplement is suitable for men and women of all body types. A powder formula and a ready-to-drink shake are available. Muscle Milk comes in flavors like chocolate, vanilla creme, mocha latte, chocolate pecan caramel, strawberries n' creme, orange creme, dark chocolate and several more. The purpose is to help build lean muscle mass, speed up recovery after workouts and boost energy levels. Also, you can drink Muscle Milk as a meal substitute in order to help with weight-loss.
This product has been around since 2006 and is available in common stores as well as online. Muscle Milk provides 16 grams of protein per serving and this supplement shake is lactose-free, but read on…
Unpleasant Taste – "Uh Oh?"
The first thing we noticed that came up time and gain about Muscle Milk ingredients was that dieters couldn't manage to swallow it. According to our Research Editor, "There are countless customer complaints concerning the taste of Muscle Milk. We found a lot of these discouraging reviews on dealer websites like Amazon."
One customer stated, "YUCK, cannot cover up the taste of this drink, have all kinds of protein drinks, including soy, none of them this bad, so bad it was intolerable, undrinkable, making me nauseated upon attempting to try."
"Taste is horrible….nothing like cake batter," said another user.
Scroll below for one of the best products we've seen over the last year.
Artificial Sweeteners – "Another Issue"
There are quite a few complaints regarding the artificial sweeteners used in Muscle Milk. These include acesulfame potassium and sucralose. One customer said, "Too much artificial sweetener. Yuck! Can't get past the real sweet taste."
Another dieter commented, "Too sweet, I regret buying this."
According to our extensive research, if there is a certain facet of a diet product or program that is especially annoying or concerning (bad taste, high price, artificial sweeteners) the chances of real weight-loss are not very good at all. In other words, if Muscle Milk does is unpleasant to a lot of customers, this could be a serious problem.
The Science – "Any Proof?"
First of all, Muscle Milk does contain a good amount of protein and amino acids to aid muscles. On the other hand, there is no solid evidence that links Muscle Milk to weight-loss. Since we at DietSpotlight prefer to see documented clinical research that supports the diet product, we're not sure the dieter should give it a try.
The Bottom Line – Does Muscle Milk Work?
So, are we ready to clear the shelves of this one? Some dieters will appreciate that Muscle Milk is easy to use as a meal replacement supplement. On the other hand, many customers do not care for the artificial sweetener taste of this protein product, which is one reason we're not sold on recommending it. Furthermore, we found some user complaints about "dangerous chemicals" being used in Muscle Milk, which is definitely concerning.
If you are looking to drop some serious pounds of excess body fat, we recommend you go with a protein supplement or weight-loss pill that is backed by solid clinical results, does not cost you a fortune and is supported by plenty of positive user reviews.
Among the best products we've seen in 2015 is one called Leptigen. It uses a unique blend of four key ingredients, in which some have been shown in clincal-tests to help increase metabolism and improve overall fat loss. Furthermore, we were unable to pinpoint any user complaints concerning side effects and user responses on the web show people are seeing solid results.
Also, the company behind Leptigen is so confident in their supplement they're offering a Special Trial Offer, which is a positive sign.