Updated: 09/29/2015 - Sponsored by Leptigen
Ningxia Review - Does This Superfruit Drink Work?
Are MLM and price deal breakers?
PUBLISHED: 09/16/2015 | BY: SUMMER BANKS, SENIOR REVIEWER
Editor
's Review:
3.5
/ 5.0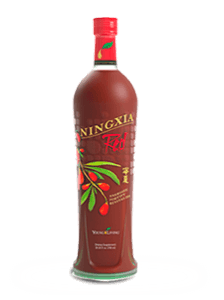 We've heard a lot of buzz about Ningxia, so we did one of our in-depth reviews, taking a close look at the formula, the business behind the product, customer service, and the science. Plus, we read hundreds user reviews and comments from all over the Internet. Then, we summarized and condensed it all to give you the information you are looking for.
EDITOR'S TIP:
Combine Ningxia with a proven fat burner such as
Leptigen
for better results.
What You Need to Know
First off, Ningxia is a superfruit supplement drink. It contains a blend of wolfberry, blueberry, pomegranate, apricot, plum, aronia, cherry, and raspberry juices with organic blue agave, grape pomace, vitamin C, grape seed extract, vanilla extract, pectin, and lemon and orange essential oils. It doesn't have to be mixed with water, so it can be taken any time, anywhere.
The drink was created in 1993, by Young Living founder, Gary Young. It's intended to boost overall health and increase energy levels. We do like the longevity of the company, the fact the drink uses all natural ingredients, and that it is available on the official website , but read on…
The Price – Wowsers!
Two one liter bottles cost $71, and this is the minimum amount you can purchase. Bottles are also available in four, six, and eight packs. At one ounce a day, a bottle will last 33 days, but the company recently increased the most beneficial dose to four ounces a day. This means, at the maximum dose, one bottle would last about a week, and for one person to follow the max dose every day, they'd need to purchase a four pack of bottles for $127 for a month, or an eight pack for $243.50 for two months.
Customers also have the option to purchase a package of 2-oz. singles, with a 30 ct. supply costing $84.50. 60-ct. and 90-ct. packages are also available.
"While this drink is definitely a source of nutrition, it doesn't contain any clinically proven weight loss ingredients.", says our research editor.
One user said, "A bit pricey."
"I will continue to take this when I'm sick but won't take it on a daily basis because its too damn expensive.", said another.
Scroll below for one of the best products we've seen in 2015.
MLM – Difficult to Purchase a Small Supply
As it is part of the Young Living product line, known for their essential oils and accessories, this product is part of a MLM company. People can purchase the product without signing up to run a business of their own, but the process is a bit complex.
"Tasted Ok but gave me terrible heartburn. Didn't notice a change in energy levels. Waste of money." said one user.
"Did nothing for us. Would not recommend it..," said another.
Our research indicates that if there's part of a diet program that's difficult, like needing to drink supplements throughout the day, or maintaining the cost of such a large supply. To take the recommended dose on a regular basis could be hard for many users to sustain.
The Science
We were unable to find any published research to support any of the main ingredients in Ningxia Red. For the team here at Diet Spotlight, clinical science is important to our recommendation. If there isn't any that's easily uncovered, there's a red flag for us.
The Bottom Line
We were initially excited to review Methylhex 4,2, because we liked what we had heard about the product before the FDA warning was issued. While we know the formula has been reworked to remove the offending DMAA, we cannot recommend it because of the lack of information available on the new formula's safety and effectiveness. Plus, we're concerned about the lack of positive customer reviews, and the fact that the original manufacturer disappeared. We see it carried online, but we're not sure which company is producing the product at this point.
If you want to drop weight, we recommend choosing a supplement that delivers value for the money and is made with clinically proven ingredients aimed at helping with appetite suppression and fat burning.
Among the best products we've seen in 2015 is Leptigen. It contains a proprietary blend of four ingredients, associated with fat burning and metabolism boosts. These ingredients are all supported by scientific research. We've also been unable to find talk of negative results or side effects, indicating people are seeing solid results.
We're happy to see the makers of Leptigen are so confident in their product they're giving new customers a special trial offer, which is a good thing.