Updated: 02/20/2018
- Site operated by Burn HD
Greens supplements like Texas SuperFood have caused quite a stir, so we dug deep into the ingredients, side effects, company background and clinical research. On top of that, we looked at dozens of reviews to get a better idea of what actual users have to say, and unfortunately, some people do not like the taste. Lastly, we summed up everything we found to give you the real deal on this health product.
Texas Superfood can be purchased through Amazon.
Texas Superfood Readers:
Click here
to find out why we're giving away samples of our product, Burn HD.
Overviewq
What is Texas SuperFood?
Texas SuperFood is a health supplement that offers a wide array of nutrients from 55 raw fruits, vegetables, greens and enzymes to boost health, nourish the digestive tract, and protect the body from damaging free radicals.[1] It's made in the USA without any GMOs, toxins, animal products, fillers, artificial substances, pesticides, binders and herbicides. It's touted as "all natural, all real, all good." Here is a breakdown of the ingredients in this formula:
30 Fruits
25 Vegetables
8 Greens
Algae
9-Enzyme blend
Seeds
Minerals
Grasses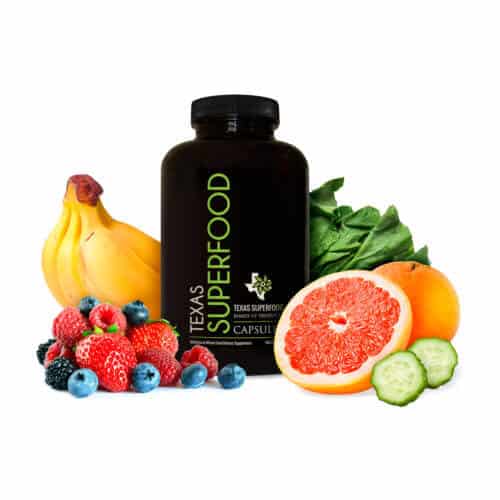 You can choose from Texas SuperFood capsules and powder supplements. This way if you don't like the hassle of a powder product, you can just pop a pill each day. Well, more like six pills each day.
On a side note, Texas SuperFood emphasizes that they do not heat or cook during their manufacturing process (unlike some other brands). This is intended to make the supplements fresher and more effective or potent.
Products Similar to Texas Superfood
Benefits
Texas SuperFood Benefits
Some health benefits are mentioned on the website for Texas Super Food. Here is a closer look at those claims:
Higher energy levels
Improved mental clarity and focus
More radiant skin
Elevated mood
Improved sleep quality
Balanced weight
Better physical performance
Enhanced digestive tract function
We must admit that certain Texas SuperFood vitamins and nutrients can help benefit the digestive tract and may help with regularity.
For instance, some research has shown that plant enzymes can help with digestive disorders, such as bloating, gas, diarrhea and constipation. [2] [3]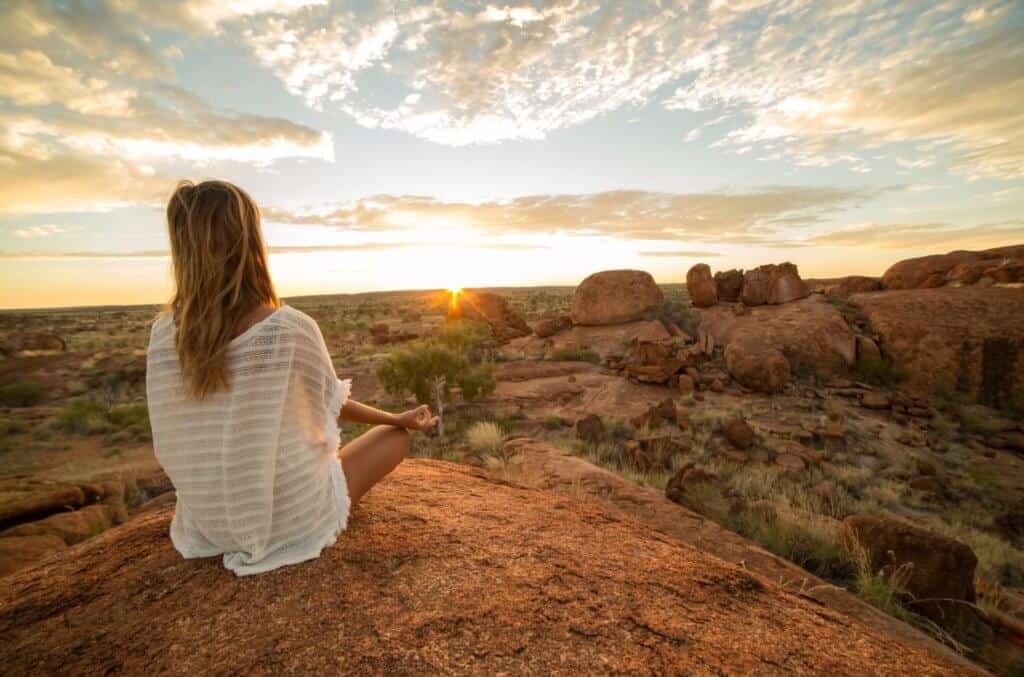 Also, fruits and vegetables do provide antioxidants, which help combat harmful free radicals that can lead to cell damage and inflammation that can, in turn, cause health problems. [4]
Then again, there is some conflicting research when it comes to getting fruit and vegetable antioxidants from supplement powders like Texas SuperFood.
There is simply not much research yet that supports this source of antioxidants for boosting health. [5]
Unsurprisingly, manufactured pills and powders are not as healthy as eating real vegetables, fruits, greens, whole grains and grasses.
Therefore, you should not consider Texas SuperFood a replacement for healthy foods. If anything, it can be taken in addition to a well-balanced diet plan.
Scroll below for one of the best products we've seen over the last year.
Directions
How to Use Texas SuperFood
If you use the Texas SuperFood capsules, the directions say to take six capsules daily. You are encouraged to break up the dosage into two capsules with each of your three main meals. This is supposed to improve the body's absorption of the ingredients. Drinking plenty of water will also help with this.
As for the Texas SuperFood powder, you only need to take one scoop per day. This powder can be sprinkled over food and eaten with a snack or meal, or it can be added to 8-10 ounces of the beverage of your choice (juice, water, smoothie, etc.).
These supplements are intended to maximize the vitamins, minerals, nutrients and antioxidants you get in your daily diet. So if you don't typically eat a lot of fruits and vegetables, Texas SuperFood may help you get a better balance of nutrition.
According to the official website, both children and adults can use these supplements. It does not specify how old you need to be to take Texas SuperFood. However, if you are pregnant or nursing a child, or have a pre-existing health condition, it's always best to speak with your doctor before taking any new supplements.
The Company Behind Texas SuperFood
Also called NPN Group Inc on the official website, Texas SuperFood has been around since at least 2014. According to the Better Business Bureau, they've received a D- rating and are not accredited. There are several complaints from customers on the BBB, but the details are unavailable. Two had to do with the product/service, and the other was for a billing/collection issue that the business never responded to.[6]
As for their contact info, it is as follows:
Texas Superfood
1180 N. Mountain Springs Pkwy
Springville, UT 84663
Phone: 1 (888) 363-6888
Email: info@texassuperfood.com
Unfortunately, we did find an FDA warning letter from 2015 to this company regarding Texas SuperFood products being marketed as "drugs" or treatments that can cure, treat or prevent certain diseases/illnesses. Texas SuperFood was warned not to promote their health supplements as drugs or cures. After all, these products are not doctor-prescribed treatments for specific ailments or health problems. [7]
Ingredients
Texas SuperFood Ingredients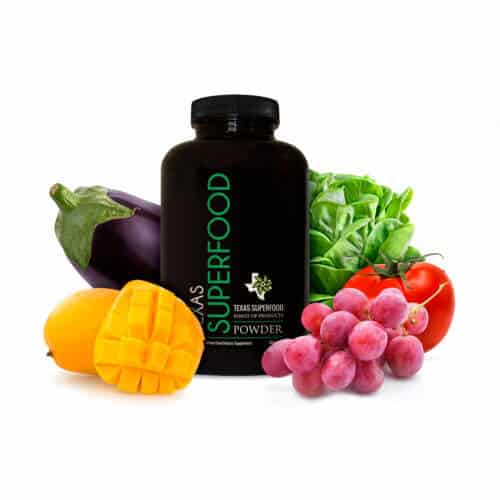 Here is an in-depth look at the main ingredients found in Texas Super Food powder and capsules, and the research we found to support these natural components. This product does not contain any caffeine or stimulants.
Fruits and Vegetables
A variety of powders and extracts from produce such as cherry, noni, cabbage, peach, bilberry, spinach, apple, watermelon, carrot, orange, tomato, kiwi and pomegranate, which offer vitamins and minerals, as well as provide antioxidants to help fight damaging free radicals.
These ingredients are found in all sorts of protein shakes, dietary supplements and health drink mixes.
Advances in Nutrition An International Review Journal points out that fruits and vegetables supply dietary fiber, vitamins, antioxidants, minerals and phytochemicals, which help fight obesity, cardiovascular problems and inflammation. [8]
However, fruits in pill and powder supplements are not the equivalent of eating the actual food, says The Mayo Clinic. [9]
Algae (spirulina, dulse and kelp)
Algae is a plant that grows in both salt water and fresh water and contains chlorophyll, vitamins, minerals, antioxidants and protein. Both spirulina and kelp are commonly used in dietary supplements and are said to promote health, help with certain medical conditions and boost the immune system. [10] [11]
Evidence-Based Complementary and Alternative Medicine tells us that spirulina provides antioxidant protection. [12]
And LiveStrong mentions that algae can help protect the body from radiation and even help remove radiation from the body. [13]
Enzyme blend
These are natural substances found in foods like sauerkraut, pineapple, kefir, papaya, avocado and miso.
They help the body break down and digest food, which is important for digestive health and regularity. [14]
Some research suggests that digestive enzymes can help reduce gastrointestinal problems, reports the BioMed Central Archives of Public Health. [15]
Seeds
This includes the annatto seed, which is often used for food coloring, due to the orange-red color.
It provides a mild nutty, peppery and sweet flavor. This plant grows in South and Central America. [16]
Phyllis Balch's book, "Prescription for Nutritional Healing," says that "annatto contains amino acids, calcium, iron and phosphorus, as well as vitamins B-2 and B-3.
Annatto also contains beta-carotene and vitamin C, which are both potent antioxidants that help to prevent free-radical induced damage to your cells and DNA," reveals LiveStrong. [17]
Minerals (fulvic mineral and diatomaceous earth)
Fulvic minerals provide fulvic acid, which comes from Shilajit (a thick tar-like substance).
It is said to improve brain, gut and skin while boosting endurance and nutrient absorption.
Also called D.E. or diatomite, diatomaceous earth is a natural sedimentary rock that's crushed into a white powder and used in some supplements. [18]
The International Journal of Alzheimer's Disease says that Shilajit may help prevent diseases such as Alzheimer's. [19]
Berkeley Wellness reveals that diatomaceous earth may help remove parasites from the body. [20]
Grasses
This includes barley grass, wheat grass and oat grass, which are all plant ingredients.
These grasses are known for their digestive health benefits, as well as lowering cholesterol levels, increasing regularity, providing antioxidant protection and promoting heart health.
WebMD says, "Research shows that taking barley reduces total cholesterol and "bad" low-density lipoprotein (LDL) cholesterol." [21]
"Wheatgrass is linked to improved digestive system function and constipation prevention.
It's also used as treatment for irritable bowel syndrome and acid reflux disease, according to UCLA Brain Research Institute," mentions LiveStrong. [22]
Not to mention, oat grass contains enzymes, chlorophyll, vitamins, and nutrients that are essential for overall health and wellness.
It also contains fiber, protein and other substances to help cleanse the blood, reports JonBarron.org. [23]
Unclear Amounts of Vitamins and Minerals
It in somewhat unclear how much of each supplement is contained with Texas SuperFood.
The supplement facts label shows how much of certain categories of minerals are in the mixture.
But, nowhere is it stated how much of a specific ingredient is in the product.
This may be a problem for someone who is trying to make sure they get a certain amount of specific supplements.
It contains 55 ingredients, but how many of each of these nutrients are you getting?
For all we know, it could contain a vast majority of one ingredient, and small amounts of the others.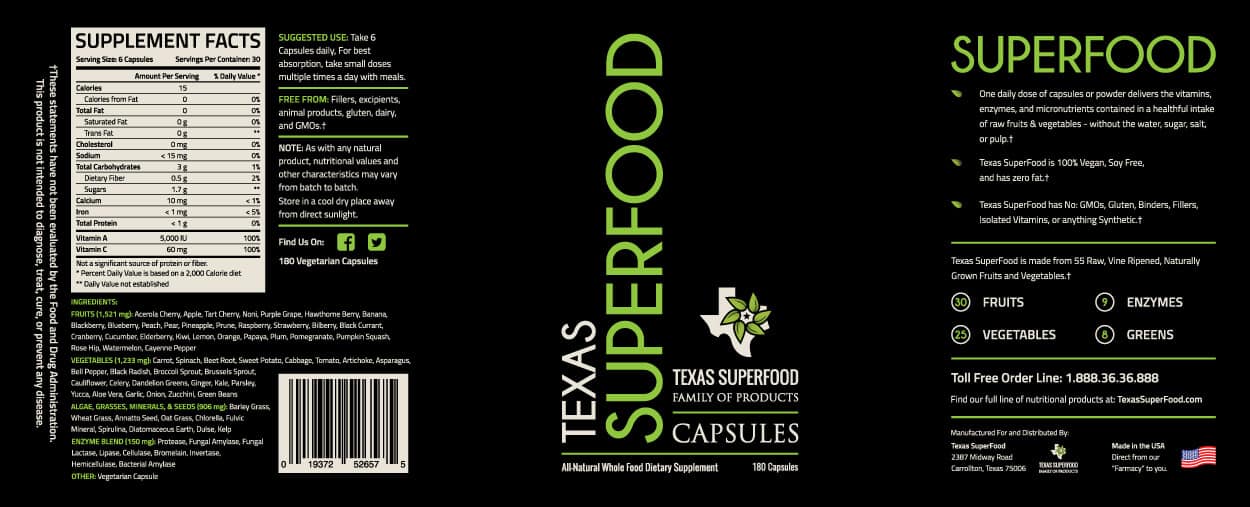 Side Effects
Texas SuperFood Side Effects
While reading all sorts of Texas SuperFood reviews, we noticed that some customers did experience certain side effects.
Based on this user feedback and the ingredients in this product may lead to the following reactions:
Stomach cramps
Bloating
Gas
Allergic reactions
Headache
Nausea
Diarrhea
Changes in bowel movements
Since different people respond differently to supplements and ingredients, it's difficult to determine whether or not you will notice any unwanted effects from Texas SuperFood powder.
Overall, this product did not seem to cause too many problems in most users, which is a good sign.
Taste
Texas Superfood Taste
In general, reviews show that Texas Superfood has a decent taste, despite having low sugar content.
We found some reviews for and against the taste, but since you can take it in a pill form, the taste should be less of an issue.
Where to Buy
Where to Buy Texas SuperFood
You can buy Texas SuperFood capsules and powder directly from the official website. We also found these products for sale on dealer websites such as Home Safety Care and Bonanza.com.
But, if you're searching for a Texas SuperFood Amazon deal, these supplements are available on Amazon as well.
However, you should keep in mind that the prices are different from the official website.
In fact, they are higher, but you will find all sorts of helpful Texas SuperFood real reviews on Amazon to help you get a better idea of what other customers think of this product.
We recommend shopping around and finding a retailer that suits your needs.
Price & Returns
Texas SuperFood Price and Returns
It's helpful to know the cost of Texas SuperFood before you make any decisions.
The company website offers some different price options for Texas SuperFood select products.
Here is a breakdown of the prices:
Single bottle ($63.45 for 30 servings)
Double bundle ($116.95) 2 bottles
Family Bundle ($166.35) 3 bottles
Just to be clear, both Texas SuperFood powder and capsules cost the same.
However, if you buy more than one bottle at a time, you can save some money (up to $15).
These prices may seem high to some, so be sure to try out the product before committing to multiple bottles.
There are two other supplement options as well, which include Texas SuperFood Very Berry Select, which sells for $210 (135 servings) and SuperFood Essentials, which sells for $35 (one-month supply). These are also products for promoting health and wellness.
There is a Texas SuperFood satisfaction guarantee posted on the official website.
It states that you have 30 days to return this product if you are unsatisfied.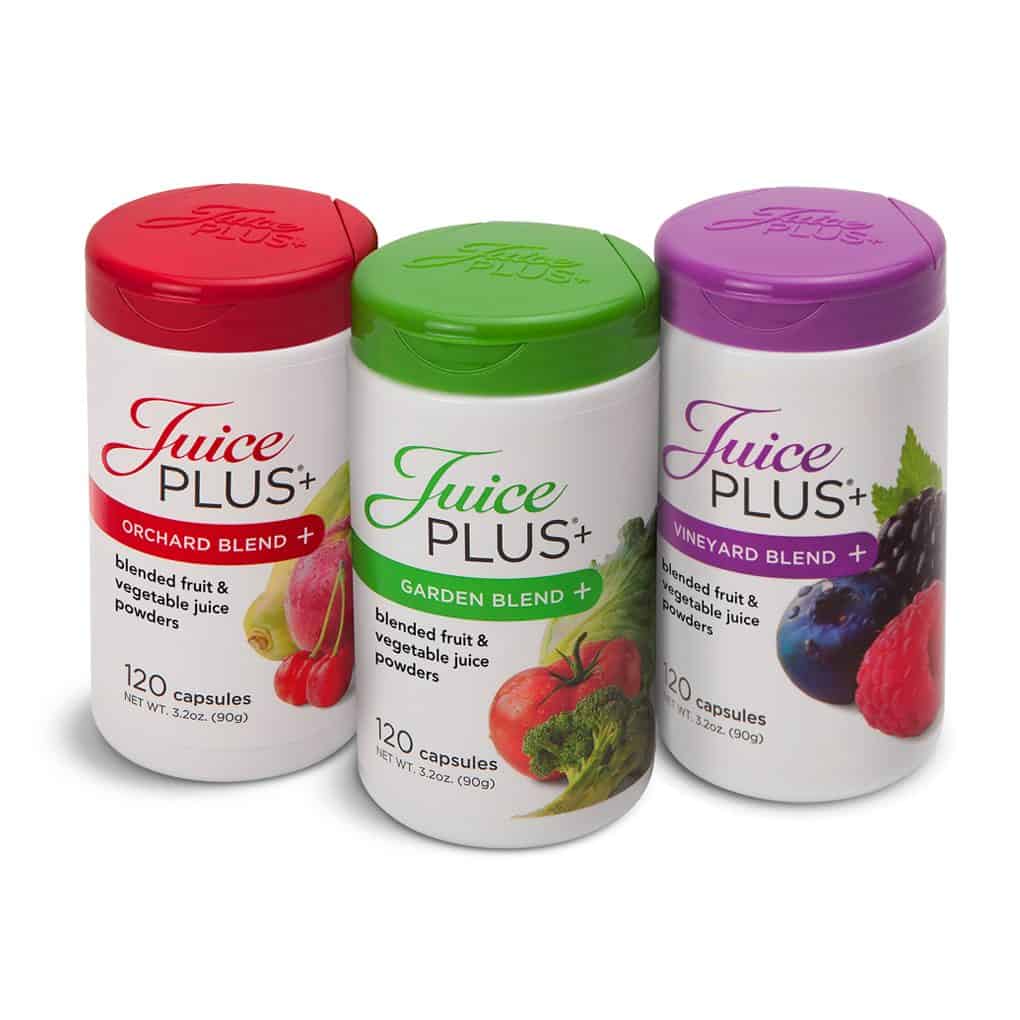 Texas Superfood vs. the Competition
Texas SuperFood vs. Juice Plus
Juice Plus+ is a health supplement (touted as the next best thing to fruits and vegetables) that's similar to Texas SuperFood.
It claims to provide all kinds of vitamins, minerals, phytonutrients and antioxidants from plant sources. These are all things that the body needs for optimal health and wellness.
Again, this product is intended to supplement your diet, so you receive more nourishment each day.
Juice Plus+ comes in both capsules and chewable, and is available in 4 different blends. These include the following options:
Orchard Blend (a combination of ripe fruits and grains)
Garden Blend (various leafy greens and vegetables)
Vineyard Bend (a mix of fruits and berries)
Omega Blend (plant ingredients that offer Omegas 3, 5, 6, 7 and 9)
The capsules sell for $71.25 per one-month supply, and the chewable will cost you $76.75 per month.
Therefore Juice Plus is a little more expensive than Texas SuperFood pills and powder.
Although the website does offer some science and clinical studies to support the benefits of Juice Plus, we found other research that says getting your fruits and vegetables from pills and supplements just doesn't cut it. [9]
Texas SuperFood vs. Balance of Nature
Balance of Nature offers two different health supplements, which are Fruits & Veggies (31 different fruits and vegetables), and Fiber & Spice (12 different whole spices).
Here is a quick breakdown of what these products do:
Fruits & Veggies (provides the nutrition of more than ten servings of 100% all natural fruits and vegetables each day, enhances immune system function, and delivers powerful antioxidants to combat damaging free radicals)
Fiber & Spice (provides potent antioxidants to ward off free radicals and delivers the right combination of insoluble and soluble fibers to lower cholesterol levels and boost digestive health and function)
As you can see, Balance of Nature is similar to Texas SuperFood in regards to the benefits it offers. These supplements are also free of synthetic ingredients, artificial sweeteners and fillers.
What Users Are Saying
"I am into my first week of taking only half the recommended dose, and I have noticed a marked improvement in my energy and feel much better. It's a bit more expensive than regular vitamins, however they actually work where the brand name vitamins I've been taking for years have failed me. I am 54 years old and feeling better than I have in the past couple of years. I highly recommend this product."
"I am really bad about fruits and vegetables. I need the help. This supplement, combined with Beet Root supplement and Vita Pulse, has done really good things for my blood pressure and my cholesterol. I don't know about their individual impact, but the combination is great."
"Will never buy again. Used whole bottle and all that changed was the amount of money in my wallet. Way overpriced fruits and veggies"
Bottom Line
The Bottom Line on Texas SuperFood
Okay, for starters we like that Texas SuperFood is available in both capsule and powder forms. This gives people options, and some people don't care for powder mixes. It's also a plus that this supplement is packed with extracts from fruits, vegetables and greens. After all, these ingredients provide some good vitamins, minerals and antioxidants to promote overall health. Then again, there are a few issues that make us question the overall claims for Texas SuperFood, which are:
The Better Business Bureau gave the company a D- grade.
Not much-documented research supports the health claims for Texas SuperFood products.
Some SuperFood powder reviews mention no results at all.
If you're trying to improve your health, balance your weight and boost your energy levels, consider adding a supplement that does not have a poorly-rated  company and contains clinically-backed ingredients.
We have seen hundreds of health supplements, and one that stands out is Burn HD. It offers a four-ingredient blend that's supported by published clinical studies. Not to mention, all sorts of users are already talking about the good energy and weight loss results they're getting.
Also, you know the makers are excited about this diet supplement because they're offering a 2-Week Sample of Burn HD and backing this product with a 100% satisfaction guarantee. That says it all!
Also, you know the makers are excited about this diet supplement because they're offering a 2-Week Sample of Burn HD and backing this product with a 100% satisfaction guarantee. That says it all!
Learn More About Burn HD »