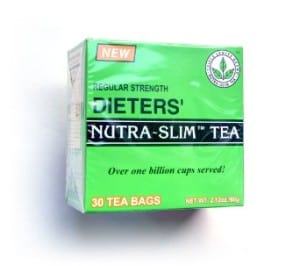 Don't laugh, but well over 50% of diet products simply don't work. So what about Nutra Slim Tea? We conducted an in-depth review, closely examining the ingredients, side effects, scientific studies and customer-service quality. We additionally read all sorts of user comments and reviews from around the internet. At this point we summed up all the facts to give you the information you need.
EDITOR'S TIP:
Combine Nutra-Slim Tea with a proven fat burner such as
Leptigen
for better results.
What You Need To Know
Nutra-Slim Tea is touted as an herbal tea that helps increase regularity, boost the immune system, flush out harmful toxins and help you slim down. The core ingredient used in Nutra-Slim Tea is Cassia Angustifolia (Senna Leaf), which is a natural laxative. In order to make this tea, you simply allow one bag to steep in a cup of boiling water for three minutes and then drink (daily). Both women and men can use this tea. However, this product should not be used by individuals with diarrhea or loose stool. A box of 20 tea bags sells for about $6.50 online.
We are uncertain when Nutra-Slim Tea was first released, but it has been available since at least 2010. This product is made with natural ingredients and there are some positive customer reviews posted on dealer websites such as Amazon, but read on…
Bad Taste – Concerning?
"We couldn't help but notice a lot of customer complaints about the actual taste of Nutra-Slim Tea. Naturally this is never a good sign. After all, if you can't drink the tea regularly, it will not be as effective," says our Research Editor.
One customer commented, "I've only had a cup and nothing happened. It has a nasty taste and didn't go down good!"
"This stuff tastes awful!," said another user.
Scroll below for one of the best products we've seen over the last year.
Serious Adverse Effects – Another Drawback
There are some complaints about side effects from Nutra-Slim Tea. In fact, one person stated, "I bought this tea after someone recommended it to me. I drank one cup of this tea only once, and that night I was laying on the bathroom floor thinking I WAS DYING! I broke out into a cold sweat and my stomach twisted in knots. The next day I kept going to the bathroom, feeling drained of everything. I think I suffered from dehydration. But I literally thought I was dying the night before. NEVER FELT worse pain than caused by this tea! DON'T RISK IT!"
Another customer said, "Tried it and it actually gave me a stomachache."
The extensive research we've done has shown if there is one aspect of a diet tea or weight loss product that is especially troublesome (serious adverse effects, bad taste, a high price) the probability of long-term weight loss is slim. This means if Nutra-Slim Tea does in fact taste bad and cause adverse effects in a lot of people, this could be a serious issue.
Any Real Science?
Sadly we could not pinpoint any clinical studies pertaining to Nutra-Slim Tea for weight loss. While this tea may help with regularity, it has not been proven to burn off fat or boost metabolism. At DietSpotlight, we prefer to see published clinical research that supports the diet product.
The Bottom Line: Does Nutra Slim Tea Work?
So, should you buy Nutra-Slim Tea? Well, we like Nutra-Slim Tea's natural ingredients and some positive comments we saw about it online. However, we have some concerns about it because it's not backed by science. Also, we're leery about its adverse effects and less-than-savory taste.
If you'd like to drop more weight, then we suggest you go with a diet product that does not lead to nasty side effects, is safe to use daily and contains clinically proven ingredients.
Among the best products we've seen in 2015 is one called Leptigen. Its formula is a unique blend of four potent ingredients, which have been shown in documented clinical research to help improve fat loss and boost metabolism. We have not found any talk of harmful side effects and customer comments posted online show people are seeing great results.
The makers of Leptigen are so positive about their product they're offering a Special Trial Offer, which is reassuring.