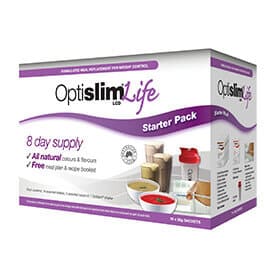 This review is what happened after I obsessed for weeks over Optislim. We decided to dig deep, examining the ingredients, side effects, scientific research and level of customer care. Plus we sorted through all kinds of user comments and dieter reviews from the internet. Finally, we then summed up all the data and responses we found to give you the info you need.
What You Need To Know
Optislim is an Australian weight loss program that was originally developed to help morbidly obese patients with weight reduction. This VLCD (very low calorie diet) incorporates total meal replacement and the meals are claimed to taste good and be affordable. An LCD (low calorie diet) program is also available, and it involves partial meal replacement. The food products involved with Optislim include the following; cookies, bars, soups, shakes and main course dishes like beef stroganoff and chili con carne. These products can all be purchased via the main website. There are now four different types of Optislim programs, and these are weight loss, detoxing, toning and weight management.
From what we gathered, Optislim has been around since 1996. There are some success stories posted on the company website and a decent variety of low-calorie foods and supplements are available, but read on…
Unpleasant Taste –A Concern?
According to our Research Editor, "Unfortunately we found all sorts of negative customer reviews pertaining to the Optislim food and supplements. This is a major drawback because if you can't stomach the diet foods/supplements involved, you probably can't commit to the diet."
One customer said, "Most disgusting product and a company with no refunds on unused stock. A waste of money and food is DISGUSTING!"
"These shakes taste really awful. No Thanks!," said another dieter.
Scroll below for one of the best products we've seen over the last year.
Side Effects – Another Drawback
Some people have experienced side effects from the Optislim supplements. One customer commented, "My husband has been using Optislim and has been vomiting and dizzy."
Another user stated, "When I stopped drinking it my headaches had gone. I went back on the shakes a month later and my headaches returned!!!"
The intensive research we've conducted has shown if there is a specific aspect of a diet program or supplement that is quite burdensome (too many side effects, unpleasant taste, a painful exercise) the odds of real fat loss success are not good. In other words, if Optislim does in fact lead to adverse effects in a lot of people, this could be a real dilemma.
The Science – Any?
We were unable to find any solid science provided on the official Optislim website. While we know that seriously reducing your daily caloric intake will lead to weight reduction, you can also accomplish this without the Optislim program. At DietSpotlight, we need to see published clinical research that supports the weight loss product or program.
The Bottom Line: Does Optislim Work?
So, should you invest in Optislim for weight loss? Well, we like Optislim's longevity as a diet program and some positive comments we saw about it online. However, we have some reservations about it because it's not backed by science. Moreover, we're concerned about the unpleasant taste of the supplements and the side effects they can cause.
If you'd like to drop more weight, then we advise you to go with a diet program or weight loss product that is backed by solid science, does not cause unpleasant side effects and is easy to use.
Among the best products we've seen in 2016 is one called Leptigen. Its unique formula is a blend of four ingredients, which have been proven in published scientific studies to kick-start metabolism and encourage more fat loss. We can't find any complaints of harmful adverse effects and customer feedback around the web shows people are seeing solid results.
Furthermore, the makers of Leptigen are so confident in their product they're offering a Special Trial Offer, which is a positive sign.