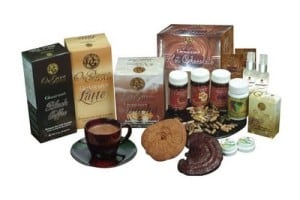 I did two things this week. I obsessed over every aspect of Organo Gold. Then I wrote this. We dug deep and wrote a comprehensive review, looking closely at the side effects, ingredients, scientific research and overall customer service quality. Also, we examined hundreds of comments and forum posts we found online. Finally, we condensed all of the feedback, facts and specifics to give you with the information you need.
EDITOR'S TIP:
Click here
to substitute Organo Gold with a proven fat burner such as Leptigen for better results.
What You Need To Know
First off, Organo Gold is a brand that focuses on nutraceuticals, beverages and personal care products. They offer several "connoisseur coffees and teas" that are intended to help improve overall health. This brand also offers some supplements, such as Organo Gold Organic Spore Powder and Organic Ganoderma Lucidum. Some of the notable ingredients are grape seed oil, 100% certified organic ganoderma spore seed powder, organic ganoderma lucidum, arabica coffee and organic green tea. Organo Gold may help increase antioxidant levels in the body, combat harmful free radicals and boost immune system health. These can be consumed daily for maximum results.
It looks like Organo Gold products have been around since 2011. All are sold on the official website. Some dieters will appreciate that organic ingredients are used in these teas and coffees, but read on…
Steep Price – "Yikes?"
The first issue we found with Organo Gold ingredients was the huge price tag. "We closely examined the official website and discovered that one bottle of the Organo Gold Organic Spore Powder sells for $99, which appears to be a one-month supply. As for the Black Gold Coffee, this sells for $24.75," says our Research Editor. "No dieter wants to spend that much on caffeine."
One customer had this to say, "This is wayyy too much to spend on coffee cups. Are these guys serious?"
Another person commented, "VERY MISLEADING! WOULD NOT RECOMMEND THIS PRODUCT! IT SUCKS!"
Scroll below for one of the best products we've seen over the last year.
Lack of Clinical Studies – "A Concern"
There is no real clinical research that proves Organo Gold helps promote overall health and immune system function. That could be one reason some users report no results.
One customer commented, "I only purchased the coffee to help in boosting my metabolism. Well, there has been absolutely zero boost and the coffee tastes horrendous. I will not reorder."
According to our extensive research, if there is a specific part of a formula that is quite burdensome or problematic (no clinical support, steep price tag, pills that cause side effects) the odds of real fat loss for the long run are not good. In other words, if Organo Gold products are too expensive and do not lead to real results in numerous customers, this could be a major dilemma.
The Science – "Clinical Support?"
Here at DietSpotlight, we prefer to see documented studies that support the diet supplement or weight-loss product and the ingredients it uses. In regards to Organo Gold, there is no real science provided. In other words, we could not find published clinical trial results that prove Organo Gold helps increase overall health and wellness.
The Bottom Line – Does Organo Gold Work?
So, are we racing out for this? There is clearly a great deal of money to be made in the coffee industry today, but we're not comfortable recommending this one for weight-loss. We do not believe all of the hype regarding Organo Gold. Furthermore, these products are really expensive in comparison to other comparable lines.
Dieters who need to improve overall health, slim down and get fit more quickly, we encourage you to go with a beverage or supplement that is safe, not too costly and uses key ingredients that are backed by real science.
Among the best products we've seen in 2016 is one called Leptigen. This weight-loss formula contains a blend of four ingredients, which have been proven in published clinical studies to help accelerate fat loss and ignite metabolism. You should also know that we can't pinpoint any complaints of unpleasant side effects and customer reviews on the web express people are seeing excellent results.
Plus, we found it quite confident that the makers of Leptigen are offering a Special Trial Offer.