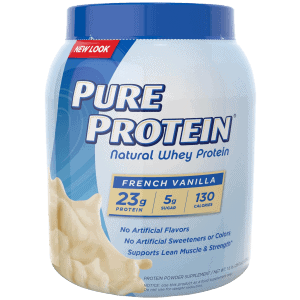 We have seen a lot of online discussion pertaining to Pure Protein supplements, so we took it upon ourselves to create an intensive review, examining the ingredients, side effects, level of customer service and scientific research. Furthermore, we focused closely on hundreds of user reviews and dieter responses from all over the web. Lastly, we summed up all the information and feedback we found to give you the important facts.
EDITOR'S TIP:
Combine Pure Protein with a proven fat burner such as
Leptigen
for better results.
What You Need To Know
Pure Protein is a brand of workout supplements that can be purchased online and in local drugstores and supermarkets. These products are geared toward both dieters and those interested in fitness. Pure Protein bars and shakes can be consumed in place of meals or as post-workout supplements. A single bar provides 19 grams of protein, five grams of fat, 20 grams of carbohydrates and 18 different vitamins and minerals. According to the official website, one bar costs $2.19 and one canister of powder sells for $14.99 (15 servings). There are also ready-to-drink beverages that sell for $3.19 per can (35 grams of protein). These supplements are intended to help you lose weight, gain lean muscle mass and receive proper nourishment.
It is not clarified when Pure Protein bars and shakes were first released, but they have been available since at least 2010. These products are very easy to find in local supplement stores and supermarkets. Also, these protein supplements are low in sugar, but read on…
Bad Taste!
"We found hundreds of customer reviews posted online for Pure Protein bars and shakes. Many of these reviews are discouraging and plenty of customers have complained about the taste of Pure Protein products," says our Research Editor.
One customer said, "Yuck! I repeat, "Yuck!" I've tried all the Pure Protein flavors."
"Does not taste good. Most generic protein powders at target/Walmart/Walgreens taste much better," said another user.
Scroll below for one of the best products we've seen in 2015.
Adverse Effects – Another Concern
There are quite a few customer complaints regarding side effects from Pure Protein supplements. In fact, this is what one customer said, "Tastes horrible and my hair started falling out in clumps."
Another dieter commented, "Tasted terrible and gave me nausea & stomach ache, was very bad : Don't buy it!"
According to our research, if there is a specific part of a diet program or supplement that is especially bothersome (unproven key ingredients, unpleasant taste, adverse effects) the probability of real fat loss success for the long term is low. Therefore if Pure Protein powders and bars do cause adverse effects in numerous customers, this could be a serious issue.
The Science
We were unable to find any clinical trial research that pertains to Pure Protein supplements. There is nothing mentioned on the company website at all. Since we at DietSpotlight need to see documented science regarding the protein supplement or weight loss pill, we would not recommend Pure Protein bars and shakes for weight management and muscle building.
The Bottom Line
We appreciate that Pure Protein bars, powders and drinks provide a substantial amount of protein to assist with muscle building and repairs. This may also help stave off hunger to some degree. On the other hand, you should note that these products contain high levels of sugar alcohol, which some people will not like at all. Also, many customers have complained about the taste of Pure Protein supplements.
For those who need to slim down faster and shed excess pounds, we advise you to try a protein supplement or weight loss pill that is not only backed by real science, but is also supported by positive customer reviews and does not cause side effects.
One of the top-rated diet products we've come across in 2015 is Leptigen. This supplement uses a blend of four proven ingredients, which have been shown in documented scientific research to help elevate metabolism and improve fat loss. Furthermore, we can't pinpoint any talk of negative adverse effects and customer comments on the web express people are seeing significant results.
Also, the makers of Leptigen are so confident in their product they're offering a Special Trial Offer, which is a good sign.