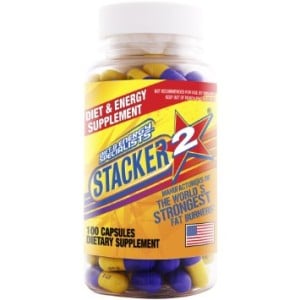 Diet products either work or they don't. Period. Let's find out which one Stacker 2 is. We looked at the ingredients, side effects, customer service and clinical research. We finished off our study by reading hundreds of reviews. We summarized and condensed to give you the bottom line.
What You Need to Know
First off, the name "Stacker 2" is inspired by a common supplement composition called an "ECA Stack," which is made with ephedrine, caffeine and aspirin. Fortunately, it no longer uses ephedrine, but the name remains. The complete list of ingredients is kola nut, yerba mate, cassia mimosoides, white willow bark, caffeine anhydrous, green tea, guggulsterones and gymnema.
According to Stacker 2's website, it was engineered 20 years ago by NVE Pharmaceuticals to give weightlifters an herbal alternative to many fat burners at the time. It's available in health stores and on its official website. We like the fact that Stacker 2 ditched ephedrine as an ingredient and the focus on herbals is a plus, but read on…
Side-Effects – "Look Out?"
The first concern we had with Stacker 2 is the potential for side effects. "If you regularly take Stacker 2 pills, you may experience some significant adverse reactions," said our Research Editor.  "Especially for people who are sensitive to caffeine." If you take Stacker 2 alongside your regular servings of coffee or other caffeine sources, you might have a problem.
"Gave me a boost of energy but I noticed it also made me jittery and sometimes gave me a headache," said one user.
"Even after doing intensive workouts I still had too much energy. I had to stop taking them, because occasionally I had caffeine crashes. They are not fun at all," offered another.
Scroll below for one of the best products we've seen over the last year.
Questionable Results – "Another Concern"
According to many reviews online, the fat-burning qualities alluded to in the description were not often realized. "I did not experience any weight loss on this product. I did have more energy but I was looking for a fat burner," said one customer online.
"The pill does give a great amount of energy, but the claim of it being a fat burner is bogus," said another.
Upon reading further reviews, we realized that the issue of fat burning was a common one: "I tried them again but they didn't really do much for me, nor did they help me lose any weight," explained one person.
Our research has shown if there is some particular part of a diet program that is especially troublesome (a negative side effect like excess energy or the jitters, a  lack of fat-burning success, etc.), then the likelihood of long-term success is slim. If Stacker 2 does in fact cause adverse reactions and fail to help your body burn more fat, you should look elsewhere.
The Science – "Legitimate?"
Some of the ingredients in Stacker 2 have been clinically verified to work and some simply have not. The white willow bark extract, green tea extract and kola nut are common ones that have been proven to be mildly effective. However, the rest lack the same study and may or may not work at all. Furthermore, we have no way of knowing if the "stack" principal even works without ephedrine present in the formula. We at DietSpotlight find clinical reseaerch to be hugely important and we would like to see some for Stacker 2 before we consider recommending it.
The Bottom Line – Does Stacker 2 Work?
Ladies and gentlemen, what's the take on this one? Stacker 2 looked like a decent fat burner at first. We were surprised to find out, however, that many people didn't experience any fat loss when they used the product and some of the side effects looked downright unpleasant. It also concerns us that the effective ingredients can be purchased for less than $10.
If you are still in the market for an effective fat burner, you need a supplement that is clinically proven to work. A product that doesn't have nasty side effects. You also need one that is worth your money.
Among the best products we've seen in 2016 is one called Leptigen. It's a blend of four fantastic ingredients proven to help boost metabolism and burn fat. Thankfully, it has been tested in scientific studies and verified by clinical research. Upon reading user reviews online, we haven't found any side effects, but we did find plenty of reports of dieters seeing fantastic results.
The makers of Leptigen are even offering a Special Trial Offer – always a good sign, in our opinion.