Updated: 09/29/2015 - Sponsored by Leptigen
The Cleaner Review - Does This Body-Detox Formula Really Work?
Are lack of clinical studies and side effects deal breakers?
PUBLISHED: 09/14/2015 | BY: SUMMER BANKS, SENIOR REVIEWER
Editor
's Review:
3.5
/ 5.0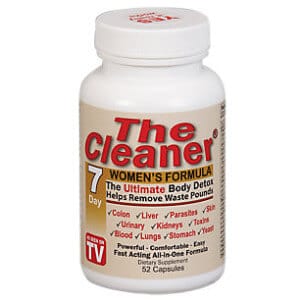 We've encountered a lot of buzz concerning The Cleaner body-detox supplements, so we did an in-depth review, examining the side effects, ingredients, scientific studies and overall customer service. Furthermore, we sorted through dozens of customer comments and dieter reviews posted on the web. Finally, we condensed everything to provide you with the facts you need.
EDITOR'S TIP:
Combine The Cleaner with a proven fat burner such as
Leptigen
for better results.
What You Need To Know
The Cleaner is a supplement made by Century Systems Inc., which is located in Atlanta, GA. This supplement is available in four different formulas, two for women and two for men. There is basically a 7-day formula for men, a 7-day formula for women, and then a 14-day formula for each as well. While the 7-day products are $17.95 each, the 14-day supplements are $29.95 each. The purpose of The Cleaner is to detoxify the body, flush out waste and toxins, increase weight loss, boost immune system health and minimize constipation and bloating/gas. The ingredients used in these supplements include; Psyllium Husks, Goldenseal Root, FOS Probiotic Growth Complex, Black Walnut Bark, Dandelion Root, Apple Pectin, Oat Bran, Aloe Vera Gel, Senna Leaf, Yellow Dock Root, Fibersol, Bentonite, Ginger Root, Soy Fiber, Cornsilk and Peppermint Leaf.
The Cleaner has been around since 2011, and these supplements contain all sorts of natural plant extracts. You can purchase these products directly from the company website, and there is a satisfaction guarantee provided, but read on…
Lack of Clinical Studies
According to our research editor, "There are so many supplements that claim to cleanse the digestive system, blood and organs, but not many are backed by actual scientific studies. The Cleaner is not supported by any real clinical research. This is evident when looking at the customer feedback and official website."
One user stated, "Didn't even make me burp, cleansed nothing here. Two thumbs down for this product."
Another said, "Can I get a refund? Followed directions. Exercised 90 minutes every day. Lots of water. On 4th day. Same amount of BMs as before. Oh, but I gained 3 pounds."
Scroll below for one of the best products we've seen in 2015.
Side Effects – Uh Oh
Numerous customers experienced side effects while using The Cleaner. Here is what one customer said, "It made me sick I end up in Urgent care with bad allergy attack."
"This product was hell on my body. I'm stopping on day 3 because of what it did to my stomach," said another user.
We've gathered from our intense research that if there is a single aspect of a weight loss supplement or diet program that is very problematic (no clinical studies, side effects, high price tag) the probability of real weight loss success is rather minimal. This means if The Cleaner supplement does lead to side effects in numerous people, this may be a serious issue.
The Science
After taking a close look at the official website for The Cleaner, it's clear that no documented scientific studies are presented to support this product. Since we at DietSpotlight need to see published clinical evidence supporting the weight loss product and its ingredients, we cannot stand behind this supplement.
The Bottom Line
It's obvious that many dieters are looking for fast weight loss results. The Cleaner is a product that is claimed to work in 1-2 weeks. However, since there is no real science to support this supplement, we can't recommend it. You should also be aware that many customers complained of side effects like constipation and diarrhea while using this product. Also, this type of "cleansing" supplement is often not recommended by licensed doctors.
Those who wish to slim down and shed pounds of fat more quickly, we encourage you to try a weight loss supplement that does not cause harmful side effects, contains proven ingredients and works well for the long term.
One of the finest weight loss products we've noticed in 2015 is Leptigen. Its formula is a blend of four key ingredients, which are proven in published clinical studies to help ignite metabolism and increase fat loss. Also, we can't locate any discussion of negative side effects and dieter feedback posted online shows people are getting wonderful results.
Also, the makers of Leptigen are so confident in their product they're offering a special trial offer, which is a good sign.