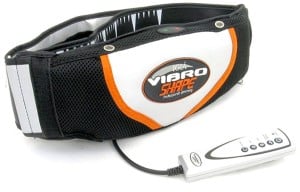 You may be surprised by what I say in this Vibro Shape review. We dug deep and scrutinized this product's ingredients, side effects, scientific research and level of customer service. Moreover, we sorted through countless user comments and customer reviews from all over the internet. At last, we compacted all of the data we collected to give you the important facts you actually need.
EDITOR'S TIP:
Click here
to combine Vibro Shape with a proven testosterone booster such as Pronabolin for better results.
What You Need To Know
Vibro Shape is described as a "professional vibrating belt" that helps tone muscles in areas such as the abdominals, buttocks, thighs, shoulders and calves. This fitness belt is claimed to break down fat cells, improve blood circulation and increase muscle strength. The Vibro Shape fits waists ranging from 24 to 55 inches. It has five low-power and five high-power setting options. Put simply, this belt provides high-frequency massage vibrations. It comes with a remote that is attached to the belt. Furthermore, this fitness device is supposed to mimic chiropractic treatments, relieve stress and promote good digestion. You simply strap on the Vibro Shape and use it for 10 minutes each day.
We are not sure when the Vibro Shape was first released. This fitness device is easy to travel with and it can be used by women and men alike. You can purchase Vibro Shape on Amazon for $45.20, but read on…
Poor Product Quality – A Concern?
"We found all sorts of customer complaints about the poor quality of the Vibro Shape belt. Naturally this is concerning, because a workout product is not going to give you good results if it doesn't actually work," says our Research Editor.
According to one user, "Was not at all great as it broke the first time it was used, had returned it, but have not received any word from the company yet."
"The second week the belt breaks, unfortunately," said another customer. Yet another person said, "It ripped very quickly and now can't use it!"
Scroll below for one of the best products we've seen over the last year.
Another Concern – User Complaints
You will find quite a few customer complaints posted online regarding Vibro Shape. In fact, one person stated, "Okay, this thing is worthless. It does nothing!"
Another user said, "Better off just exercising your abs. This belt is not helpful."
According to our intensive research, if there is some specific part of a fitness program or product that is very bothersome (a painful/difficult exercise routine, poor product
quality, too many user complaints) the chances of real success for the long term are not good. In other words, if Vibro Shape does lead to a lot of user complaints, this could be a deal breaker.
The Science – Is There Any?
Sadly we could not find any clinical trial studies or test results that pertain to the Vibro Shape. Therefore it is unclear how effective this fitness device really is. We at DietSpotlight prefer to see published scientific research that supports the fitness product we are investigating.
The Bottom Line: Does Vibro Shape Work?
Now the moment you've been waiting for: our bottom line on Vibro Shape. Well, weappreciate that Vibro Shape can be used by both women and men and it's compact so it can be taken anywhere. Then again, we have some issues with this fitness device because it's not backed by any actual scientific studies. Moreover, we're definitely concerned about the poor product quality and customer complaints.
If you really want to build lean muscle mass, improve muscle tone and enhance your overall workout, we encourage you to go with a product that is backed by real science, sells at an affordable price and does not lead to a bunch of user complaints.
Among the best products we've seen in 2016 is one called Pronabolin. This supplement contains a unique blend of nine key ingredients, which are clinically proven to help you boost vitality, elevate testosterone levels and increase muscle strength. There are no user complaints of unpleasant side effects and customer comments posted online show people are seeing solid results.
The makers of Pronabolin are so positive about their product they're offering every customer a 120-day money-back guarantee and multiple bottle discounts.