Intek Protein Evolution Review

- 9 Things You Need to Know
In our never-ending quest to find the best supplements out there, we decided that Intek Protein Evolution deserved a closer look. Our attention turned toward the ingredients, side effects, customer service, and scientific research. Furthermore, we picked apart hundreds of user comments and reviews. Then, we refined and condensed to give you the info you need.
Intek Protein Evolution can be purchased through their Official Site.
Overview
What is Intek Protein Evolution?
Intek Protein Evolution is a protein shake created to help build lean muscle mass. When combined with a healthy eating plan and exercise, Intek Protein Evolution may help with weight management. The supplement offers 160 calories and 30g of protein per serving. The official website and other trusted retailers such as Amazon.com sell Intek Protein Evolution.
Before delving deeper into this protein blend, let's take a quick look a what the studies have to say:
Obesity (Silver Spring): "Whey protein supplementation during diet-induced weight loss does not have clinically important therapeutic effects on muscle mass or strength."
Journal of the American College of Nutrition: Whey protein, alongside with resistance exercise, can be a good addition to a weight loss regimen.
Nutrition & Metabolism: Whey protein supplementation can be effective for weight loss when convinced with a very low calorie diet.
Intek Protein Evolution Competitors
Claims
Intek Protein Evolution Claims
The makers of the Intek Protein Evolution claim that the product is one of the most effective protein shakes available on the market. Because it offers five sources of protein. Users receive slow, intermediate, and fast-release proteins in each serving. The company also claims their supplement is better than others because it contains protein sources mimicked after whole foods. Intek Protein Evolution contains glutamine peptides., vitamins, minerals, and BCAAs.
Scroll below for one of the best products we've seen over the last year.
Flavors
Intek Protein Evolution Flavors
Intek Protein Evolution flavors include:
Caramel Latte
Vanilla
Chocolate
Chocolate Mint
Chocolate Peanut Butter
Cookies N' Cream
Strawberry Banana
S'Mores
Orange Creamsicle
Ingredients
Intek Protein Evolution Ingredients
Intek Protein Evolution ingredients include:
Egg protein
Calcium caseinate
l-taurine
Bcaa complex
Colostrum
Collagen vitamins
Fiber
Minerals
Vitamin A, B1, B2, B5, B6, E
Niacin
Folic acid
Insulin
Stevia
Digestive enzymes
Whey Protein Concentrate
Whey protein concentrate is probably the most common form that is used in supplement powders and shakes. It's a byproduct of cheese production. Furthermore, it's typically used in bodybuilding and fitness products to help with muscle building.
What is it Supposed to Do?
Often whey protein concentrate is claimed to suppress hunger, increase muscle size and strength, and help with recovery after workouts. It may also help boost immune system health and aid the digestive tract. This ingredient contains branched-chain amino acids as well.
Clinical Research
Some research supports whey protein for weight-loss. The U.S. Department of Agriculture's Human Nutrition Research Center conducted one study. They found that "Obese middle-aged people drinking whey protein, as opposed to soy protein or carbohydrate drinks, lost a little bit of weight and body fat, about 2 pounds. Additionally, while the other groups saw little change in the size of their waists, the whey protein group lost about an inch around the middle."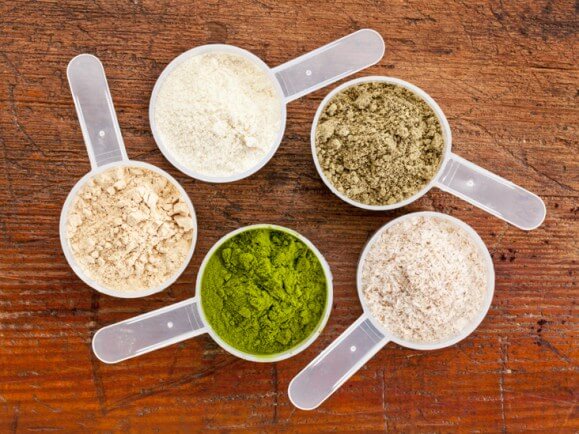 Whey Protein Isolate
Whey protein isolate differs from the "concentrate" variety because the fat and lactose have been removed. While it is still a byproduct of cheesemaking, it's less nutritious. However, it still provides plenty of protein.
What is it Supposed to Do?
Whey protein isolate is intended to help with muscle building and recovery after exercise. It's free of carbohydrates, fats, and cholesterol. Some studies have shown that it helps with muscle growth and immune system function. It's rich in amino acids, which aid with overall health.
Clinical Research
According to Nutrients, whey protein did not lead to any significant changes to body composition.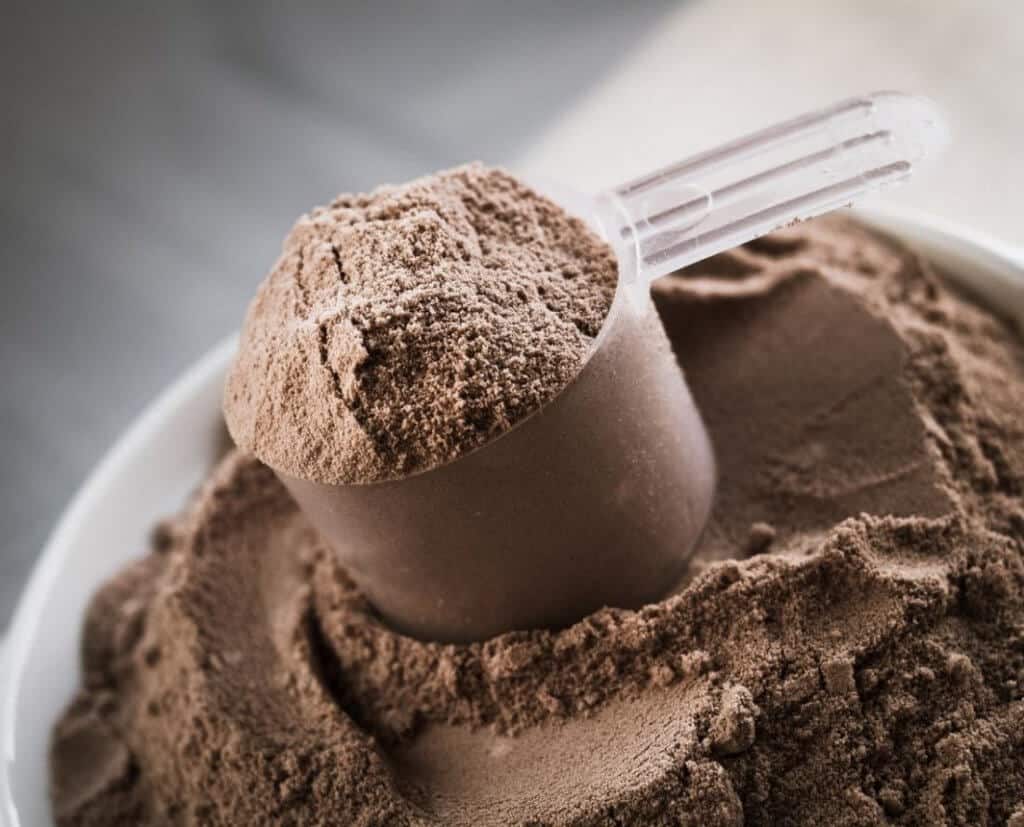 Egg Protein
Egg protein comes from chicken eggs. It's high in vitamins and minerals, including A, D, E, K, and B vitamins. Also, it's commonly used in powder supplements and fitness shake products. Usually, this ingredient is pasteurized.
What is it Supposed to Do?
Put simply, egg protein is supposed to help with appetite suppression and muscle building. It's similar to whey products in regards to effectiveness and is sometimes used as an alternative.
Clinical Research
We did not find a direct correlation between egg protein and weight reduction.
Price of Intek Protein Evolution
The price of a 2lb.Thee container is $43.99, whereas the price of the 5lb. Thee bottle is $ 77.99.
Intek Protein Evolution Side Effects
Overall, Intek Protein Evolution consumption doesn't come with adverse side effects. Protein supplements are generally safe to use, but caution should still be used,
According to Dr. Anthony Dugarte, "Opt for the most natural product possible. Watch out for ingredients in small print like eggs, soy, milk if you have allergies."
Additionally, low-carb options for protein supplements are best, as healthy carbs can be consumed in other places in the diet.
Before you start using Intek Protein Evolution, make sure to consult your physician.
Intek Protein Evolution Alternatives
Intek Protein Evolution alternatives include:
What Users Are Saying
What Users Are Saying
"I have been using this protein for about a year but wasn't really dieting. I have gained weight and that was part of my goal and have gained plenty of muscle. Of course hard work at the gym makes it happen also. I have heard that intek has been going through a lawsuit for false labeling and was very sad to read reviews that confirmed that. Because of the carbs that are not on the label and what is said to be the reason intek is going through this lawsuit I guess it makes sense I gained the weight. I am not saying anything negative about the product because to this day I am still using it. I use it 3 times a day and workout 5- 6 days a week and 2 hours a day. I would love to continue to use this product but now that I am trying to cut I am considering changing to a different product. If you have any information about this product that are true facts and not the opinion of someone else I would love to know."
"I asked a professional bodybuilder about Intek Evolution Protein and he warned me not to use it, he said it seemed like a gimmick, all the assorted types of protein concerned him, I've asked everyone I trust when it comes to what proteins are legit and NOBODY has anything good to say about this particular brand of protein. I've scoured the Internet, looking to see what's being said about this protein and they were sued for protein spiking and I've seen three different grams of protein on the same size tub(34, 31 and 30). The only reason this guy is pushing this protein is because he sells it. I work hard in the gym and I despise ANY Company that cheats us as we try to reach our fitness goals. Beware of this brand of protein, educate yourself about what you're putting in your body, these companies are out to cheat us!"
"Yes intek makes a grass fed… now my goto every 3 weeks…"
Bottom Line
The Bottom Line on Intek Protein Evolution
Are we shaking up our very own Intek Protein Evolution drink right now? Well, we like that it contains some natural ingredients and that it offers 30g of protein per serving, but we're concerned about this one because there are no studies used to back the muscle-building claims. We're also skeptical about it due to customers talking about the high prices and poor taste.
Lack of muscle could be a sign of low testosterone levels. If you need that boost, we suggest going with a program that can help you track your food intake, make healthier choices, and is backed by clinical research.
Among the best weight-loss programs we've seen this year is one called Noom. By tracking your food, using personalized meal plans, and utilizing a human coach, Noom helps its users get healthier. Plus, the program is backed by several clinical studies, which is a plus.
Right now, Noom is offering Dietspotlight readers a free trial offer.
Learn More About Noom »