Bulletproof Collagen Protein Review

- 16 Things You Need to Know
There's certainly no shortage of protein powders on the market today, and choosing the right one depends a lot on your goals and your budget. It can be overwhelming to know the difference between milk protein, soy protein, and collagen. It can be even harder to figure out which one is best for you. That's why our researchers have done the work for you.
Bulletproof Collagen Protein claims to be a super-digestible form of protein powder that can help with weight loss and recovery after exercise. Since there are so many protein products out there, we had to determine if these claims were reasonable, so we looked at the ingredients and their side effects, and the research behind each of them to see if it could live up to its claims. Then, we condensed and summarized our findings for you in this review.
Bulletproof Collagen Protein can be purchased through their Official Site.
Bulletproof Collagen Protein Readers:
Noom
is offering our readers a
free trial
, for a limited time.
Click here
for this special offer!
Overview
What is Bulletproof Collagen Protein?
Collagen is the connective tissue present in all structures of the body including her hair, skin, nails, bones, and heart. It is the largest and most abundant protein in the body making up nearly 65% of the protein found in our body.
The collagen acts as scaffolding which is the glue that holds the body together.
Without it, the body would fall apart, and it's the reason our bones and wounds heal. As we age, the collagen production in our body slows down which contributes to skin wrinkles and sagging.
The idea is that adding collagen to your meals everyday replenishes your body's vital amino acids which are essential to supporting the body's ability to maintain healthy skin, joints, and bones.
They also have products like Bulletproof Coffee, bone broth, protein bites, and bars.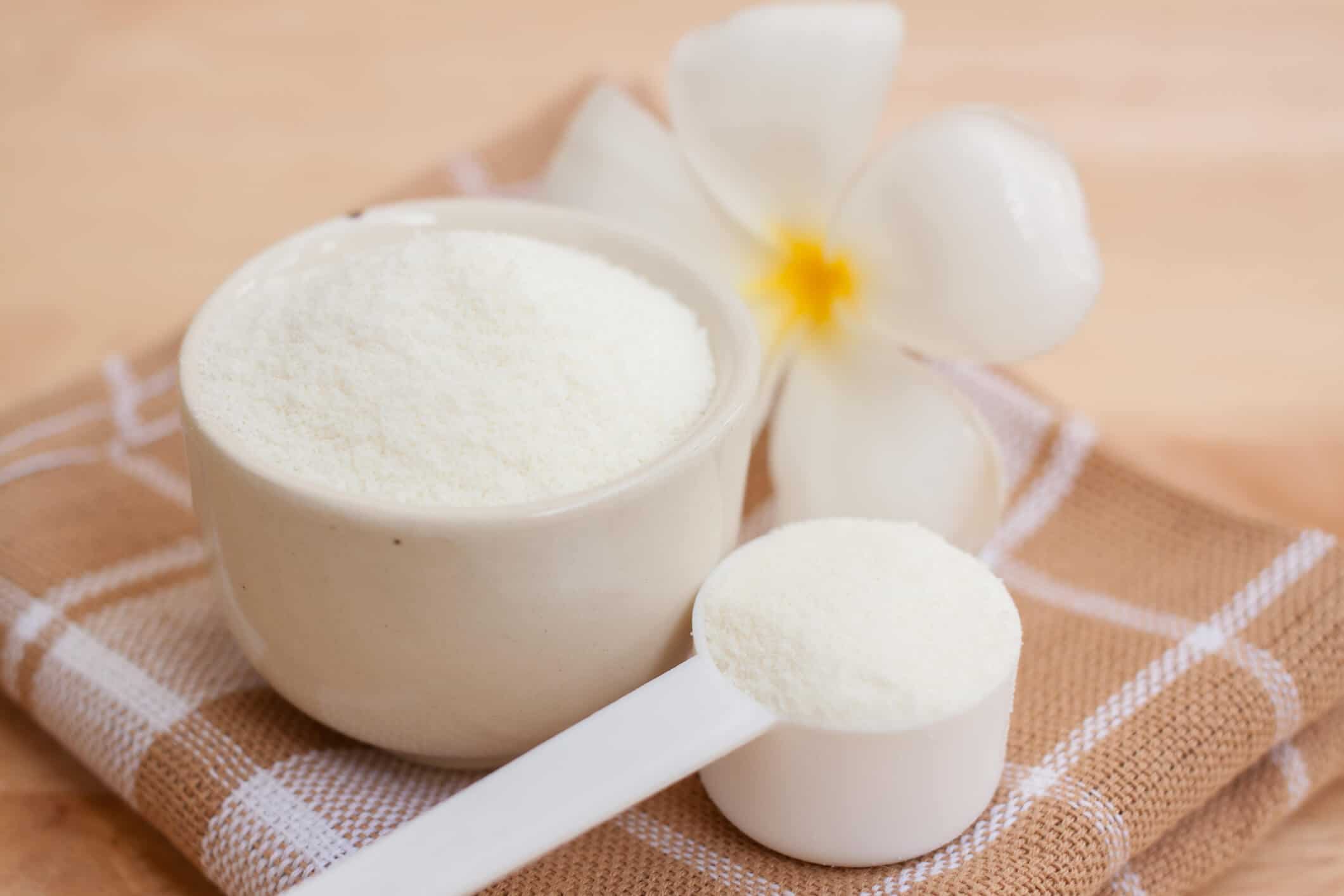 Bulletproof Collagen Protein Competitors
How Did Bulletproof Collagen Protein Start?
There is little information on the official website about how the Bulletproof company got started since the about us page is more about their mission and the reason for the name of the company.
According to the website's copyright information, we're guessing the company first started in 2013, and believe this to be one of their flagship products.
Scroll below for one of the best products we've seen over the last year.
Claims
Bulletproof Collagen Protein Claims
Bulletproof Collagen Protein claims to provide a complete source of protein that can be used to boost your overall protein intake. The powder is fine enough to add to recipes such as pancakes, so you don't have to be making protein shakes and smoothies constantly.

Ingredients
Bulletproof Collagen Protein Ingredients
Alanine
Arginine
Aspartic acid
Glutamic acid
Glycine
Histidine
Hydroxyproline
Isoleucine
Leucine
Lysine
Methionine
Phenylalanine
Proline
Serine
Threonine
Valine
Hydrolyzed collagen
Alanine
Alanine is an amino acid that helps the body convert simple sugar into energy and eliminate excess toxins from the liver, based, in part, on PubChem L-Alanine. Alanine has been shown to help protect cells from being damaged during intense aerobic activity when the body cannibalizes muscle to produce energy.
It is crucial for preserving balance levels of nitrogen and glucose in the body which it does through a series of chemical reactions called the alanine cycle. During the cycle, any excess amino acids in the tissues or cells are transferred to a receptor molecule which is produced by the breakdown of glucose.
The receptor molecule is then converted to alanine and transfer to the liver where the liver extracts nitrogen from the alanine and convert some of it back into pyruvate can then be used to produce more glucose.
Any excess nitrogen is then converted to urea and passed out of the body during urination.
This cycle helps Supply the body with energy when it needs to support cellular life.
L-Arginine
L-Arginine is another amino acid that is obtained from the diet and is necessary for the body to make protein. It is found in red meat, fish, poultry, and dairy products. It can also be made in a laboratory and used as medicine.
It is used for heart and blood vessel conditions such as congestive heart failure, high blood pressure, and chest pain.
It can also be used for recurrent pain in the legs due to blocked arteries, decreased mental capacity in the elderly erectile dysfunction and male infertility.
Some people use it to prevent the common cold, improve kidney function after a kidney transplant, and preeclampsia or high blood pressure during pregnancy.
It can also be used to improve athletic performance and boost the immune system as well as preventing inflammation of the digestive tract in premature infants.
It is used in combination with a number of over-the-counter and prescription medications for various conditions.
For instance, you can use L-Arginine along with ibuprofen as a treatment for migraine headaches.
Glutamic acid
As stated on PubChem, Glutamic acid is a non-essential amino acid occurring naturally in the L form. It is the most common excitatory neurotransmitter in the central nervous system.
Glutamic acid also referred to as glutamate, is one of the key molecules in cellular metabolism.
It's believed that glutamic acid is involved in common cognitive functions like learning and memory in the brain.
Glycine
Glycine is a non-essential amino acid because the body can make it from other chemicals. You can find it in meat, fish, Dairy, and legumes.
Glycine is used to treat sleep problems,  and to protect the kidneys from harmful side effects from certain drugs used after organ transplantation.
It can also protect the liver from harmful side effects of alcohol.
Glycine may also be used to enhance memory.
Some people apply it directly to the skin to treat leg ulcers and to help heal other wounds, Clinical and Experimental Medicine explains.
Leucine
Leucine is one of three branched chain amino acids the body naturally uses for muscle building.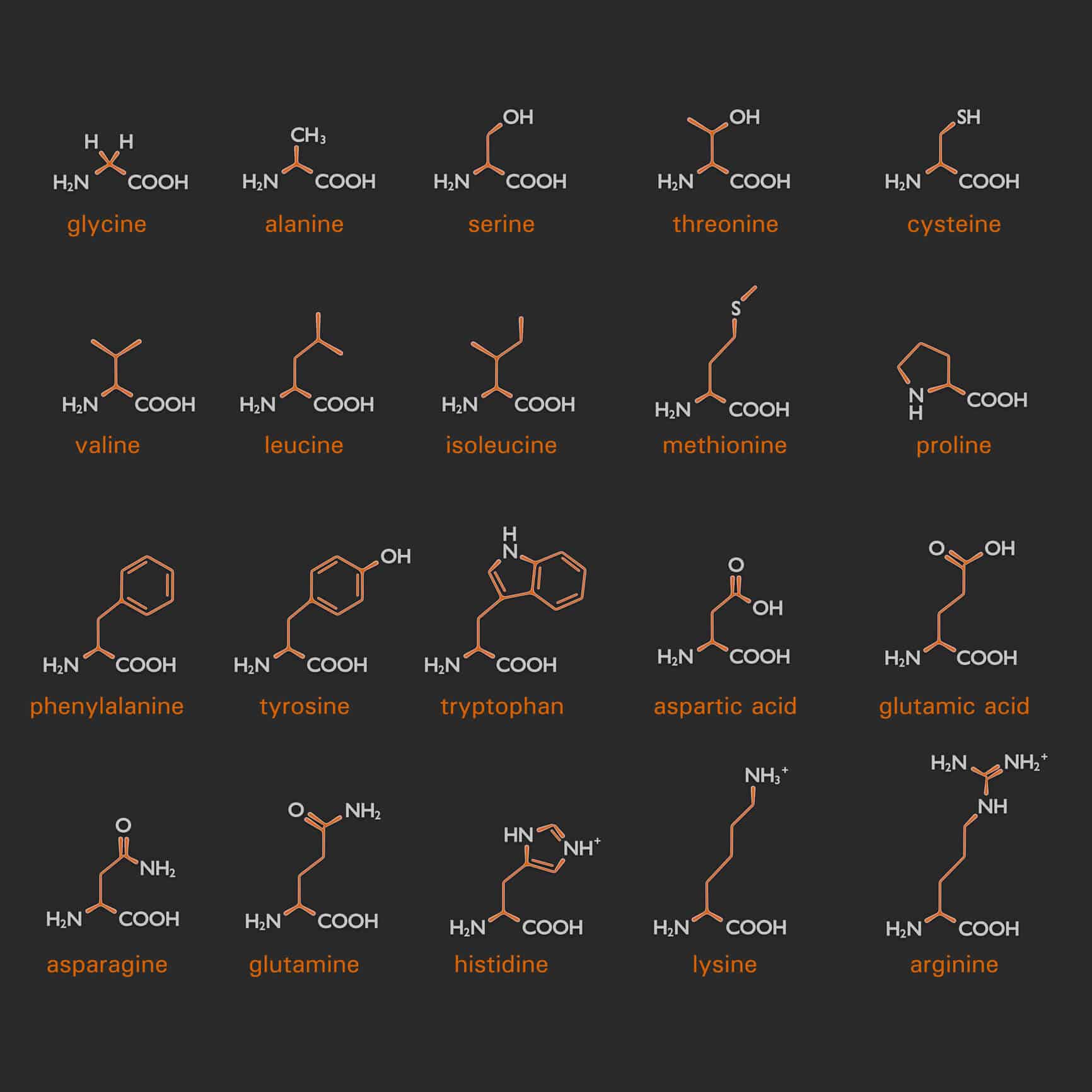 Isoleucine
Isoleucine is another one of the three BCAAs. It helps induce muscle protein synthesis, and increase glucose uptake and the use of glucose during exercise.
Lysine
Lysine is an amino acid or building block of protein, that's used to make medicine. It is used to prevent and treat cold sores caused by herpes simplex and is taken by mouth to improve athletic performance, according to the Journal of the International Society of Sports Nutrition.
Methionine
Methionine is an amino acid found in meat, fish, and dairy products. It plays a vital role in many cellular functions. It is often used to prevent liver damage in acetaminophen (Tylenol) poisoning.
It can also be used to increase the acidity of urine, and improve wound healing.
Phenylalanine is another amino acid that can be found in meat, eggs, cheese, fish, and milk.
Proline
Proline, also known as L-Proline, is a non-essential amino acid, meaning the body can make it from other chemicals.
Proline, according to the Journal of Nutrition, is an important part of collagen formation, tissue repair, blood pressure maintenance, and arteriosclerosis (hardening of the arteries) prevention.
Does Bulletproof Collagen Protein Work?
Yes, it does work to provide a lot of protein for your diet. It can work as a meal replacement if you add fiber. It can also work to help you build more muscle. The more lean muscle you have, the easier it is to burn fat.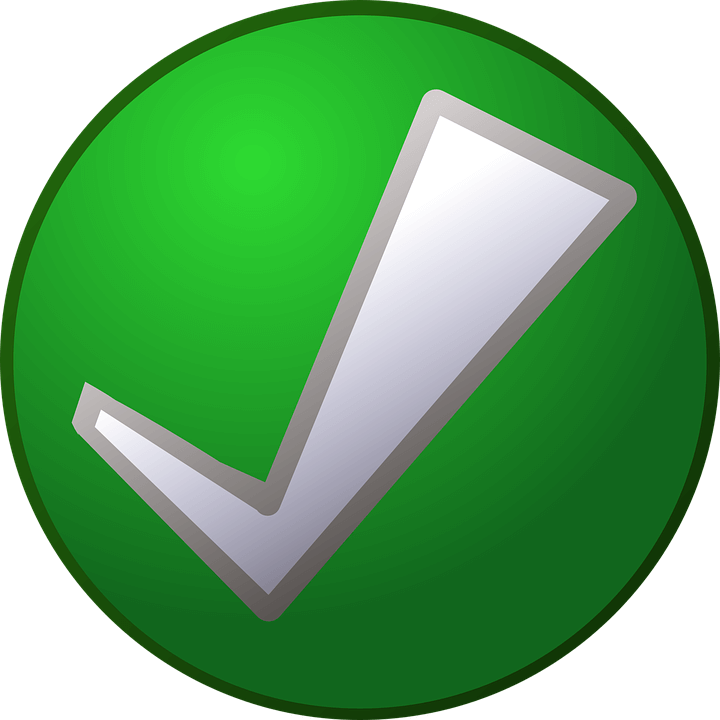 Benefits
Bulletproof Collagen Protein Benefits and Results
Eating enough protein is an important part of a healthy diet, especially if you're trying to lose weight.
If you don't have enough protein in your body, your body will start to break down the muscle in your body for energy, which though you're losing weight, tends to backfire in the end, because you want the more lean muscle to boost your metabolism.
Details on Bulletproof Collagen Protein and Weight Loss
This is not a fat burner or an appetite suppressant, so it's not designed specifically for weight loss. However, it can be used as a meal replacement when combined with fiber and healthy fat.
When part of a nutritionally balanced diet, it may help facilitate weight loss.
Directions
How to Use Bulletproof Collagen Protein
Mix one scoop into a glass of water or milk. Drink. Or, follow recipes as shown on the official website, to include extra protein and collagen into the food you eat.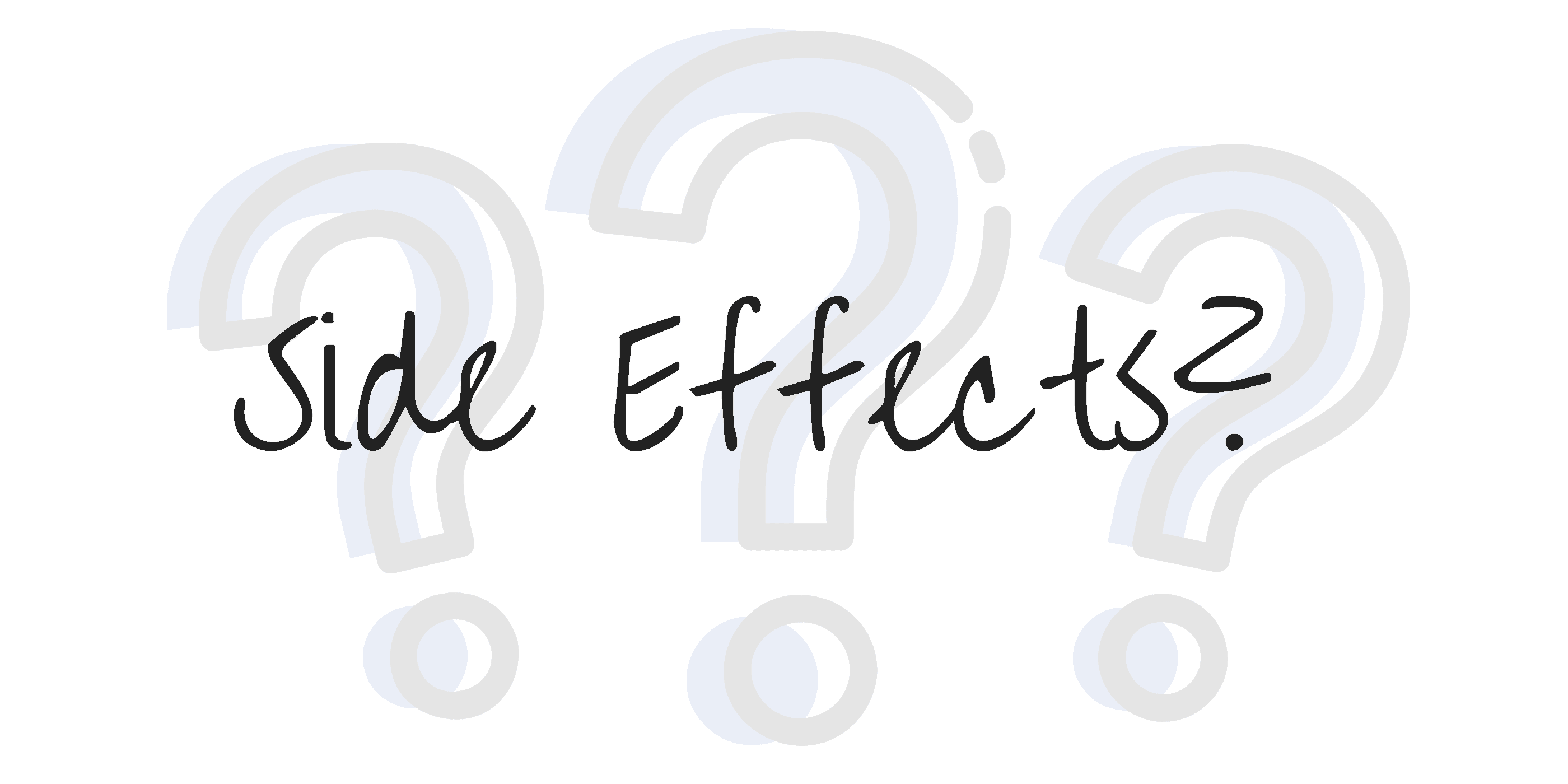 Side Effects
Potential Bulletproof Collagen Protein Side Effects
It's possible that high calcium levels or hypercalcemia may occur as a side effect of taking too much collagen.
This can lead to:
Constipation
Nausea
Vomiting
Fatigue
Abnormal heart rhythm
Too much collagen can also lead to hypersensitivity reactions, which are an abnormal response of the immune system against allergens.
This is most common when collagen supplements come from marine sources.
Bulletproof Collagen Protein Product Warnings
In addition to the California Prop 65 Warning, children, and women who are pregnant or nursing should not use this product.
If you take medication for any medical condition, speak with a doctor to make sure you are okay to use this product.
Any Bulletproof Collagen Protein Lawsuits?
In 2017, Bulletproof 360 recalled certain collagen protein bars and bites due to potential contamination, according to the FDA.
A class action lawsuit was filed against Bulletproof in August of 2019. The suit covers many issues with the company itself and its products, including Bulletproof Collagen Protein, which is claimed to make "unauthorized nutrient content claims," according to Truth in Advertising.
Bulletproof Collagen Protein Alternatives
There are many other collagen protein supplements available on the market today, including:
Pure Collagen Peptides Powder
Vital Proteins Collagen Peptides
Dr. Axe Multi Collagen Protein
Bulletproof Collagen Protein vs. Vital Proteins
Both of these are made with pasture-raised grass-fed bovine collagen. You can get Vital Proteins in both smaller and larger quantities of amazing ranging from 5 ounces for $15 to 20 ounces for $43, making it a slightly better value in terms of cost. There's also the option to get it in capsule form, for those who aren't keen on the idea of making protein shakes or using it in recipes all the time.
Bulletproof Collagen Protein vs. Collagelatin
Both of these products are from Bulletproof. The main difference between them is that Collageletain is made with beef gelatin, and has collagen added. It is designed to support weight management, healthy bones and joints, and glowing skin.
It's supposed to support rapid tissue repair. It can also be used in recipes because it can thicken sauces and make gummy vitamins. It mixes easily in hot liquids and gels when it's cool. It is the same price as the collagen protein, for the same quantity. Gelatin is not a vegetarian or vegan-friendly product.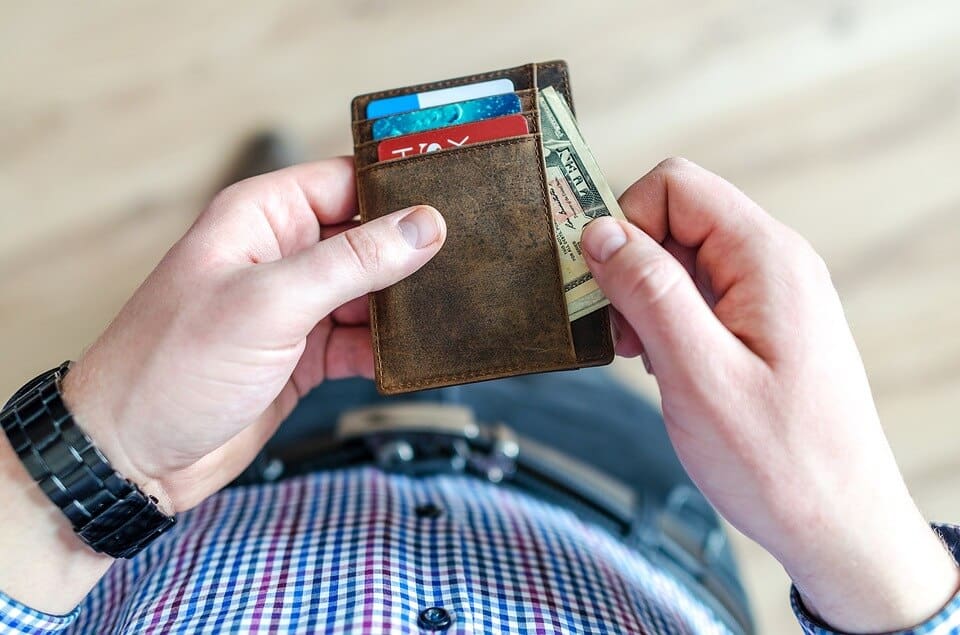 Cost
Bulletproof Collagen Protein Pricing Information
At the official website, you can purchase a 1lb bag for $39.95 plus shipping and handling. As far as protein powder supplements go, this puts it on the expensive end.
You can also find it on Amazon for the same price, but subject to Prime free shipping.
You can also find the chocolate and vanilla flavors on Amazon that are not currently listed on the official website.
Each tab contains about 19 servings, so the cost is about $2.10 per serving.
Is Bulletproof Collagen Protein Supported by a Money-Back Guarantee?
Products must be returned unopened, with a return merchandise authorization number, within 30 days of purchase for exchange, replacement, or refund.
You can contact customer support to get the RMA. If you've opened the product, you must submit a request to customer support.
Your refund will be applied to your original form of payment within 7 to 10 business days after it has been processed.
You will not be refunded any shipping or return shipping costs. You will have to follow the return policy of third-party retailers for purchases made elsewhere.
Bulletproof Collagen Protein Flavors
You can get Bulletproof Collagen Protein in the following flavors:
Unflavored
Chocolate
Vanilla
The unflavored option seems to be the most popular because you can make it work with any of your protein shakes or smoothies. You can also work it into recipes for pancakes and other foods to boost the protein value.
What Users Are Saying
"My hair, nails and skin have improved greatly over the last several months using Bulletproof Collagen Protein Powder."
"I am a HUGE fan of Bulletproof products, and eat their protein bars like it's nobody's business. I wanted to switch up my protein powder from Ancient Nutrition Bone Broth to Bulletproof's Collagen Protein Powder and sadly, I don't think I like it. First impression, it tastes very sweet. It's almost too good to be true, tastes like a dessert, but in the back of my mind I am thinking "there's gotta be some unhealthy ingredients in here for this to be so sweet". Maltodextrin. Sugar alcohols. Within minutes of drinking this, I am extremely bloated. It might work for some people, but I don't think I can use this in its entirety. I might just add a teaspoon to my coffee in the morning for taste. Hidden sugars = extreme bloat and discomfort for me."
"This is a bummer from Bulletproof. I expected better quality ingredients but it contains erythryol and other additives that cause serious bloating and stomach pain."
Bottom Line
The Bottom Line on Bulletproof Collagen Protein
Using an upgraded collagen protein supplement may be better for your stomach than other protein supplements out there, especially if you're allergic to milk products and don't want to rely on soy-based proteins. However, a basic protein supplement will not provide the same weight loss results as one that contains a clinically tested fat burner and appetite suppressant. If you lack enough protein in your diet, you will struggle to reach your goals, which is why something like this could help you.
If you're tired of fad diets and looking to shed those extra pounds for good finally, we suggest opting for a product that will save you money in the long run because it's made to be the last weight-loss program you'll ever need.
One of the best weight-loss apps we've seen so far this year is Noom. It's methods are clinically proven to help you lose weight and keep the weight off. With human coaching and personalized meal plans, it's no wonder our researchers were able to find plenty of users who report experiencing impressive results.
If you want to see how it could work for you, the makers of Noom are so confident that you'll get the results you're looking for that they are offering a free trial, which is always a good thing.
Learn More About Noom »