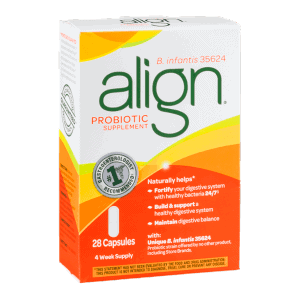 I need to make a confession: I was obsessed with researching Align. We conducted an in-depth review, closely investigating the ingredients, side effects, customer-service quality and clinical studies. Plus we read all sorts of user reviews and comments from around the web. At last, we summarized and condensed the information we collected to give you the bottom line.
EDITOR'S TIP:
Click here
to combine Align with a proven fat burner such as Leptigen for better results.
What You Need To Know
To start, Align is marketed as a probiotic supplement that is made by Proctor and Gamble. This supplement is available online and in common drugstores and supermarkets. According to the official website, Align helps "fortify" the digestive tract with unique healthy bacteria, and it works around the clock. You simply take one capsule per day, along with water. Align helps restore balance to the digestive system so you have more regular bowel movements. The key ingredient in this product is Bifantis (Bifidobacterium Infantis 35624).
Align has been available since at least 2008, and it is sold with a 60-day money-back guarantee. The cost of this supplement is $18.99-$59.99, depending on the bottle size you choose. There are plenty of customer reviews posted on the official website, as well as on dealer websites such as Amazon, but read on…
Side Effects – A Concern?
According to our Research Editor, "Unfortunately numerous people have experienced side effects while using Align. These side effects include bloating, diarrhea, loose stool, constipation, serious gas and abdominal cramps."
"Biggest mistake EVER! I only took this product for five days and the fifth day I took it was the WORST ever! The second day I was on it, I started to have the feeling that I was trying to digest a million pieces of broken glass. I had the worst cramping and the bloating was almost unbearable. The last day I was on it, I was up all night with the worst painful cramps ever. I also did vomit," commented one user.
"Diarrhea became more frequent. I was in Depends every night and if I had to go out, I also wore depends," said another customer.
Scroll below for one of the best products we've seen over the last year.
User Complaints – Something Else to Think About
There are quite a few customer complaints posted on dealer websites like Amazon. In fact, one person stated, "Within two weeks I was having a bunch of problems with loose stool and lots of gas and it was getting worse."
"I could not tell any difference, and actually think it may have caused constipation. Definitely wasn't worth the cost for me," revealed another user.
Our research has revealed that if there is some specific part of a dietary supplement that is especially problematic (side effects, user complaints, high price) the chances of real results for the long term are slim. Therefore if Align does in fact result in a high number of user complaints, this could be a deal breaker.
The Science – Solid?
For us at DietSpotlight, we need to see some solid science that supports the product we are investigating. In regards to Align, there is some clinical research that supports the key ingredient in this supplement. Also, some doctors do recommend Align for better digestive health, which is certainly reassuring.
The Bottom Line: Does Align Work?
Now the moment you've been waiting for: our bottom line on Align. Well, we like that Align is easy to take anywhere and there are some positive user reviews posted online to support this digestive aid. Then again, we have some reservations about Align because some customers have complained of unpleasant side effects. However, we do appreciate that this supplement is supported by some actual science and some doctors do recommend Align for better digestive health.
If you're interested in getting rid of excess body fat, then we suggest you go with a product that contains clinically proven ingredients for weight loss, does not cause any harsh adverse effects and comes with great customer service.
Among the best products we've seen in 2016 is one called Leptigen. Its formula is a unique combination of four key ingredients, which have been shown in documented scientific research to help speed up fat loss and ignite metabolism. Furthermore, we can't find any complaints of harmful adverse effects and dieter comments posted online indicate people are seeing great results.
The makers of Leptigen are so satisfied with their product they're offering a Special Trial Offer, which is a good sign.