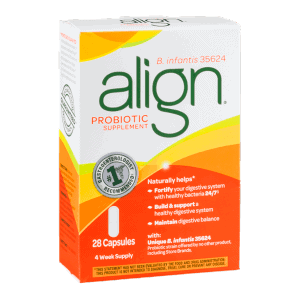 I need to make a confession: I was obsessed with researching Align. We conducted an in-depth review, closely investigating the ingredients, side effects, customer-service quality and clinical studies. Plus we analyzed hundreds of user reviews and comments from around the web. At last, we summarized and condensed the information we collected to give you the bottom line.
What is Align?
First off, Align ingredients are bifantis (bifidobacterium infantis 35624), microcrystalline cellulose, hypromellose, sucrose, magnesium stearate, sodium caseinate, titanium dioxide, trisodium citrate dihydrate and propyl gallate. It promotes wellness by helping to "fortify" the digestive tract. So, if you take one capsule per day, supposedly the supplement will restore balance to your system and improve regularity. The blister pack makes it easy to use anywhere.
Align was introduced in 2008 by Proctor and Gamble. The probiotic is sold on the official website, through trusted retailers and local grocery stores. We like that it comes with a guarantee and that we found some positive customer comments, but read on…
Side Effects – "Not Good!"
The first concern centered on Align side effects. "The main ingredient, bifidobacterium infantis, has been studied for years and is considered a good bacteria," said our Research Editor. "Unfortunately, there's also research showing it may be connected to adverse reactions."
"I had the worst cramping and the bloating was almost unbearable," commented one user.
"Diarrhea became more frequent," said another.
We found that some customers didn't experience negative side effects while using Align.
"The only side effect I experienced was the relief from my constipation," reported a dieter.
Scroll below for one of the best products we've seen over the last year.
Limited Results – "No Changes!"
According to customer comments, Align ingredients weren't as effective as claimed. "Within two weeks I was having a bunch of problems with loose stool and it was getting worse, not better," commented a user.
"I was hoping my digestive system would regulate after taking Align. After 2 months, I honestly have to say I see no difference," revealed another.
We searched and found users that saw results after taking Align. "No more constipation and bubble guts. Definitely worth the money," said a customer.
"I have been taking one a day for the last 4 months, mainly for massive bloating. Align was great on my bloating, knocked out 70% or so of my bloating," reported a consumer.
Our research has revealed that if there is some specific part of a dietary supplement that's especially problematic, such as being the cause of adverse reactions, the chances of long-term results are slim. You may want to consider an alternative if you use Align and it causes negative side effects.
The Science – "Solid?"
For us at DietSpotlight, solid science is an essential part of the review process. When we followed the research, we found research proving Align ingredients help improve digestive health. There's also evidence that certain bacteria helps with weight-loss. After a bit of digging, we found that you'll need to use a particular strain for weeks, if not months. Also, the amount of live bacteria determined the results.
The Bottom Line – Does Align Work?
Still considering Align for weight-loss? Well, we like that it promotes digestive health and that we found some positive user reviews, but we're skeptical about this one because there's no direct connection between the formula and weight-loss. We're also concerned because customers are talking about negative side effects and how they're not seeing results.
Losing weight is a journey that you don't have to travel alone. So, we suggest going with a supplement containing ingredients that promote weight-loss, not connected to harmful side effects and supported by positive customer comments.
Among the best products we've seen in 2016 is one called Leptigen. The supplement promotes weight-loss by using four clinically-tested ingredients that have been shown to help accelerate metabolism and ignite fat loss. We found that people are talking about their excellent results and there's no mention of harmful side effects.
The makers of Leptigen are offering customers a Special Trial Offer; this is an exceptional sign of confidence in their supplement.